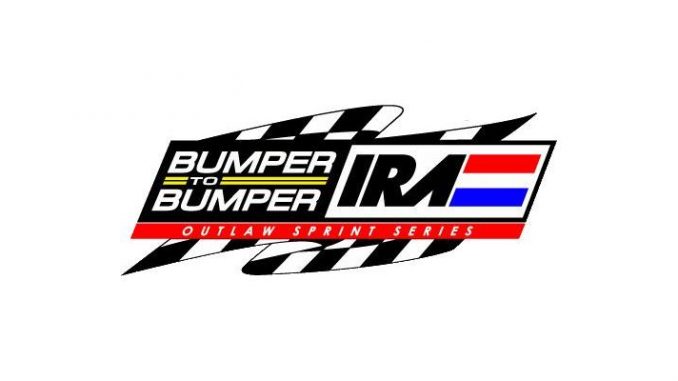 From Gared Tennyson
PLYMOUTH, Wi. (June 17, 2017) — 31 Bumper to Bumper Interstate Racing Association (IRA) teams signed in for action under threatening skies over the Sheboygan County Fairgrounds for night number 3 of the Hopf Farms Bullring Showdown. Osborn and Son Trucking Qualifying saw Showdown point leader Bill Balog set quick time over Blake Nimee. Wayne Modjeski used his countless laps of experience around the 1/4th mile oval to qualify in 3rd followed by Ben Schmidt and Mike Reinke.
Heat race 1 saw Scotty Thiel use his outside front row starting position to jump out to the early lead and would stay in front of the Rhine Auto 17b for the duration of the heat. Balog came home 2nd with Schmidt in 3rd. Kyle Marten would finish in 4th and Trey Datweiler in 5th.
Heat 2 would be won by Hanna City Illinois' Jake Blackhurst. Hopf Farms driver Russel Borland brought his 23 machine home 2nd ahead of Reinke in 3rd. Nimee finished 4th followed across the line by Joey Moughan in 5th.
Heat race 3 saw Jeremy Schultz get a popular victory over Kris Spitz in 2nd. Modjeski brought his 14aj car across the line in 3rd with Mike Kertscher in the Thone Motorsports car in 4th. Bill Wirth rounded out the top 5 in his 53w.
The B main saw Dave Uttech take the early lead, followed quickly behind by his cousin Scott Uttech. Scott made multiple challenges but couldn't get around the blue and black machine of Dave. Todd Daun finished in 3rd, followed by Dennis Spitz in 4th and last Saturday nights feature winner Matt Vandervere in 5th.
A main action saw a trio of Plymouth veterans and IRA young guns jump out front. Marten took the early lead over Thiel and Schultz. Schultz and Balog both worked their way past Thiel in lapped traffic when a spinning Dennis Spitz collected both Balog and Thiel. Balog's damage would be too severe to continue. Kyle Marten would lead the rest of the way, en route to his 3rd career IRA win and first IRA win at the Plymouth dirt track. After many challenges to Marten, Schultz would settle for 2nd at the line and Blackhurst would come home 3rd. Mike Kertscher finished in the 4th position and Mike Reinke rounded out the top 5.
Top 5 in Hopf Farms Bullring Showdown points are
1) Jeremy Schultz- 63
2) Mike Reinke- 60
3) Mike Kertscher- 60
4) Kyle Marten- 58
5) Scotty Thiel- 56
A Feature 1
1. 99-Kyle Marten, [2]; 2. 5J-Jeremy Schultz, [3]; 3. 25-Jake Blackhurst, [6]; 4. 80K-Mike Kertscher, [7]; 5. 02-Mike Reinke, [10]; 6. 73-Ben Schmidt, [5]; 7. 11-Joey Moughan, [15]; 8. 1M-Phillip Mock, [16]; 9. 23D-Trey Datweiler, [13]; 10. 85M-Steve Meyer, [17]; 11. 79-Blake Nimee, [9]; 12. 23-Russel Borland, [11]; 13. 64-Scotty Thiel, [1]; 14. 53W-Bill Wirth, [14]; 15. 2W-Scott Neitzel, [24]; 16. 4K-Kris Spitz, [12]; 17. 68-Dave Uttech, [19]; 18. 7-Scott Uttech, [20]; 19. 10V-Matt Vandevere, [23]; 20. 12W-Josh Walter, [18]; 21. 19-Todd Daun, [21]; 22. 14AJ-Wayne Modjeski, [4]; 23. 17B-Bill Balog, [8]; 24. 41-Dennis Spitz, [22]
B Feature 1
1. 68-Dave Uttech, [2]; 2. 7-Scott Uttech, [3]; 3. 19-Todd Daun, [5]; 4. 41-Dennis Spitz, [4]; 5. 10V-Matt Vandevere, [6]; 6. 2W-Scott Neitzel, [9]; 7. 01-Chris Dodd, [7]; 8. 43-Jereme Schroeder, [8]; 9. 78E-Kevin Eltz, [13]; 10. 18-Keith Fellner, [10]; 11. 12-Michael Decker, [11]; 12. 1HRP-Todd Hepfner, [1]; 13. 95A-Ken Jay Fiedler, [12]
Heat 1
1. 64-Scotty Thiel, [2]; 2. 17B-Bill Balog, [4]; 3. 73-Ben Schmidt, [3]; 4. 99-Kyle Marten, [1]; 5. 23D-Trey Datweiler, [6]; 6. 85M-Steve Meyer, [7]; 7. 1HRP-Todd Hepfner, [5]; 8. 10V-Matt Vandevere, [8]; 9. 43-Jereme Schroeder, [9]; 10. 18-Keith Fellner, [10]; 11. 78E-Kevin Eltz, [11]
Heat 2
1. 25-Jake Blackhurst, [2]; 2. 23-Russel Borland, [1]; 3. 02-Mike Reinke, [3]; 4. 79-Blake Nimee, [4]; 5. 11-Joey Moughan, [8]; 6. 1M-Phillip Mock, [5]; 7. 7-Scott Uttech, [7]; 8. 19-Todd Daun, [6]; 9. 2W-Scott Neitzel, [9]; 10. 12-Michael Decker, [10]
Heat 3
1. 5J-Jeremy Schultz, [1]; 2. 4K-Kris Spitz, [2]; 3. 14AJ-Wayne Modjeski, [3]; 4. 80K-Mike Kertscher, [4]; 5. 53W-Bill Wirth, [5]; 6. 12W-Josh Walter, [6]; 7. 41-Dennis Spitz, [7]; 8. 68-Dave Uttech, [8]; 9. 01-Chris Dodd, [9]; 10. 95A-Ken Jay Fiedler, [10]
Qualifying 1
1. 17B-Bill Balog, 00:11.517[16]; 2. 79-Blake Nimee, 00:11.594[9]; 3. 14AJ-Wayne Modjeski, 00:11.645[3]; 4. 73-Ben Schmidt, 00:11.696[27]; 5. 02-Mike Reinke, 00:11.711[23]; 6. 80K-Mike Kertscher, 00:11.754[29]; 7. 64-Scotty Thiel, 00:11.822[20]; 8. 25-Jake Blackhurst, 00:11.869[18]; 9. 5J-Jeremy Schultz, 00:11.874[22]; 10. 99-Kyle Marten, 00:11.927[30]; 11. 23-Russel Borland, 00:12.010[25]; 12. 4K-Kris Spitz, 00:12.025[13]; 13. 1HRP-Todd Hepfner, 00:12.066[10]; 14. 1M-Phillip Mock, 00:12.085[28]; 15. 68-Dave Uttech, 00:12.120[19]; 16. 23D-Trey Datweiler, 00:12.151[1]; 17. 19-Todd Daun, 00:12.166[12]; 18. 53W-Bill Wirth, 00:12.179[7]; 19. 85M-Steve Meyer, 00:12.180[21]; 20. 7-Scott Uttech, 00:12.182[6]; 21. 12W-Josh Walter, 00:12.189[2]; 22. 10V-Matt Vandevere, 00:12.234[14]; 23. 11-Joey Moughan, 00:12.239[4]; 24. 01-Chris Dodd, 00:12.266[11]; 25. 43-Jereme Schroeder, 00:12.458[15]; 26. 2W-Scott Neitzel, 00:12.466[26]; 27. 41-Dennis Spitz, 00:12.902[24]; 28. 18-Keith Fellner, 00:13.015[8]; 29. 12-Michael Decker, 00:13.137[5]; 30. 95A-Ken Jay Fiedler, 00:13.668[17]; 31. 78E-Kevin Eltz, 00:14.456[31]