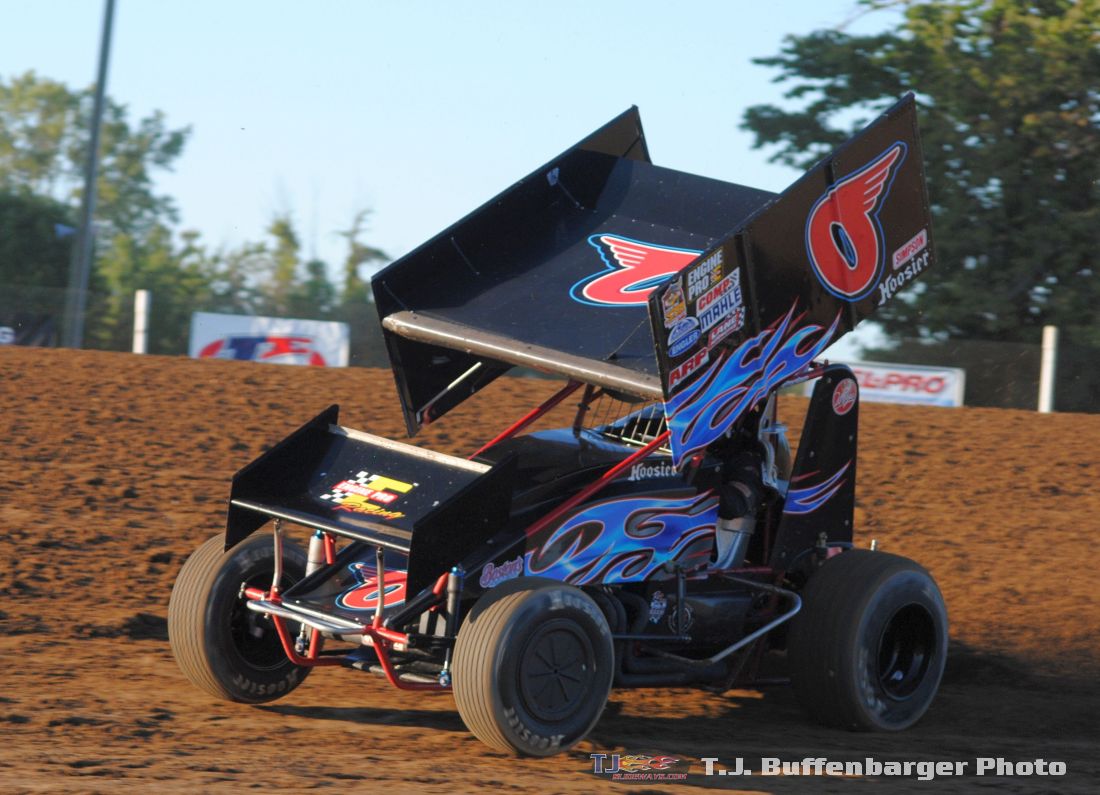 From John Naida
ERIE, MI (July 16, 2017) – Engine Pro Sprints on Dirt presented by ARP 2001 champion Steve Irwin drove his familiar Flying Zero, Krieger Engine powered Maxim to the win in the exciting MAHLE/Clevite Beyond Limits Challenge Race #3 at Crystal Motor Speedway last night.
Starting outside, front row, the Fenton, Michigan, SOD point leader took the lead at the start over pole starter Brad Lamberson. Irwin maintained a small lead for five laps before 2015 SOD champion Gregg Dalman charged around Lamberson and then Irwin for first. Dalman was clearly the class of the field and opened up a commanding lead. Meanwhile, Jay Steinebach's hard work paid off as he grabbed second from Irwin and began closing in on Dalman who had to contend with heavy traffic as the race wound down.
Steinebach was just four car length behind Dalman when he made hard contact with the outside wall at the flag stand completing lap nineteen. Steinebach ended up against the wall facing turn four with a flat right front tire bringing out the caution flag and ending his impressive drive.
With five laps to go, Dalman had early leader Irwin behind him and things dramatically changed. It was clear that Dalman's handing had gone south as Irwin charged into the lead and drove away. Dalman continued to struggle as first Thomas Schinderle, then Shawn Valenti passed him also. Schinderle narrowed Irwin's lead and pulled alongside the leader once, but it was a wakeup call for the leader as he opened up a small lead and was in complete command at the end.
Irwin (Engler Machine & Tool heat) and Valenti (COMP Cams heat) drove to convincing heat wins. Early engine wows turned leading SOD sprint car rookie of the year into a spectator for the entire program.
Irwin now leads the MAHLE/Clevite BLC points over Schinderle, Dalman, Chris Jones, and Robert Bulloch. He also leads SOD championship points over Dalman, Schinderle, Jones, and Robert Huisken.
Heat Races – Winners $100 each
Engine Pro Sprints on Dirt presented by ARP
Crystal Motor Speedway
Crystal, MI
Saturday July 16, 2017
Feature: 1. 0 – Steve Irwin, 2. 41 – Tom Schinderle, 3. 7 – Shawn Valenti, 4. 49T – Gregg Dalman, 5. 27 – Brad Lamberson, 6. 9E – Tim Evilsizer, 7. 10J – Chris Jones, 8. 3A – Mike Astrauskas, 9. 89 – Chris Pobanz, 10. 8 – Justin Ward, 11. 47 – Robert Bulloch, 12. 91 – Alexis Adgate, 13. 58 – Tony Bures, 14. 6 – Tyler Bearden, 15. 31 – Tanner Astrauskas, 16. 10S – Jay Steinebach, 17. 2K – Matt Kinzinger, 18. 24 – Eric Smith. DNS: 77 – Andrew Scheid.