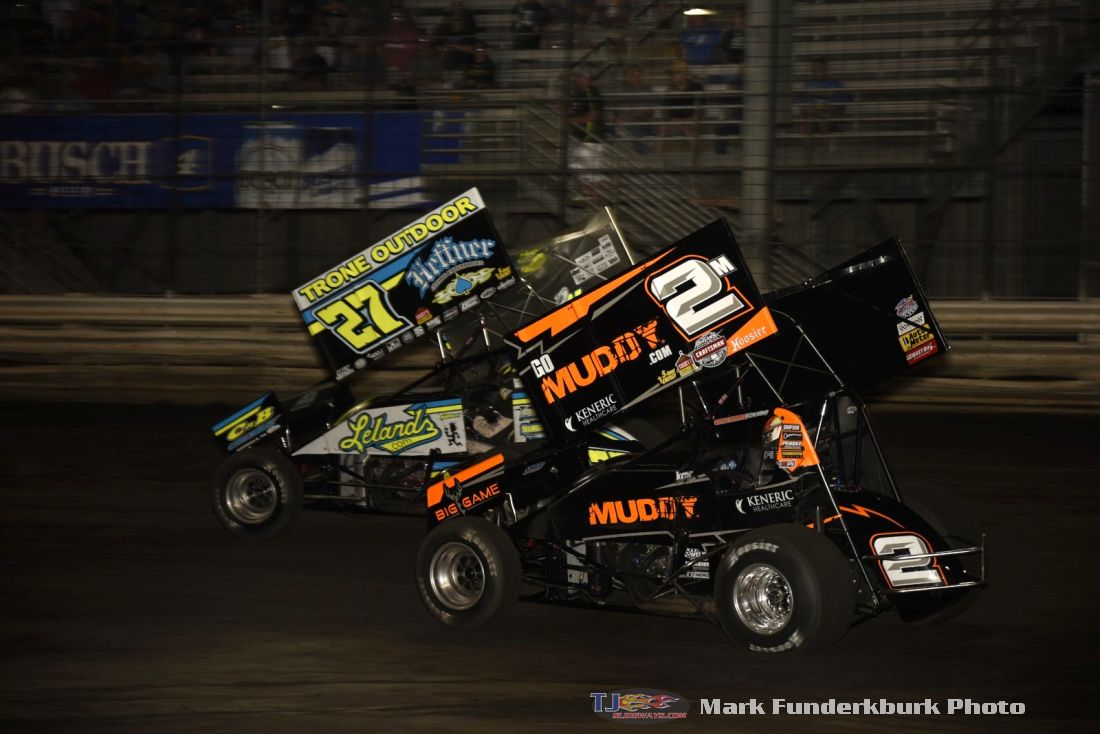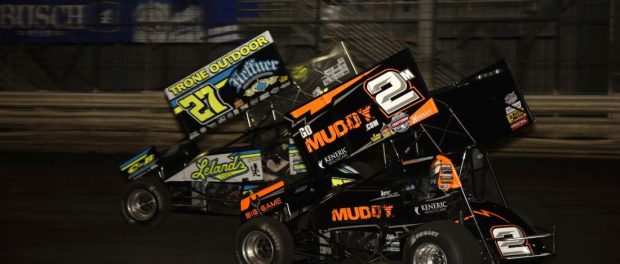 By T.J. Buffenbarger
Going into Wednesday's BRANDT Professional Agriculture Qualifying Night at the 5 Hour ENERGY Knoxville Nationals presented by Casey's General Stores it was well known that Kyle Larson would likely not be able to run Saturday's finale. The question was asked why a highly successful professional race car driver would run a preliminary night at the biggest sprint car race in the world with the strong possibility of not being able to run the main event on Saturday?
The answer is simple, it's a $12,000 to win sprint car race on a Wednesday night.
When you have people as competitive as Kyle Larson and car owner Paul Silva that is all the motivation one should need. Add in that Larson mentioned several times this week that Knoxville Nationals is his favorite week of the year. If you are going to come to the Knoxville Nationals one might as well race.
The problem with Larson racing is contractual.
"Right now I'm not allowed to race," said Larson. "In the contract with Chip I have to have a day off before I'm on track in cup. That's why you see me race a lot of Mondays, Tuesdays, and Wednesdays because we travel Thursday and we're on the track Friday. Obviously Saturday we are at Michigan practicing and we race the next day, so it would be a little bit of a conflict there."
"I'm definitely going to talk to Chip (Ganassi) and I hope that he understands how big this event is to me and that we are in a good spot in the Cup Series in points and with wins and bonus points and maybe allow me to come race here. I have my fingers are crossed, but I think I know what his answer will be, but hopefully I'm wrong."
For Larson it's a chance to create a unique piece of history that has never been accomplished before winning the NASCAR Monster Energy Cup Series championship and the Knoxville Nationals title.
"That's right it hasn't been done and we a great shot at both," said Larson on the p.a. system after the race. "To win here Saturday I feel like I've never been this good in a sprint car and I feel like we have a great shot. In the Cup stuff those are the best group of guys to work with over there and I feel like we have a really good shot."
The internet got rolling with the hashtag #letkylerace on Twitter and even the Chip Ganassi Racing account got in on the act
Congrats on your win last night @KyleLarsonRacin!

What does everyone think? Let him race Saturday night? #TeamLarson https://t.co/7secODdykE

— Chip Ganassi Racing (@CGRTeams) August 10, 2017
Talking with Paul Silva after the race he was non-committal on the situation and if he will have someone race the car or just start and park in Saturday's feature if Kyle cannot run. For Silva it was the third different driver Silva has won a Knoxville preliminary feature with, Shane Stewart and Rico Abreu being the others. Quite an accomplishment for Silva to do with his very own team.
Notes:
Schatz's second place positioned him leading the Nationals points after the opening night.

"It was a very decent night," said Schatz. "I thought maybe the pill draw was going to be the most important thing here. The race track stayed really good. There were cars that went out late that had good times. We were right in the middle, early middle anyway, and I was happy with my first lap. I really messed up my second lap bad. You know as well as I do everything here points count. All you can do is try to get yourself through that heat race, and we did good in the heat. In the feature, I would have liked to have won but Kyle did a phenomenal job. When it was time to move around he did. He got through traffic really good and we were way too free to be like we would feel normal.

Schatz and the Tony Stewart Racing team used Wednesday's feature to try something different setup wise that did not work out as well as planned.

"Sometimes you got to try that, respect it to stay pretty fast and it did. You learn from your mistakes. You used to be able to come Friday night and be in some of the other races and play around a bit but obviously we will be straight to the main on Saturday night, which is a blessing when you come here. Your goal coming in the gate irregardless if you've won this race or you've never made this race is to first get that A-Main. You can't win it unless you get in it. So that hurdle is out of the way and now we can focus on what's next."
Greg Hodnett's podium finish on Wednesday continued the momentum he has built up with the Heffner racing team since arriving in Iowa. Struggling at times at home in Pennsylvania Hodnett's team has changed everything except the driver.

"Really a multitude of things. We've changed wing stuff, shock stuff, car stuff. I've had to change the way I'm driving. Wheels, tires, how we prepare them. If you have anything you can change on the car we've changed it at least once, sometimes twice, but I still don't have quite the feeling I want.

As for beating Larson, Hodnett jokingly only had one answer for that.

"Hope he goes somewhere else"
Wednesday featured several sets of strange circumstances that altered the Nationals for several teams. During qualifying cars of Spencer Bayston and Chase Wanner came up light at the scales. Bayston and the Kevin Swindell team did not compete for the remainder of the evening.

In the second heat race Aaron Reutzel held off Shane Stewart for the final transfer spot. During the race you could hear that someone's car sounded significantly different. It ended up being Ruetzel because of losing a muffler, which disqualified him from the heat race and moved Stewart up in the transfer spot.

Logan Schuchart experienced engine problems in hot laps. After trying to qualify when the car would not fired Schuchart scratched for the evening.
The third heat race was eventful on Wednesday night. Scott Bugucki was running solidly in a transfer spot when having mechanical issues. Late in that race Paul McMahan and Lucas Wolfe had a tremendous battle for the final transfer spot that lasted until the final lap going into turn three where they nearly made contact racing towards the bottom of the track with McMahan.
The start to Wednesday's feature saw Austin McCarl gain a significant advantage on the initial start. Even with the head start, Larson built up momentum to quickly overtake McCarl.

"I thought the leader gets to control the start, but (McCarl) took off a couple of seconds before I did," said Larson of the initial start. "I was just going to wait until the second cone, but he took off at the first one. I figured Doug would call it back, but he didn't. It worked out and I got the lead off four on that first lap and led the rest of the way."
Harli White was impressive during her first 410 sprint car start in the United States. Picking the biggest sprint car race in the world to go 410 racing in the States, White put her car in Wednesday's feature despite some overheating issues with their engine. White ran 21st in the feature and ended up 30th in points.
360 Nationals winner Clint Garner sent back a row in his heat race before being late to staging.
A.J. Moeller was leading the B-Main when something broke and the car and , "went right for the fence" according to Moeller.
Team strategy at the Knoxville Nationals has been an evolving process based on changes in the format. With the change in format for Friday giving teams another chance to make the feature on Friday several teams scratched from the C-Main, bringing the field down to four cars. Knoxville officials scratched the C-Main and transferred all four cars to the B-Main.
Kerry Madsen's team had some drama right before the feature when the team discovered a broken water pump on his car. Guy Forbrook and the rest of the team went into full trash mode to change it out and were able to fire the car shortly before the feature event.
There was a large turnout early on Wednesday for a forum at the National Sprint Car Hall of Fame and Museum featuring Sammy Swindell with his family and a group of former teammates. The forum hosted by Bones Boucier and Doug Auld was highly entertaining with lots of great stories. The forum was professionally filmed for release at a later date.

Bill Wright, who assembled the Sammy Swindell Tribute display that has been featured at the museum this summer, informed us that the exhibit has over 100 artifacts and eight of Swindell's race cars. Of those cars only one belonged to Swindell.
The Weld Racing Go Kart Spectacular at Slideways Karting Center was well attended as fans were able to race with Tony Stewart, Kyle Larson, Ricky Stenhouse Jr, Chris Kamikaze from Street Outlaws, and Shea Holbrook from the Pirelli World Challenge series.