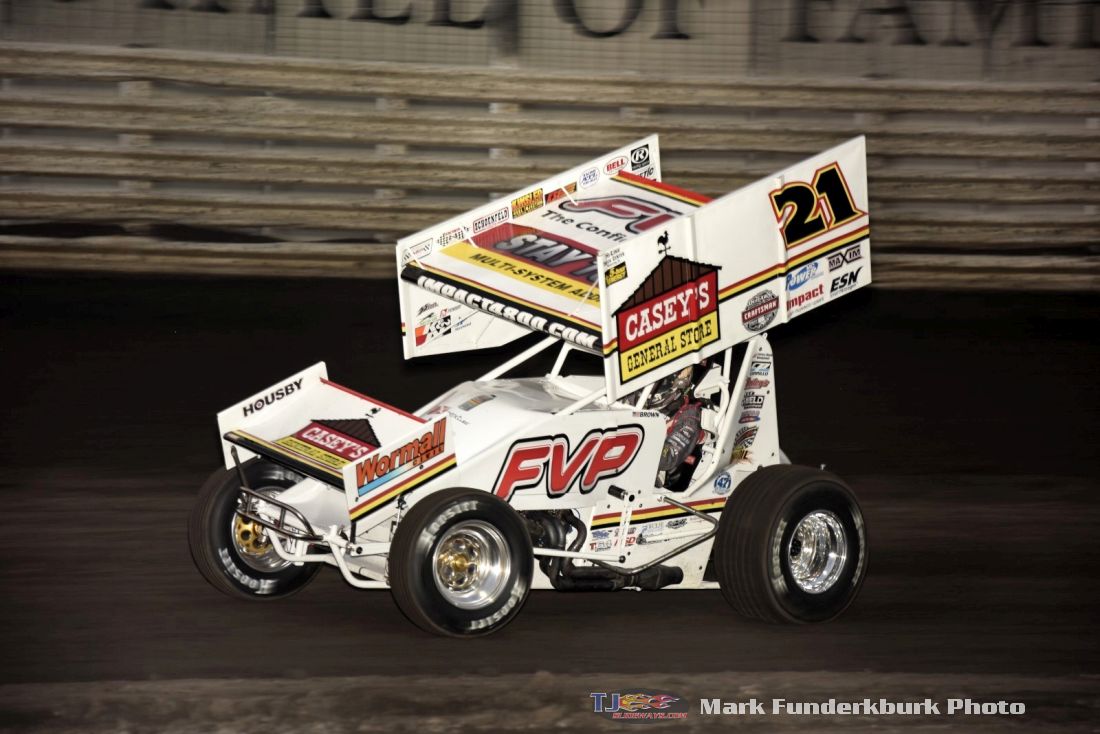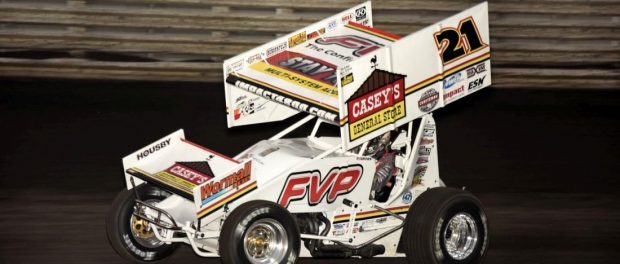 By T.J. Buffenbarger
The box score shows Brian Brown finishing second on Toyota qualifying night at the 57th Annual 5-Hour ENERGY Knoxville Nationals. Achieving that podium finish was remarkable after the series of unusual events Brown endured throughout the evening.
Brown started with a decent draw for qualifying, but felt they were the two worst laps of qualifying he had run all year at the Knoxville Raceway. Even being hard on himself for the qualifying effort Brown managed to secure the fourth quick time, but transferring through the heat race turned out to be an adventure.
"In the heat race we went down during the first start and got going pretty good and somebody threw something off one of the cars, went through the hood, and stuck the throttle wide open," said Brown. "I knew at that point I was going to have a bit of an issue of just trying to not crash it. We took off on the second start and someone kind of choked up and the next thing you know I'm on the back of Paige Polyak with the wheels up the air and I thought, 'Gosh, there goes that'.
After that series of events Brown was still able to stay calm and preserver which translated into a third-place finish in the heat race that transferred him to the main event.
"When something like that happens you almost have to calm yourself back down and just figure out how you are going to manage your car. We were able to get back up there and get to third," said Brown.
Starting in the third row and eventually moving up to the second row after a Jason Johnson got sideways and was collected in an incident on the initial start Brown found himself behind Mark Dobmeier and Wayne Johnson who were dicing a bit before the race even started.
"In the feature Dobmeier and Wayne were banging wheels trying to get going. When you see that and you are in the third you are almost planning for an exit plan in case what you think is going to happen, happens."
Brown got a great run on the second attempt to start the main, but flagman Doug Clark called that one back. For Brown this proved to be a disadvantage. Then on the ensuing restart Brown dropped back through the field.
"The second one I got a really good start, and that one got called back. When you get a good start like that and you get guys like David behind you, you are kind of at a little bit of a disadvantage because if I go to the middle he's going to run the top. That's what happened. I kind of spun my tires and he got a good run and I was running seventh before you know it."
Just like he managed to do in the heat race Brown remained calm and methodically picked his way back up through the field and was challenging for a podium position. As he was racing Mark Dobmeier for second place though Brown ended up bicycling the car up on two wheels between turns three and four.
"I was able to get back through there. My car was pretty maneuverable and passed David for second on the restart and got to racing pretty hard and missed my line a bit and he got back by. At that point I thought I'd cruise for a bit and then I caught Mark there, had it on two wheels in three and four, and thought that was enough adventure and fun for one night and let's get this thing to the finish."
Last year at the Knoxville Nationals Brown found himself in the unenviable position of not locking into Saturdays feature through his preliminary night and eventually being mired back in the C-Main. During the off-season Brown changed his approach the Nationals, but also a different kind of respect for the half mile oval at the Marion County Fairgrounds
"I've been saying all year this is just another race," said Brown. "That sounds good, but being in the C-Main last year and not even being in the show it just made me respect this place a lot more. Knowing just to get into the A-Main you have to earn it. To go from the C-Main to starting fifth on Saturday I can't wait. We're lucky enough we're going to have another opportunity tomorrow night at the World Challenge to fine tune this thing. I think we have a car that's capable of winning, we just need to get a little bit better."
For Brown surviving a memorable preliminary night filled with adversity Brown was already focused on the World Challenge and Saturday's finale.
"It was a very adventurous night and to be sitting here on the podium with guys like David Gravel and Mark Dobmeier it's an honor and I'm looking forward to Saturday."