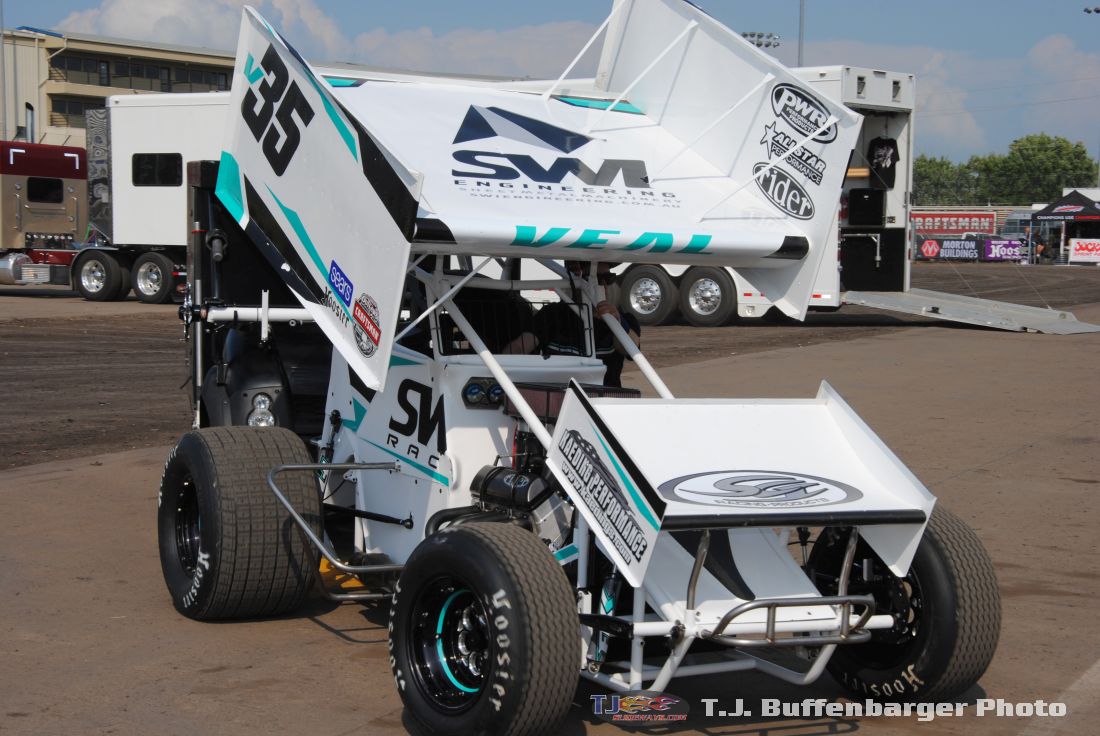 By T.J. Buffenbarger
KNOXVILLE, Iowa (August 12, 2017) – Jamie Veal picked up the victory in the D-Main during the 57th Annual 5-Hour ENERGY Knoxville Nationals presented by Casey's General Stores. Veal stalked Lee Jacobs through traffic for the lead, driving by for the top spot late in the event.
After a slow start Lee Jacobs raced into the lead as Jamie Veal and Chase Johnson raced side by side into turn three for the second position. Veal took the spot on the opening lap.
While working lap two the caution appeared for Rager Phillips spinning in turn one. He retired pit side with a significant amount of splattered fluid showing on his car.
After the restart Jacobs had Veal right on his bumper as they pulled away from the rest of the field. Veal continued to work on Jacobs using the low line on the race track, but could not quite make the pass. Behind the lead duo former Knoxville Nationals champion Danny Lasoski moved up on the restart into fourth position and quickly started pressuring Chase Johnson for third.
As the leaders started to overtake lapped traffic Veal made his move going into turn one and drove under Jacobs for the lead. Veal drove away over the final laps for the victory over Jacobs. Lasoski moved past Johnson on the final lap for the third spot. Johnson and Davey Heskin also transferred to the C-Main.
57th Annual 5-Hour ENERGY Knoxville Nationals
Knoxville Raceway
Knoxville, IA
Saturday August 12, 2017
D-Main (12 Laps): 1. 35V – Jamie Veal, 2. 81 – Lee Jacobs, 3. 1M – Danny Lasoski, 4. 68 – Chase Johnson, 5. 56N – Davey Heskin, 6. 7W – Tasker Phillips, 7. 3P – Sawyer Phillips, 8. 99G – Skylar Gee, 9. 5J – Jeremy Schultz, 10. 70 – Clint Garner, 11. 17W – Harli White, 12. 95 – Matt Covington, 13. 44 – Chris Martin, 14. 9N – Wade Nygaard, 15. 19P – Paige Polyak, 16. 15M – Bobby Mincer, 17. 9X – Jake Bubak, 18. 8H – Jason Kendrick, 19. 9Z – Jared Gorges, 20. 19L – Todd King, 21. 85 – Chase Wanner, 22. 83C – Adam Cruea, 23. 13V – Seth Brahmer, 24. 22 – Rager Phillips.