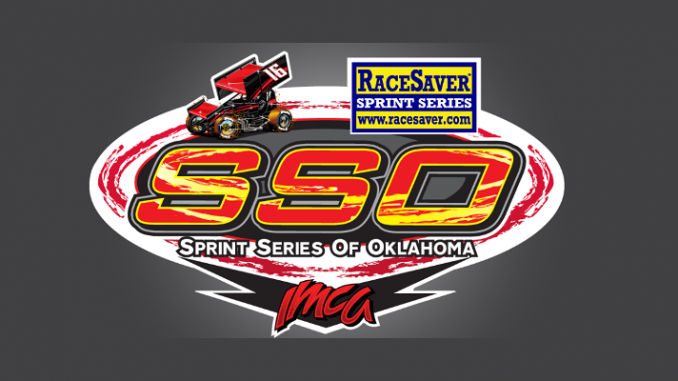 By David Smith Jr.
Oklahoma City, Oklahoma – August 13, 2017 –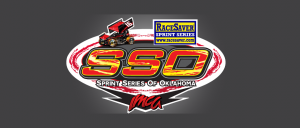 The SSO has been scheduled four previous times this 2017 race season with Mother Nature having its way twice. "Texan" Michael Day won the last time the series visited Ardmore back on June 23 while Wichita Falls driver Chad Koch took the series opener back on March 25. Dating back to last years inaugural season, Southern Oklahoma Speedway has hosted a total of six SSO events without a repeat winner. Joining Day and Koch as feature winners atop the Southern Oklahoma speed plant are Marcus Thomas, Chad Wilson, Michelle Melton and John Carney, II.
Season-long point leader Jake Martens of Fairview, Oklahoma comes into the two-race weekend with a slim thirteen-point advantage over defending tour and IMCA national sprint car champion Andy Shouse. Shouse also has a series-leading four feature victories on the season while Martens remains winless.
Despite missing one event, Joe Wood, Jr. sits just 46-points out of the point lead and third in the standings while Loyd Clevenger sits fourth. Chris Kelly sits fifth while Koch, Blake Dacus, Justin Fisk, Cody Whitworth and Tristan Oakes round out the top ten in the point standings.
Joining the above-mentioned drivers for this coming weekend's events are Dillon Laden, Steven Shebester, Jerry Jumper, Gary Owens, Blake Scott, Brandon Anderson, Josh Toho, Justin Mowry and Cody Jarvis.
Several North Texas drivers are also expected to make the trip across the Red River to do battle and one or both venues.
Friday night's event at Southern Oklahoma Speedway open at 5:00 PM with race action slated for a 7:30 PM start time. Grandstand admission prices are $15 for adults; $10 for ages 6-12. All pit passes are just $30. Southern Oklahoma Speedway is located off I-35 to exit 29 then 0.7 mile east on Hwy 70. Turn south (right) on Hwy 77 for approximately two miles and the track will be on the west side of the road. More information concerning Southern Oklahoma Speedway can be found on their official track website www.southernoklahomaspeedway.com; their official facebook page: Southern Oklahoma Speedway or by calling the track office (405) 816-4314.
Saturday night's much anticipated inaugural appearance at Lawton Speedway will see gates open at 6:00 PM with race action starting at 8:30 PM. Adult grandstand admission is $15 while all seniors 60 and over and all students ages 12-15 just $10 while children 6-12 of ages just $2. Kids ages five and under will be admitted into the grandstands for free. All pit passes are just $30.
Lawton Speedway is located off I-44 to Lee Blvd. Go west on Lee to Sheridan Road then back south (left at the light) and go 1.5 miles to the race track. Track information can be obtained by accessing their official website www.lawtonspeedway.com and their official facebook page: Lawton Speedway. Track phone is (580) 355-6417.
To learn more about the Sprint Series of Oklahoma check out their official facebook page: Sprint Series of Oklahoma. More information can be obtained by SSO director Jim Messmer (405) 417-2202 and for technical inquires call Ernie Messmer (405) 818-9007. Keep track of daily updates from the SSO on the series official facebook page: Sprint Series of Oklahoma.
SSO officials would like to welcome Smiley's Racing Products for becoming presenting partner with the series as they will be giving $1000 cash to the 2017 SSO champion.
The series would also like to thank the following for climbing aboard as contingency partners with the series for 2017: Hoosier Racing Tires, Danny Holloway, Martens Machine Shop, Saldana Racing Products, Pyrotech Race Cells, Outlaw Wings, Keizer Wheels, Bishops Racing Products, Young Tool and Equipment and Messmer Racing.
Current 2017 Sprint Series of Oklahoma Point Standings:
1) Jake Martens 366, 2) Andy Shouse 353, 3) Joe Wood Jr. 320, 4) Loyd Clevenger 288, 5) Chris Kelly 285, 6) Chad Koch 281, 7) Blake Dacus 256, 8) Justin Fisk 233, 9) Cody Whitworth 215, 10) Tristan Oakes 212, 11) Dillon Laden 199, 12) Steven Shebester 192, 13) Jerry Jumper 187, 14) Gary Owens 183, 15) Brandon Long and Blake Scott 182, 17) Shayla Waddell 164, 18) Brandon Anderson 151, 19) Josh Toho 150, 20) Zach Blurton 139
Career SSO Feature winners: Shouse (4), Wood and Carney II (3), Shebester, Michael Day, Chris Kelly, Koch, Austin Mundie, Marcus Thomas, Luke Cranston, Chad Wilson, Michelle Melton, Martens, Brandon Long (1).
Past SSO Feature Winners at Southern Oklahoma Speedway: Day, Koch, Thomas Wilson, Melton and Carney II
Up next: Saturday night, August 19, at Longdale Speedway (OK) with URSS.