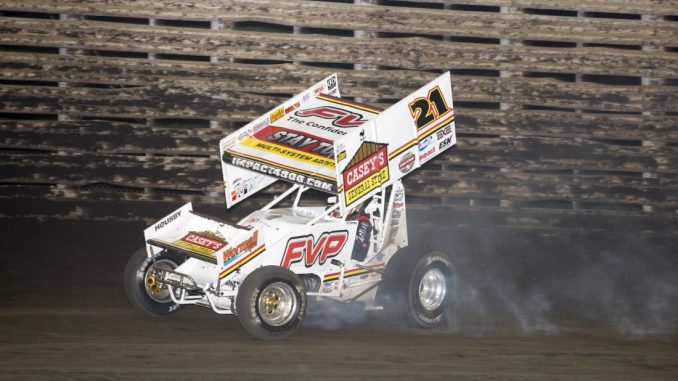 From Bill Wright
August 15, 2017 – Brian Brown and the Casey's General Stores/FVP #21 team put together an outstanding two weeks of racing and they were rewarded with the 2017 Jesse Hockett "Mr. Sprint Car" Award. Highlights of the week included winning the Capitani Classic, finishing second in the 360 Nationals, and running sixth in the Knoxville Nationals Saturday night.
You had a strong week, and it culminated with the Knoxville Nationals Saturday. How did you feel heading into that?
First, it was great to be back into the show. We had run second three years in a row, and then we ran sixth. Last year, we were in the C main. You have to earn it every year. Talking with the team, we felt starting fifth, we felt we had a good opportunity to drive up through there and contend for the win.
How did the first half of the race go?
Our starts and restarts are usually our strong suit. But I think in 50 laps, I got passed by one car on open racetrack. Otherwise, I lost ten to twelve spots on starts and restarts. We were able to get through one and two o.k. on the start, but Brad (Sweet) kind of slid up in three and four and I had to get off the gas, and got over the cushion. Coming to the line on lap one, I was running ninth.
The car was fast though and you made your way back forward.
We dug ourselves forward car by car, and we were able to get back up to fourth. We felt we had as good a racecar as anyone. We were able to run the leaders back down. We just wanted to get to the break and make some minor adjustments. We had a restart though, and I didn't get going very well. I didn't choose the right line, and Kyle (Larson) got a good run behind me. I made a quick decision and took a bad angle to the cushion. I did everything I could to keep from flipping. We ended up back in eighth, so everything I'd worked for, for that 22 laps was gone in 20 feet.
You were seventh at the halfway point.
I was frustrated with myself at that point. We were able to go from seventh to fifth. We were right on Shane (Stewart) most of the second half. We just weren't able to make a good enough run on him. We caught up to (lapped) Trey Starks at the end. Shane kind of slowed down, and I slowed my momentum down. Brad snuck by us both and we ended up sixth. It would have been nice to have had another top five at the Nationals, but no one remembers who ran fifth anyway.
You had to be happy with your runs this week.
I couldn't be more proud of my crew chief Chad (Morgan), Michael, Jordan, my Dad, Snook (Glenn Wignal), my grandpa (George Lasoski)…Bob Myers was down with us on Saturday night. We had all of our partners there supporting us. Hi-Line Trucking of Newton, Iowa and ESN came on board for the week. What can you say about our fans? They're the ones who keep you pumped up all week! It wasn't the end result we wanted, but it was a good week. Congratulations to Donny (Schatz). We are watching history with him right now. Hopefully, we can win one of our own one day.
Your family was there as well.
It was awesome to have (wife) Heather, (daughter) Mikayla, Heather's parents and my parents, my grandpa George was able to come up for a couple days, my sister and my niece all there. That was huge for me. It was as important to have them there as winning anything. We also had some sadness. We lost a very good friend of our race team, John Simmons. We were able to meet him about four or five years ago. He became a huge friend, and he lost his battle with cancer on Friday. Our thoughts and prayers are with his family and friends. He'll be missed big time by our race team.
I know FVP had a strong presence there as well as their new product, Stay Tuned.
There were around 500 FVP employees and customers there to five us a good send off on Saturday. That always gives you a great boost before we head out to the track. I want to thank each and every one of them for their support!
You won the Jesse Hockett Mr. Sprint Car in 2014 as well. What does it mean to you?
That award has quite a bit of meaning to me above and beyond the results. Winning something in Jesse's honor after we raced so hard at a young age is something I'll treasure forever.
You also won the Weld Racing Capitani Classic, which is held in honor of a great man.
To win the Capitani Classic is up there on my list. Ralph was hard on me, and then would pat me on the back and tell me I did a good job when things went right. I didn't really know what my plan was on the start. We started eighth and they kind of left the top open for me, and away we went. Greg's (Hodnett) a heck of a racecar driver and they've been running well all week long. Kerry (Madsen)…we know what we get with their team. We got lucky enough to beat them, and it's really special. To have a great partner like we do with Weld Wheels sponsoring the race…that made it all the more special
You charged from 12th to run second in the 360 Nationals.
Clint (Garner) has been coming here a lot of years. He has a true sprint car family. His brother, his Dad…I'm envious of him. That's what racing's all about. If I can't win it, I'm glad he was able to. He should have won it three times by now. It was a great effort by our team. I was hoping for one more yellow. Twelfth to second is nothing to hang our head about.
Follow Brian on the Web, Twitter and Facebook!