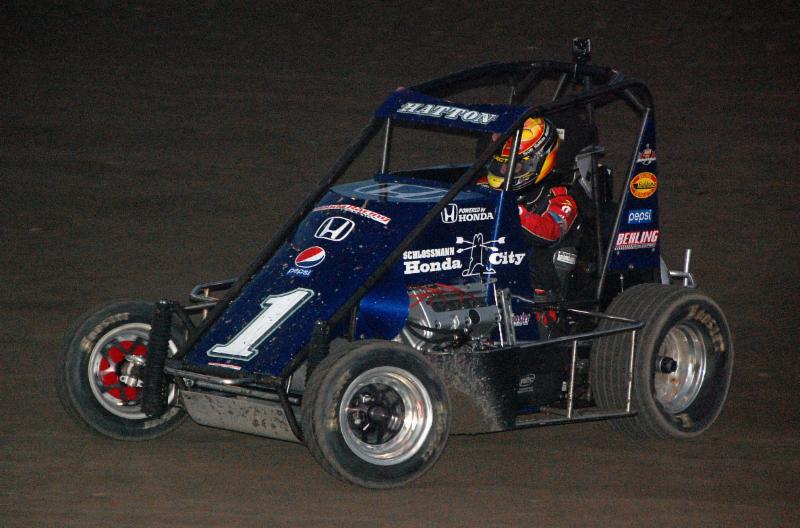 By Bryan Gapinski
Sun Prairie, Wis., August 20—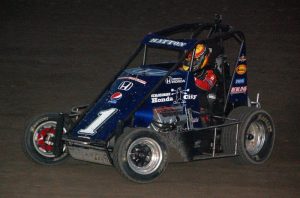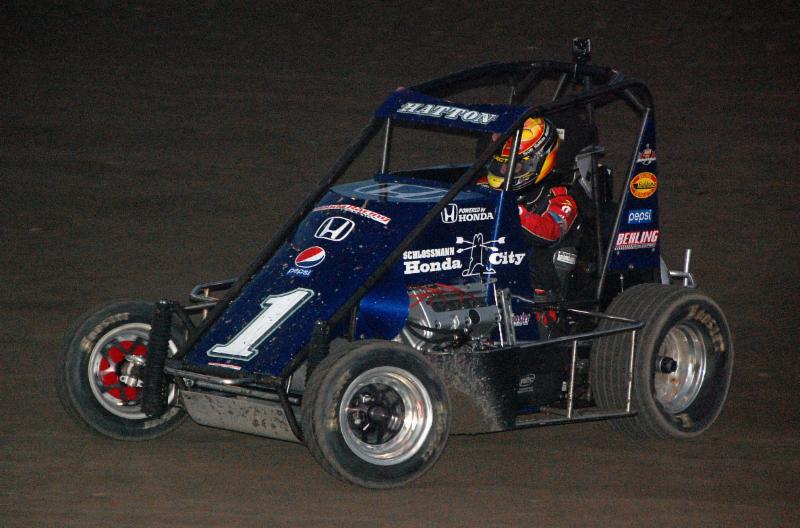 20-lap Mid-State Equipment/Zimbrick Chevrolet of Sun Prairie Badger Midget Racing Series feature, at Angell Park Speedway.
Hatton joined Dan Boorse as the event's only four-time winner. The feature victory at the track was his 37th career and ties him with Kevin Doty for fourth on the tracks all-time feature victory list.
Aaron Schuck took the lead at the start, while Hatton passed six cars to advance to third place at the completion of the first lap. One lap later Hatton took over the second place position, followed by series points leader Robbie Ray.
Hatton took the lead on the fifth lap, passing Schuck for the lead entering Turn 2. On the same lap Billy Balog, winner of the two previous features at the track moved into seventh position after starting 20th position (last place). Balog's run ended a few laps later when he retired with engine problems.
One lap later Hatton began lapping the tail of the field. Hatton's four-second plus lead over Ray was erased when the event's only caution appeared on Lap 13 for an accident on the backstretch between Kevin Olson, and Brad Greenup.
On the restart Hatton took advantage of three lapped cars between himself and second place Ray. Hatton used the clear track ahead of him to build a comfortable lead. Hatton's final lap was spent in heavy lapped traffic.
Hatton driving his Stealth/Honda No. 1 finished ahead of Ray, Schuck, Zach Boden, and Brian Peterson who completed the top five finishers. "The crew had the car perfect again, to tie Kevin(Doty) with feature wins means so much he was one of my closest friends" commented Hatton.
Angell Park and Badger both take the week off before returning to the track on Sunday Sept. 3, for an event featuring Badger Midgets, Badger 600 Micros, Wisconsin Wingless Sprint Car Series and the Vintage Modifieds. The event will cap off the 71st season of racing at the track.
The Badger Midget finale will occur on Sunday Sept. 24 at LaSalle (Ill.) Speedway with the running the 7th annual "Bill Waite Jr. Memorial Classic". Badger will join the IRA Bumper to Bumper Outlaws Sprint Cars Series, and Late Models on the racing schedule.
SUMMARY
20-lap Feature: 1. Scott Hatton; 2. Robbie Ray; 3. Aaron Schuck; 4. Zach Boden; 5. Brian Peterson; 6. Mike Stroik; 7. Brad Grenup; 8. Laura Smith; 9. Kyle Koch; 10. Denny Smith; 11. Michael Raskovic; 12. Randy Reed; 13. John Beale; 14. Jake Goeglein; 15.Kevin Olson; 16. Buddy Luebke; 17. Jim Fuerst; 18. Billy Balog; 19.Ryan Irwin; 20. Johnny Murdock.
8-lap Heat Race Winners: Hatton, Boden, Olson.
Cars Present: 21 Feature Lap Leaders: Schuck1-5, Hatton 6-20.