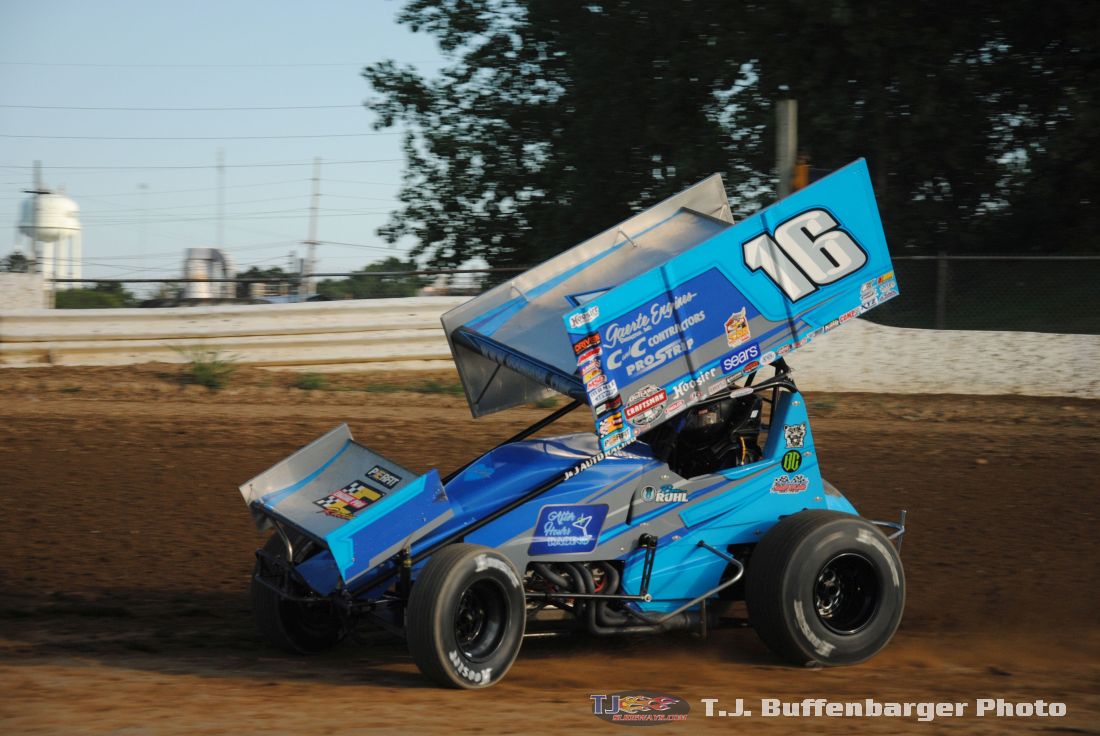 ERIE, MI (September 2, 2017) – Ryan Ruhl (Coldwater, MI) charged from the 8th starting position to win the King Engine Bearings King of Michigan finale at Hartford Speedway last night. The race brought the curtain down on the last race for Engine Pro Sprints On Dirt Presented by ARP at Hartford Speedway.
The 29 qualifiers were led by Joe Swanson, Lane Automotive/MSD Ignition Fast Master (fast qualifier) in the Engler Machine & Tool heat and fastest overall at 14.200. Swanson looked like he had the speed to be a contender for the feature win, but suffered an engine failure while leading his heat. Chad Blonde was Lane Automotive/MSD Ignition Fast Master (fast qualifier) in the COMP Cams heat, and Steve Irwin for the RockAuto.com heat. Ryan Grubaugh's night ended in qualifying with engine woes.
Ruhl's win came after he took lead from race leader Steve Irwin (Fenton, MI) on lap 10, but it wasn't an easy win. 12th place starter Chad Blonde (Litchfield, MI), winner of the three previous King Engine Bearings KoM took 2nd on lap 16, then the lead on the next lap. Ruhl wasn't to be denied and charged back around Blonde on the next lap. While it looked like everything was settled, Irwin found new speed and battled back and forth with Blonde for 2nd. Irwin took 2nd on lap 22, but lapped traffic in his low groove forced him to check up, and Blonde drove around the top back into 2nd. Ruhl held on to take the action-packed 25 lapper over Blonde and Irwin.
Ruhl advanced 7 places in the feature, and Blonde advanced 12 places. However, Brett Mann showed the most muscle by advancing from 19th to a 4th place finish, winning the KSE Racing Products Hard Charger Award at +15. Irwin was the fastest car for several laps late in the race.
Blonde's 2nd place finish earned him the King Engine Bearings King of Michigan Championship. Steve Irwin finished 2nd, Gregg Dalman 3rd, Thomas Schinderle 4th, and Ryan Ruhl 5th.
King Engine Bearings made it possible to take the SOD King of Michigan to a new level as a four-race mini-series instead of a single race. Hartford Speedway's Tim and Leah Dibble and their entire staff gave competitors a great race track that culminated with an excellent program and one of the season's best features with action and passing everywhere.
Engine Pro Sprints on Dirt prenseted by ARP
Hartford Motor Speedway
Hartford, MI
Friday September 1, 2017
Heat Race #1:
1. 20A – Andy Chehowski
2. 41 – Thomas Schinderle
3. 77Z – Zane Devault
4. 12 – Chris Gurley
5. 21T – Troy Chehowski
6. 47 – Robert Bulloch
7. 11 – Trey Smith
8. 7J – Joe Swanson
9. 3G – John Gurley
10. 58 – Tony Bures
Heat Race #2:
1. 16 – Ryan Ruhl
2. 5M – Max Stambaugh
3. 10S – Jay Steinebach
4. 10J – Chris Jones
5. 5B – Chad Blonde
6. 8 – Justin Ward
7. 70 – Eli Lakin
8. 4 – Tyler Fitzpatrick
9. 52 – Zac Broughman
DNS. 71H – Ryan Grubaugh
Heat Race #3:
1. 0 – Steve Irwin
2. 49T – Gregg Dalman
3. 77 – Andrew Scheid
4. 19J – Linden Jones
5. 27B – Boston Mead
6. 5QB – Quentin Blonde
7. 18 – Michael Summers
8. 27 – Jared Lamberson
9. 19 – Brett Mann
B-Main:
1. 19 – Brett Mann
2. 11 – Trey Smith
3. 70 – Eli Lakin
4. 18 – Michael Summers
5. 4 – Tyler Fitzpatrick
6. 27 – Jared Lamberson
7. 52 – Zac Broughman
8. 3G – John Gurley
Feature:
1. 16 – Ryan Ruhl
2. 5b – Chad Blonde
3. 0 – Steve Irwin
4. 19 – Brett Mann
5. 49T – Gregg Dalman
6. 5M – Max Stambaugh
7. 77Z – Zane Devault
8. 41 – Thomas Schinderle
9. 27B – Boston Mead
10. 10S – Jay Steinebach
11. 19J – Linden Jones
12. 20A – Andy Chehowski
13. 5QB – Quentin Blonde
14. 21T – Troy Chehowski
15. 18 – Michael Summers
16. 70 – Eli Lakin
17. 4 – Tyler Fitzpatrick
18. 8 – Justin Ward
19. 47 – Robert Bulloch
20. 10J – Chris Jones
21. 27 – Jared Lamberson
22. 77 – Andrew Scheid
23. 11 – Trey Smith
DNS. 12 – Chris Gurley