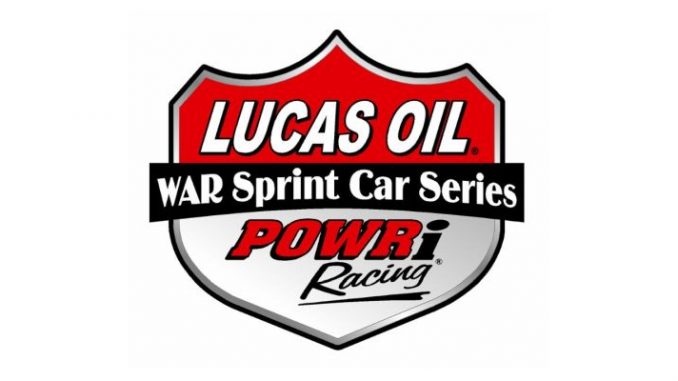 From POWRi
Indianapolis, IN –

, heading towards the welcoming Eagle Raceway facility that has increased the payout to $2,000 TO WIN and $225 to start in order to raise the stakes and show appreciation to supporting race teams. Following up Friday's event, the WAR Sprints head south to I-35 Speedway in Winston, Missouri Saturday, September 9. Cameras will be recording the high speed action Saturday night for an epsidoe of "Dirty 30" which will air on national television on MAVTV at a later date presented by Rod End Supply. Saturday's event will also pay an increased purse of $1,200 TO WIN and $225 to start.
The highest finishing 305 sprint car will receive a $200 CASH bonus on Friday night at Eagle Raceway courtesy of Wyatt Farms/I-70 Promotions, and a $100 CASH bonus on Saturday night at I-35 Speedway courtesy of I-70 Promotions.
Korey Weyant continues to lead the POWRi Lucas Oil WAR Sprint League Championship Point Standings heading into the two-day weekend with Wyatt Burks sitting second and a 106 point gap between them. Chris Parkinson is third followed by Quinton Benson (4), Slater Helt (5), Warren Johnson (6), Vinny Ward (7), Steve Mahannah (8), Clinton Boyles (9), and Ty Hulsey (10).
Back for 2017 is the Heat Race Hero Award presented by Scott Shuman out of Pennsylvania. It will pay $500 to the driver with the most WAR/WAR East heat race wins at the end of the season.
The standings have been updated and Korey Weyant currently leads with ten total heat race wins so far this season. Wyatt Burks trails closely with seven. Mario Clouser, and Landon Simon each have five heat race wins. Terry Babb, Clinton Boyles, Craig Carroll, and Zach Daum have three heat race wins. Quinton Benson, Slater Helt, Warren Johnson, Joe B. Miller, Taylor Walton, Chris Windom, and Mitch Wissmiller have two heat race wins. Cody Baker, Isaac Chapple, Mitchell Davis, Logan Faucon, Justin Grant, Layne Himebaugh, Rob Hockett, Ty Hulsey, Brandon Mattox, Mitchell Moore, Chance Morton, Chris Parkinson, Danny Smith, and Steve Thomas each have one heat race win so far this season.
EAGLE RACEWAY SCHEDULE DETAILS – FRIDAY, SEPT. 8TH
Pit Gate – 4:00 PM
Pill Draw – 5:00 PM
Drivers Meeting – 6:00 PM
Hot Laps – 6:30 PM
Racing Starts – 7:30 PM
(If you will be late, please call Brooke Rowden to draw at 317-345-5952)
I-35 SPEEDWAY SCHEDULE DETAILS – SATURDAY, SEPT. 9TH
Pit Gate – 4:00 PM
Pill Draw – 4:30 PM
Drivers Meeting – 5:45 PM
Hot Laps – 6:15 PM
Racing Starts – 7:00 PM