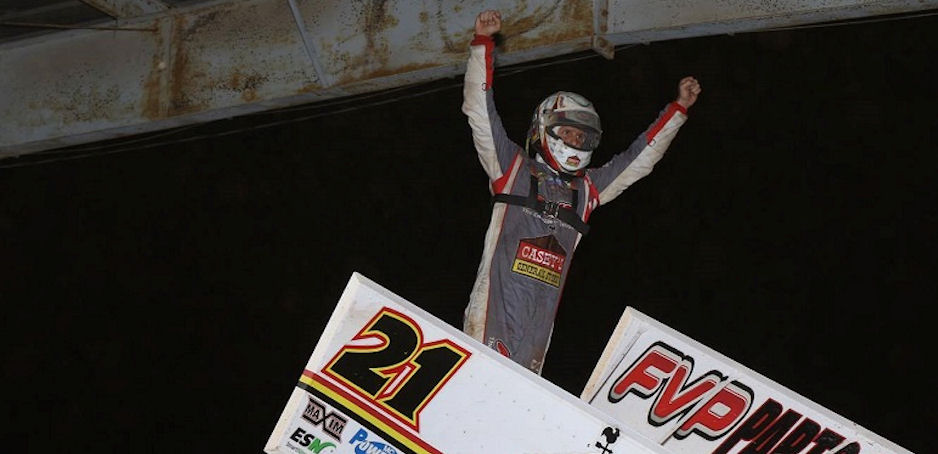 By Bill W
September 19, 2017 –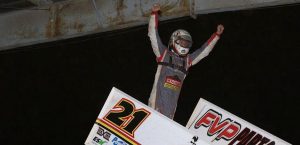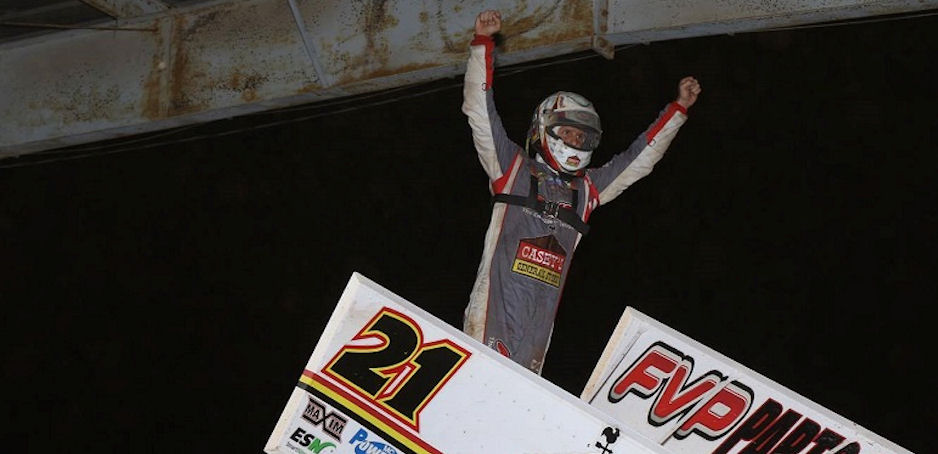 The Grain Valley, Missouri driver picked up his first ever wins in Pennsylvania and his first two with the All Star Circuit of Champions. Both came on tracks that Brian has never raced on. It started Saturday at the Jim Nace Memorial at Selinsgrove Speedway and continued Sunday at Bedford Speedway. Three races are planned in PA this weekend including Susquehanna Speedway near Newberrytown Thursday, Williams Grove Speedway near Mechanicsburg Friday and the $20,000 to win "Dirt Classic" at Lincoln Speedway near Abbottstown Saturday.
I know the Jim Nace Memorial at Selinsgrove was a special race for your team.
Our engine builder, Charlie Garrett built engines for Jim Nace and they were good friends. We came in saying if we could win one, it would be this one. We had some high expectations going in, not only for us, but for Charlie.
Things started well as you posted quick time in your group and second overall.
That was good. We were one of the quickest hot-lapping, and Trey (Starks) picked up a little bit more than we did and we ended up second quick.
That helped get you into the Dash.
We were in a good spot being in the top two qualifiers. We were able to maintain and run fourth in the heat. We got a good draw (one the pole) for the Dash, and we made a few minor adjustments. Once we got in clean air, it changed everything and we had a rocket ship. Anytime you can set a four-lap track record, it's cool. We were able to do that two weeks in a row out here.
You started outside row one, but the feature became a bit of an endurance race.
We were able to get the lead there. We had a red and the fog rolled in. We rode around there for six or ten laps until it lifted. It was still pretty foggy when we got going. We had some more yellows and reds. I felt like we got through traffic pretty well. I made a few minor mistakes, but it was a pretty clean race. To win that was really special for our team and Charlie Garrett. It was a pretty cool night.
At Bedford Sunday, you again timed in second quick overall.
It was kind of the same scenario exactly on Sunday. We were quickest hot-lapping and then Trey was a tick better in qualifying. We ran fourth in the heat again and drew a good number for the Dash and won that.
This time you started on the pole. What were your thoughts heading in?
Bedford is a big, wide, slick half-mile. You can watch videos, but you don't know the characteristics of the track until you get there. I had to move around and hit my marks. Caleb (Helms) wasn't going away. He stayed right there with us. He was running a different line than we are, and I'm not so sure it wasn't a better one than we were.
Still, you were able to hold on.
We were able to get the win. We hadn't won with the All Stars, and now we have two in one weekend. I'm just proud of Chad, Michael, Jordan and my Dad who are all out here helping. It's been a very cool trip so far. It's not an easy task to come out here for a month. You need great supporters and the partners that we have to do it. It's also good to be out here and talk with Charlie Garrett about some things. He's the best engine builder in the country. Running well out here is an added bonus.
This will be a busy week again for you.
The only track I've seen that we're running this weekend is Williams Grove. Susquehanna is a pretty decent size track. I'm really looking forward to the Dirt Classic at Lincoln. Jared Adams and Phil Durst and their whole family have done a good job of promoting the event. It's a big $20,000 to win show and I'm sure it's going to be packed with cars and fans.
Follow Brian on the Web, Twitter and Facebook!
Follow Brian at his website located at www.BrianBrownRacing.com
!
Also keep up with FVP, Casey's and Brian on Facebook and Twitter at the following links…
Twitter Links – @BrianBrown21, @FVPRacing, @CaseysGenStores
Facebook Links
Brian Brown Racing – www.facebook.com/pages/Brian-Brown-Racing/200630163294222
Casey's General Stores – www.facebook.com/pages/Caseys-General-Stores/112073528804354
FVP Racing – http://www.facebook.com/FVPRacing?ref=ts&fref=ts
FVP Racing – Home | Facebook
www.facebook.com
FVP Racing. 8,188 likes · 42 talking about this. Welcome to the FVP Brian Brown Sprint Racing Page! Be sure to check out our Events tab to stay…
Other Web site info
Casey's: www.caseys.com
FVP: www.fvpparts.com
Brian's Bits
After blowing an engine in his heat race, Brian stormed back at the Lucas Oil Speedway on June 18, 2011. Coming from twelfth in the B main to run second, he would start the main event 18th and charge through the field. A lap 23 pass of Brad Loyet sealed the win for Brian ahead of Loyet, Randy Martin, Jonathan Cornell and Evan Martin.
About Casey's General Stores
Casey's General Stores is a Fortune-500 company (NASDAQ CASY) operating over 1,900 convenience stores in 14 states through the Midwest. Known for its "Homemade To-Go" pizza, sandwiches, donuts and bakery items, Casey's strives to consistently deliver quality gas, fresh kitchen-prepared food, clean environments and friendly service at every retail location. Casey's is currently the 4th largest c-store chain and fifth largest pizza chain in the United States.
About FVP
Built on a commitment to quality and delivered with unmatched service, FVP is the confident solution for all of your OEM needs. FVP products are engineered to provide customers with OE quality products that are equal or superior in performance to the major national brands at a competitive price. FVP is proud to carry a full line of high quality oil, air, cabin air and fuel filters, powerful batteries for multiple applications including cars, trucks, SUV's, commercial, boats and other specialty vehicles as well as automotive chemicals and oil, antifreeze, DEF, hub assemblies, radiators and condensers. To learn more about FVP or to find out where you can have FVP products installed in your vehicle, visit FVPparts.com! FVP…The Confident Solution.
Marketing Partner of the Week – Impact Signs Awnings Wraps / impact4800.com
Brian says – "David and Julie Goodson have a great family there. They also make sure our trailer looks great with the graphics they provide. We're proud to represent them."
The goal at Impact Sign and Lighting is to make selecting the right sign and lighting for your business a simple process for you. Impact can design, create, and install virtually any type of sign on awnings, poles, buildings and much more including racecars, of course! They will work with you from conception to completion and make sure you are completely satisfied. We'll give you personalized service, expert consultation, quick turnarounds, and reasonable pricing. Impact Sign and Lighting are responsible for the graphics on the Brian Brown Racing #21. Visit them on the web at www.Impact4800.com!
Associate Marketing Partner of the Week – Red Devil Brakes
Brian says – "The braking system is one of the most important parts on the car. Red Devil and Ultralight have not only the strongest, but the lightest brakes out there. It's the only caliper I will use. I've used others, and there is a night and day difference."
Investment Cast Ceramic Coated 8740 Chromoly and Titanium 6-4 Racing Brake Rotors are the strongest Brake Rotors in the world. Having high tensile strength in the 140,000 to 160,000 range makes them almost 4 times the strength of the best racing cast iron rotors on the market. They are almost half the weight and have 25 % more continuous stopping power. Learn more at www.RedDevilBrakes.com!
Brian Brown Racing would like to thank Casey's General Stores, FVP, Wormall Civil, Impact Signs Awnings Wraps/ impact4800.com, Champion Brands, Weld Wheels, Ditzfeld Transfer, Maxim Racing, Smiley's Racing Products, MSD ignition, MC Power, Housby, Searsboro Telephone Company, Next LED Sports, Hope for the Warriors, Factory Kahne Shocks, Arctic Cat, Lincoln Electric, K&N, www.hostiowa.net, FSR Race Products, TI64, ATL Tanks, Wolfe Eye Clinic, Bell Helmets, Hinchman Uniforms, CP Pistons, Carrillo Rods, Vortex Wings, Penray, All Pro Cylinder Heads, Butler Built Seats, AkzoNobel, Kenny's Components, Snap-On Tools, Rod End Supply, KSE Racing Products, Winters Performance, Cometic Gaskets, Shell Shock, Donovan, ISC Racers Tape, Kinsler Fuel Injection, Racing Optics, 5-hour ENERGY, Hoosier Tires, NGK Spark Plugs, XYZ Machining, Brown and Miller Racing Solutions, Red Devil Brakes, Schoenfeld Headers, 6B Apparel, Garrett Racing Engines, and Fortress Wealth Management for all their support!