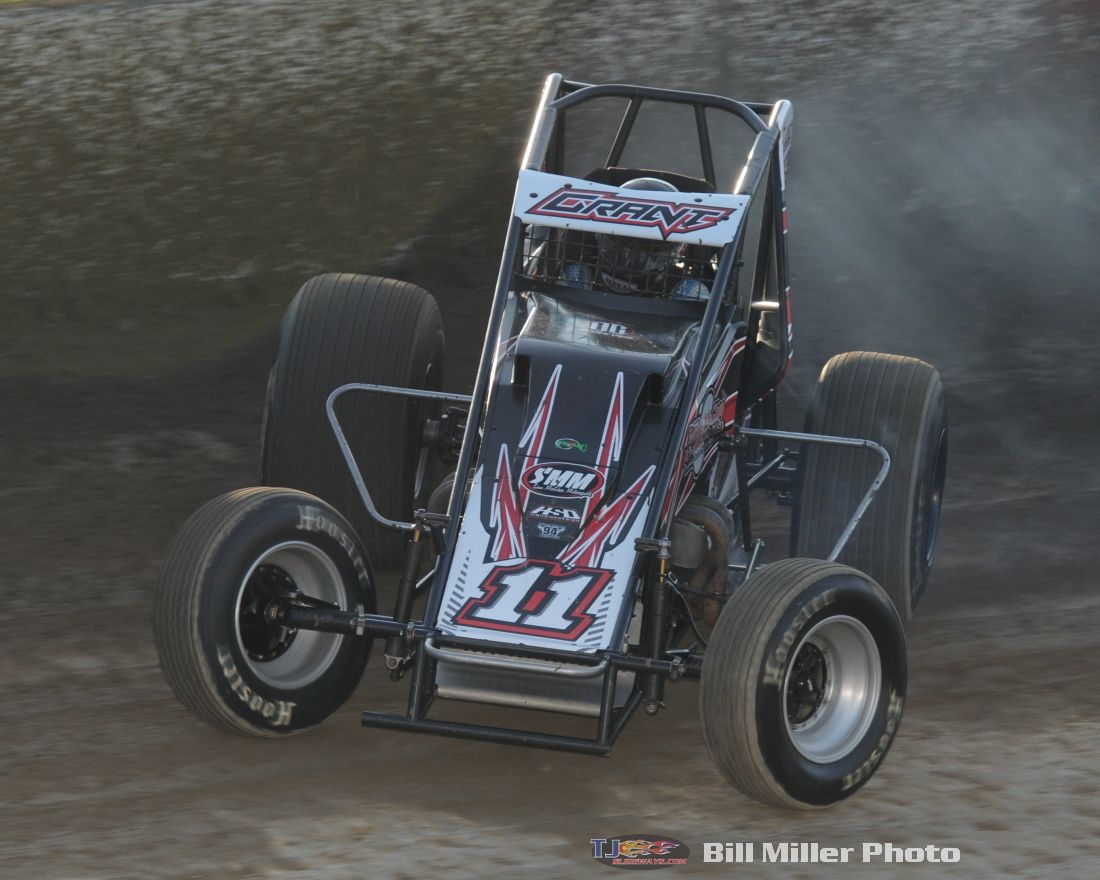 From Scott Daloisio
PERRIS, Ca. (October 23, 2017) — USAC National Sprint Car Series point leader Justin Grant of Ion, California, Garden Grove, California's Brody Roa, Hanford, California's Chad Boespflug and Tyler Thomas of Collinsville Oklahoma are among the latest entries for the 22nd Annual Budweiser Oval Nationals Presented by All Coast Construction at Perris Auto Speedway. The race will take place on November 9th, 10th and 11th.
Ion, California's Justin Grant, the USAC National Sprint Car Series point leader shown here on the inside of Trent Williams, is among the latest entries for November's Budweiser Oval Nationals. Please give photo credit to Doug Allen.
As this piece went to press, a healthy field of 43 sprint cars have entered the prestigious race. The field includes drivers from eight different states and New Zealand.
Car # Driver Residence Car Owner
2 Austin Williams Yorba Linda, CA John Jory
4 Damion Gardner Concord, CA Mark Alexander
4D TBA Gansen Engineering
4G Chris Gansen Verdemont Hgts, CA Gansen Engineering
4S Mike Spencer Temecula, CA Gansen Engineering
5 Logan Williams Yorba Linda, CA John Jory
5 Chris Windom Canton, IL Baldwin Brothers, LLC
5M Max Adams Loomis, CA Max Adams
5X Tommy Malcolm Corona, CA Dino Napier
7K Sterling Cling Tempe, AZ Kruseman Enterprises
8 Joe Stornetta Napa, CA Jim Richardson
9K Kevin Thomas Jr. Cullman, AL Kevin Thomas Jr.
10V Richard Vander Weerd Visalia, CA Vander Weerd Racing
11 Justin Grant Ion, CA Sam McGhee
17V Danny Faria Jr. Tipton, CA Danny Faria Jr.
17GP Tyler Thomas Collinsville, OK Michael Dutcher Motorsports
19 Brady Short Bedford, IN Andy Reinbold
19S Hunter Schuerenberg Sikeston, MO Andy Reinbold
21 Alec Bender Ramona, CA Rich Bender
21K Landon Cling Tempe, AZ Kruseman Enterprises
23 Tyler Courtney Noblesville, IN Topp Motorsports
28M Matt McCarthy Moreno Valley, CA John McCarthy
30 C.J. Leary Greenfield, IN Chuck and Tammi Leary
32 Chase Stockon Fort Branch, IN Chase Stockon
39 Kyle Edwards Fountain Valley, CA Gordon Edwards
42 Stevie Sussex Tempe, AZ Dwight Cheney
44 Cody Williams Corona, CA John Jory
51 Eddie Tafoya Chino Hills, CA Eddie Tafoya
52 Isaac Chapple New Castle, IN Isaac Chapple Racing
56 Ryan Bernal Hollister, CA Mike Phulps
69 Chad Boespflug Hanford, CA Dynamics. Inc.
73 Dave Darland Lincoln, IN Keith Ford
73T Carson Macedo Lemoore, CA Carrie Terry
74X Josh Hodges Albuquerque, NM Hodges Motorsports
81 Michael Pickens Auckland, New Zealand Steve Watt Enterprises
83 Austin Liggett Tracy, CA Tim Liggett
88 Jace Vander Weerd Visalia, CA Vander Weerd Racing
90 Randy Waitman Ramona, CA Randy Waitman
91 Brody Roa Garden Grove, CA BR Performance
92 Jake Swanson Anaheim, CA Tom & Laurie Sertich
92M TBA Tom & Laurie Sertich
98 Verne Sweeney Lomita, CA Ken Tracey
98 Jeremy Ellertson Lawndale, CA Jeremy Ellertson
The Oval Nationals, which pays $25,000.00 to win on the final night, is three nights of full points paying races for the USAC/CRA and USAC National Sprint Car Series. Each night will include qualifying, heat races and main events. Advance tickets for the most prestigious non-wing sprint car race in the nation are available at the following link: http://pas.tix.com/Schedule.aspx?OrgNum=7 or by calling 1-800-595-4849.
In addition to the USAC portion of the show, Saturday's program also includes a special invitational debut of the Yamaha R1 DT race car.
Past Oval Nationals Champions
1996 Jimmy Sills
1997 Rip Williams
1998 Rodney Argo
1999 Rickie Gaunt
2000 Tony Jones
2001 Bud Kaeding
2002 Bud Kaeding
2003 Cory Kruseman
2004 Cory Kruseman
2005 Dave Darland
2006 Dave Darland
2007 Bud Kaeding
2008 Jesse Hockett
2009 Damion Gardner
2010 Chris Windom
2011 Damion Gardner
2012 Mike Spencer
2013 Dave Darland
2014 Robert Ballou
2015 Bryan Clauson
2016 Damion Gardner
Perris Auto Speedway wants to thank its corporate partners for the 2017 season. All Coast Construction, Amsoil, Ayers Hotel and Spa, Brass and Bass Firearms & Fishing Supplies, Budweiser, Bud's Tire Pro, Center Point Church, Champion Towing, City of Perris, Country Values Magazine, Daytona Boat & RV Storage, Ed Moore Bullet Proof Driveshaft, Edelbrock, Flowdynamics, Full Throttle Scissor Lift Rental, Green Sheet, Harley's Custom Cycles, HD Industries, Hoosier Tires, Indiana Truck Salvage, K&N Engineering, Living Water's Hospice, Luke's Transmission, Moreno Valley Magazine of Values, Paul Oil Company, Pepsi-Cola, Pick-A-Part Auto Salvage, Pole Position, Precision Engine of Murrieta, PrintItNow.com, Scott Sales, Shaver Specialties, Square H, Sunstate Equipment, Swedish Speed, Original Tommy's Burgers, Trench Shoring, Valley News, Vista Paint and Weedmaps.
To keep up with all the latest Perris Auto Speedway news, photos, gossip and receive special offers, please use the following links:
Facebook: https://www.facebook.com/pages/Perris-Auto-Speedway/113876798686480?ref=hl
Twitter: Perris Auto Speedway on Twitter.
Instagram: https://www.instagram.com/perrisautospeedway/
Website: http://perrisautospeedway.com/