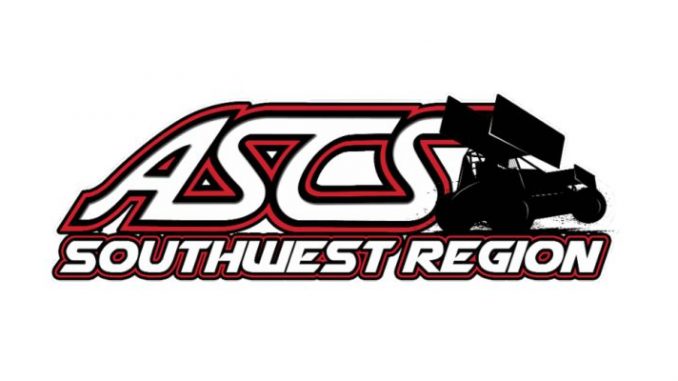 From Bryan Hulbert
TULSA, Okla. (May 3, 2018) – Two weeks to regroup and race again, the ASCS Southwest Region is back at Arizona Speedway in Queen Creek this Saturday, May 5 for the season's fifth round of action.
Picking up his third win in four starts, Colton Hardy further padded his point's lead to 63 markers over Billy Chester. Leading all but one lap in the tour's last visit on April 21, a caution with two to go set the stage for the last lap pass by Hardy for his fifth career win at the three-eighths-mile oval since 2016. Only 76 points removed in third, Josh Shipley will look to gain ground this weekend with Rick Ziehl rolling in off his best finish of the season to move through the standing from seventh. New Mexico's Jesse Baker makes up the top-five in ASCS Southwest Regional standings.
Alex Pettas in sixth is trailed by Nick Parker, Jarrett Martin, Steve Cushman, and Lorne Wofford to make up the series top-ten.
Saturday, May 5 will include IMCA Modifieds, Modlites, Pure Stocks, and Bombers with Grandstands opening at 5:00 P.M. and racing at 7:15 P.M. (MT). Admission is $15 for adults with Seniors only $12. Kids 11 and under get in the grandstands for free.
Arizona Speedway is located at 47346 N Ironwood Rd. More information on the facility can be found online at http://www.arizonaspeedway.net as well as on Facebook at https://www.facebook.com/Arizona-Speedway-211954742150175. Fans can also email info@arizonaspeedway.net or call (480) 926-6688.
For other news, notes, and information on the American Sprint Car Series, from the National Tour to any of the Regional Tours that make up the nearly 150 races across the ASCS Nation in 2018, log onto http://www.ascsracing.com, follow on Facebook, on Instagram, and on Twitter (@LucasOilASCS).