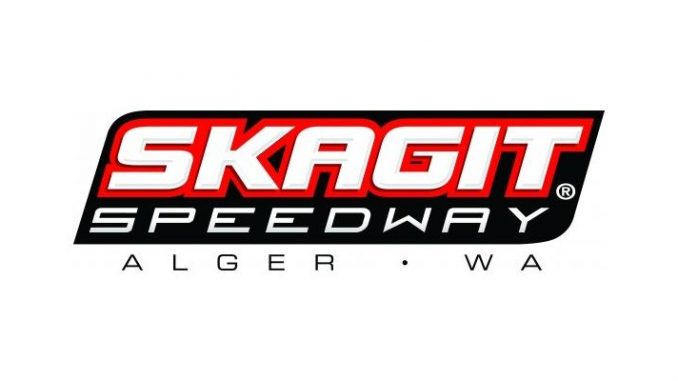 From Kaleb Hart
ALGER, Wa. (May 26, 2018) — A busy night at Skagit Speedway saw The John Carroll Classic main events won by Eric Fisher, Barry Martinez, Graham Cook and Jon Gunderson, followed by a huge fireworks show that thrilled the packed crowd. Racing and fireworks were sponsored by Industrial Resources Incorporated.
On his 33rd birthday, Eric Fisher gave his team the gift of a feature win in the Budweiser 360 Sprints. On a lap 17 restart, Fisher executed a slidejob through turns one and two, taking the lead away from Justin Youngquist. Youngquist would catch back up to Fisher with two laps left but could not retake the lead, giving Eric his first win of the year, with Youngquist and Jared Peterson filling the podium. Trevor Cook was quick time with heat wins going to Matt Jensen and Greg Hamilton.
For the first time in a number of years, former track champion Barry Martinez returned to victory lane. PIloting one of three Rude Racing owned Cook Road Shell Sportsman Sprints, Martinez led all 25 laps of the main event with Kelsey Carpenter in the second Rude Racing car hot on his heels nearly the whole way around. Barry would dedicate the win in victory lane to Barb Hunziker, a huge fan and supporter of his who recently passed away. Carpenter would take second with Trevor Cook running third. Cory Swatzina set quick time, with the heat wins going to Jake Helsel, Martinez and Carpenter.
The second appearance of the year for the Washington Modified Tour saw a barnburner of a main event. Graham Cook and Jesse Williamson went to war, with Cook dedicated to the top of the speedway and Williamson patiently working the low groove. Cook led the first thirteen laps until Williamson took the lead from the low side on lap 14. Cook would make an adjustment to his line on lap 15, driving deeper into turn one before rotating his car, finding additional moisture and driving back into the lead on lap 15. Williamson continued to run him hard and clean on the low groove but never quite edging ahead again as Cook took the win, with Jesse second and BJ Wild running third. Williamson, Wild and James Wolford won the heats.
It was a dominant win for Jon Gunderson in the Outlaw Tuners, as he led the final 15 laps unchallenged en route to the victory. Matt Shaw ran for the first time in a number of years and took second with Brandon Jansen taking a career best third. Gunderson and Clint Meins won the heats.
Budweiser 360 Sprints
Fast Time – Trevor Cook 11.941
Heat 1 – Matt Jensen, Eric Fisher, Justin Youngquist, Trevor Cook, Steve James, Michael Hodel
Heat 2 – Greg Hamilton, Jared Peterson, Colton Heath, Luke Didiuk, Bud Ashe, Cale Brooke
Main – Eric Fisher, Youngquist, Peterson, Hamilton, Heath, Cook, Ashe, Hodel, Brooke, James, Jensen
Lap Leaders – Youngquist 1-16 Fisher 17-25
Cook Road Shell Sportsman Sprints
Fast Time – Cory Swatzina 13.173
Heat 1 – Jake Helsel, Cory Swatzina, Ashleigh Johnson, Bailey Sucich, Bill Rude, Brett McGhie
Heat 2 – Barry Martinez, Steve Parker, Devin Barnes, Trevor Cook, Tim Levin, Malachi Gemmer
Heat 3 – Kelsey Carpenter, Michael Bollinger, James Bundy, Adam Hinds, Joe Lyon
Main – Barry Martinez, Carpenter, Cook, Swatzina, Helsel, Barnes, Bollinger, Sucich, Hinds, Johnson, McGhie, Lyon, Levin, Rude, Parker, Gemmer, Bundy
Lap Leaders – Martinez 1-25
Washington Modified Tour
Heat 1 – Jesse Williamson, Adam Holtrop, Jeff Blanton, Tyson Blood, Rick Smith, Tiana Berkeley, Kyler Moore, Cliff Ballenger
Heat 2 – James Wolford, Mike Steltz, Don Martin, Craig Moore, Mel Decker, Mike Knox Jr, Josh Richardson
Heat 3 – BJ Wild, Graham Cook, Kevin Smith, Austin Kerrigan, Dan Butenschoen, Lawrence O'Connor, Geoff Morris
B Main – Kyler Moore, Berkeley, Morris, Knox Jr, Richardson, Ballenger, O'Connor
A Main – Graham Cook, Williamson, Wild, K Moore, C Moore, Holtrop, K Smith, Steltz, Wolford, R Smith, Berkeley, Blood, Knox Jr, Decker, Kerrigan, Butenschoen, Martin, Richardson, Blanton, Morris
Lap Leaders – Cook 1-13 Williamson 14 Cook 15-25
Outlaw Tuners
Heat 1 – Jon Gunderson, Vance Hibbard, Brian Michelson, Jack Desrosier
Heat 2 – Clint Meins, Matt Shaw, Rob Dozark, TJ Campbell, Matt Dunnigan
Main – Jon Gunderson, Shaw, Brandon Jansen, Dozark, Desrosier, Michelson, Dunnigan, Hibbard, Meins
Lap Leaders – Gunderson 1-15