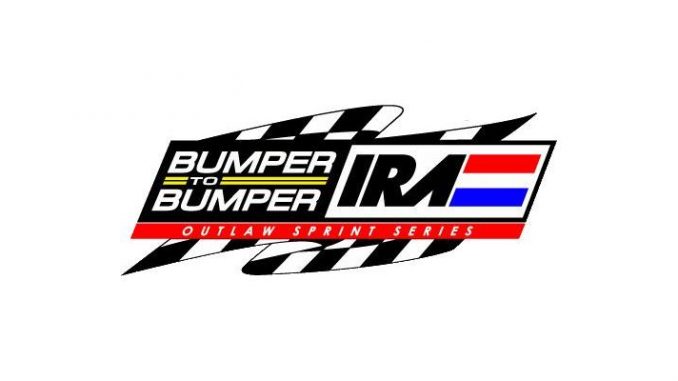 From Gared Tennyson
WILMOT, Wi. (June 16, 2018) — Bill Balog utilized lapped traffic late in the 30 lap A main to wrestle the lead away from Scotty Neitzel and pick up the win.
32 cars signed in for action Saturday at the Wilmot Raceway under a scorching hot sun. 3 time Wilmot track champion and 2016 IRA champion Jeremy Schultz set quick time in Osborn and Son Trucking qualifying. Bill Balog would time in 2nd over Scotty Thiel and Jake Blackhurst. 5th place would be claimed by Mitchel, Indiana's Chase Briscoe.
Heat race number 1 would be dominated by front row starting Bill Wirth. Wirth lead all 10 laps in route to the heat race win over Scott Biertzer. Jeremy Schultz would have to settle for 3rd ahead of Kris Spitz and Chase Briscoe.
Heat race 2 saw 2 time IRA champion hold off Bill Balog to take the win. Raymond Hensley would finish in 3rd followed by Mike Reinke and Wayne Modjeski.
The 3rd heat race was exciting as Scotty Thiel drove from his 4th starting position to the lead. Defending Wilmot track champion Matt Vandervere would pressure Thiel for the top spot but couldn't make a pass happen. Thiel would pick up the win followed by 2 men with Wilmot 410 sprint car victory's in 2018, Vandervere and Steve Meyer. Scott Uttech would finish in 4th and Jordan Goldesberry was 5th.
The 4th and final heat race was won by 3rd starting Todd Daun over rookie of the year contender Brandon McMullen. Jake Blackhurst was 3rd, Russel Borland was 4th and Mike Decker claimed the 5th and final A main transfer position.
The B main saw 12 cars take the track for the remaining 4 A main starting spots. Tea, South Dakota native Justin Henderson would utilize his pole starting position to take the early lead, and lead all 12 laps in route to victory. Jim Moughan would bring his Moughan Builders 1m car home in 2nd with Jereme Schroeder in 3rd. Trey Datweiler and Dave Uttech battled much of the race for the 4th and final transfer spot, Datweiler would eventually solidify himself in that 4th spot, and Uttech would cross under the checkered flag in 5th.
The A main got off to a rough start, with 3 yellow flags in the first 2 laps, but the last 28 laps went caution free. Scott Neitzel took the early lead over Jake Blackhurst. Bill Balog would quickly move himself past Blackhurst and into 2nd, but he would experience a challenge of his own. The 4B of Scott Biertzer had moved into 3rd and wanted more. Biertzer and Balog traded 2nd place multiple times through lapped traffic before the "North Pole Nightmare" was finally able to clear Biertzer. As the race neared the end, Neitzel held off Balog through many attempts to pass. With just 5 laps remaining though, Bill Balog with the help of a lapped car would sneak by Scotty Neitzel and claim victory. Biertzer would also pass the 2w for 2nd, relegating Neitzel to the bottom step of the podium. Chase Briscoe would finish in 4th position, and in the closing laps Blackhurst who had fallen back would grab 5th place away from 10th starting Scotty Thiel.
Bumper to Bumper Interstate Racing Association
Wilmot Raceway
Wilmot, Wi
Saturday June 16, 2018
Heat Race #1 (10 Laps): 1. 53W-Bill Wirth, [1]; 2. 4B-Scott Biertzer, [2]; 3. 5J-Jeremy Schultz, [4]; 4. 4K-Kris Spitz, [5]; 5. 5-Chase Briscoe, [3]; 6. 43-Jereme Schroeder, [6]; 7. 23D-Trey Datweiler, [7]; 8. 63-Nick Matuszewski, [8]
Heat Race #2 (10 Laps): 1. 2W-Scott Neitzel, [1]; 2. 17B-Bill Balog, [4]; 3. 70-Raymond Hensley, [2]; 4. 02-Mike Reinke, [3]; 5. 14AJ-Wayne Modjeski, [6]; 6. 68-Dave Uttech, [7]; 7. (DNF) 65X-Austin Deblauw, [5]; (DNS) 0-John Fahl,
Heat Race #3 (10 Laps): 1. 64-Scotty Thiel, [4]; 2. 10V-Matt VandeVere, [1]; 3. 85M-Steve Meyer, [2]; 4. 7-Scott Uttech, [5]; 5. 65-Jordan Goldesberry, [6]; 6. 83-Justin Henderson, [3]; 7. 14-Jim Fifield, [7]; 8. 18-Keith Fellner, [8]
Heat Race #4 (10 Laps): 1. 19-Todd Daun, [3]; 2. 10W-Brandon McMullen, [2]; 3. 25-Jake Blackhurst, [4]; 4. 23-Russel Borland, [5]; 5. 12-Michael Decker, [7]; 6. 1M-Jim Moughan Jr, [1]; 7. 97X-Alan Gilbertson, [6]; 8. 29-Hunter Custer, [8]
B-Main (12 Laps): 1. 83-Justin Henderson, [1]; 2. 1M-Jim Moughan Jr, [2]; 3. 43-Jereme Schroeder, [3]; 4. 23D-Trey Datweiler, [6]; 5. 68-Dave Uttech, [4]; 6. 65X-Austin Deblauw, [7]; 7. 63-Nick Matuszewski, [10]; 8. 14-Jim Fifield, [8]; 9. 18-Keith Fellner, [11]; 10. 29-Hunter Custer, [12]; 11. (DNF) 97X-Alan Gilbertson, [5]; (DNS) 0-John Fahl,
A-Main (30 Laps): 1. 17B-Bill Balog, [3]; 2. 4B-Scott Biertzer, [6]; 3. 2W-Scott Neitzel, [1]; 4. 5-Chase Briscoe, [5]; 5. 25-Jake Blackhurst, [2]; 6. 64-Scotty Thiel, [10]; 7. 19-Todd Daun, [7]; 8. 02-Mike Reinke, [8]; 9. 10W-Brandon McMullen, [11]; 10. 10V-Matt VandeVere, [12]; 11. 65-Jordan Goldesberry, [19]; 12. 85M-Steve Meyer, [14]; 13. 83-Justin Henderson, [21]; 14. 7-Scott Uttech, [16]; 15. 23-Russel Borland, [17]; 16. 23D-Trey Datweiler, [24]; 17. 14AJ-Wayne Modjeski, [18]; 18. 43-Jereme Schroeder, [23]; 19. 12-Michael Decker, [20]; 20. 53W-Bill Wirth, [9]; 21. 1M-Jim Moughan Jr, [22]; 22. 4K-Kris Spitz, [15]; 23. 5J-Jeremy Schultz, [4]; 24. 70-Raymond Hensley, [13]