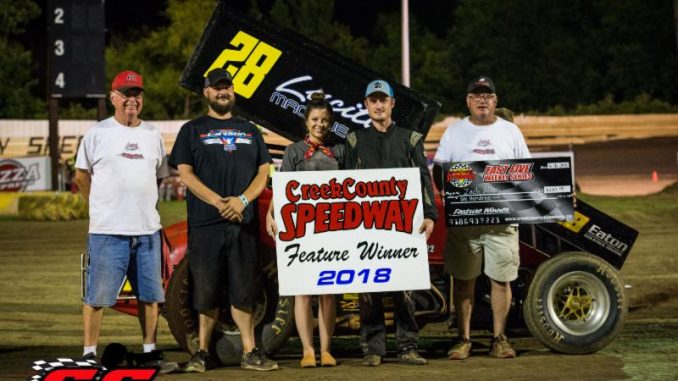 From Bryan Hulbert
SAPULPA, Okla. (June 16, 2018) Two earned their first wins of the season, the remainder added to their totals as Creek County Speedway hosted Round 10 of the 2018 Fast Five Weekly Series with Zach Alley.
grabbing his first Champ Sprint win of the season, along with Michael Longacre in Mini Stock competition.
Both adding their seventh wins to the season, Chad Davis continued his dominance of the Modifieds while Austin McSperitt topped the Factory Stocks. Getting his second triumph of 2018, Rob McQuary ran to victory with the Dwarf Cars.
Going 25 laps in the Champ Sprints, the No. 28 of Zach Alley ran to the win from seventh. Will Scribner from eighth was second with Jaiden Hugues on the final podium step. Layne Himebaugh from 11th ran to fourth with Matt Sherrell adding to a successful week with a fifth-place run after winning the USAC Wingless Sprints of Oklahoma A-Feature on Thursday night.
From eighth, Chad Davis picked his way to the front with James Esmond in second. Kendall Shultz, Chris Spencer, and Ho Dean made the top-five.
Winning from third in the Dwarf Cars, Rob McQuary outran Sam Champlain to the checkered flag with Robert Watson in third. Paul York crossed fourth with Chandler Foltz in fifth.
Factory Stock action continues to go the way to Austin McSperitt. Bringing his steak to three, McSperitt was chased to the line by Jimmy Owen with Bobby Wolfe in third. Calvin Lewis and Chris Wilhite made the top-five.
Adding to his streak of four top-five finishes with a win, Michael Longacre crossed ahead of Kevin McSperitt. Ending Kevin's streak of wins at five, the final podium earner was Kimberly Tyre with Evan Smith running to fourth from 13th. Austin Timmons made the top-five.
Creek County Speedway's Fast Five Weekly Series of Champ Sprints, Modifieds, Dwarf Cars, Factory Stocks, and Mini Stocks returns for Round 11 on Saturday, June 23, 2018. Gates open at 5:00 P.M with Hot Laps at 7:00 P.M. Races get underway at 7:30 P.M. (CT).
Admission prices are $10 for adults. Youth 11-14 get in for $6 and kids 10 and under get into the grandstands for free. Pits are $30 (under 10 years of age is $15).
Creek County Speedway is located at 18450 West Hwy. 66 between Sapulpa and Kellyville. For more information on Creek County Speedway, including a complete lineup of events and directions, log onto http://www.creekcountyspeedway.co or call (918) 247-RACE (7223) or (918) 838-3777. The track can also be found on social media at https://www.facebook.com/CreekCountySpeedway.
Race Results:
Creek County Speedway – Sapulpa, Okla.
Saturday, June 16, 2018
2018 Season Round 10
Champ Sprints
A Feature (25 Laps): 1. 28-Zach Alley, [7]; 2. 54-Will Scribner, [8]; 3. 222-Jaiden Hughes, [5]; 4. 94L-Layne Himebaugh, [11]; 5. 22X-Matt Sherrell, [15]; 6. 5$-Danny Smith, [14]; 7. 53-Brett Wilson, [9]; 8. 9$-Kyle Clark, [12]; 9. 84-Alex DeCamp, [13]; 10. 22-David Stephenson, [21]; 11. 23X-Donovan Wise, [1]; 12. 97-Kevin Cummings, [3]; 13. 777-Bailey Hughes, [6]; 14. 23-Jimmy Taylor, [17]; 15. 23A-Travis Ashwood, [16]; 16. 32-Daniel Abrahms, [19]; 17. 22T-Frank Taft, [4]; 18. 13$-Len Larkin, [20]; 19. (DNF) 18J-Wade Jarvis, [18]; 20. (DNF) 62-James Shoun, [2]; 21. (DNF) 20H-Noah Harris, [10]
Heat 1 (8 Laps): 1. 97-Kevin Cummings, [2]; 2. 9$-Kyle Clark, [6]; 3. 23X-Donovan Wise, [1]; 4. 54-Will Scribner, [4]; 5. 222-Jaiden Hughes, [3]; 6. 23A-Travis Ashwood, [5]; 7. 32-Daniel Abrahms, [7]
Heat 2 (8 Laps): 1. 22T-Frank Taft, [2]; 2. 777-Bailey Hughes, [3]; 3. 84-Alex DeCamp, [6]; 4. 20H-Noah Harris, [5]; 5. 22X-Matt Sherrell, [7]; 6. 23-Jimmy Taylor, [4]; 7. 13$-Len Larkin, [1]
Heat 3 (8 Laps): 1. 53-Brett Wilson, [4]; 2. 5$-Danny Smith, [6]; 3. 94L-Layne Himebaugh, [5]; 4. 28-Zach Alley, [3]; 5. 62-James Shoun, [1]; 6. 18J-Wade Jarvis, [7]; 7. (DNF) 22-David Stephenson, [2]
Modifieds
A Feature (20 Laps): 1. 52-Chad Davis, [8]; 2. 20-James Esmond, [3]; 3. 77-Kendall Shultz, [7]; 4. 8S-Chris Spencer, [5]; 5. 39-Ho Dean, [6]; 6. 121-Blake Fogle, [4]; 7. 14-Brennon Lacy, [9]; 8. 7E-Jim Estes, [12]; 9. 4-Joshua Tyre, [10]; 10. (DNF) 64-Taylor Howell, [11]; 11. (DNF) 03-Toby Cooper, [2]; 12. (DNF) 50-Brandon James, [13]; (DNS) 9X-Casey Buechler, ; (DNS) 1-Collin Wiseley,
Heat 1 (8 Laps): 1. 39-Ho Dean, [6]; 2. 03-Toby Cooper, [2]; 3. 52-Chad Davis, [7]; 4. 8S-Chris Spencer, [5]; 5. 14-Brennon Lacy, [4]; 6. 64-Taylor Howell, [1]; 7. (DNF) 50-Brandon James, [3]
Heat 2 (8 Laps): 1. 9X-Casey Buechler, [1]; 2. 77-Kendall Shultz, [6]; 3. 20-James Esmond, [3]; 4. 121-Blake Fogle, [4]; 5. 4-Joshua Tyre, [5]; 6. 7E-Jim Estes, [2]; 7. (DNF) 1-Collin Wiseley, [7]
Dwarf Cars
A Feature (20 Laps): 1. 17-Rob McQuary, [3]; 2. 34-Sam Champlain, [5]; 3. 110-Robert Watson, [11]; 4. 52-Paul York, [7]; 5. F4-Chandler Foltz, [12]; 6. 35-Jason Miles, [1]; 7. 26-Mike Howard, [8]; 8. 31-Logan Applegate, [4]; 9. 88-Dakota Champlain, [10]; 10. 33-Jeff Robertson, [9]; 11. (DNF) 12-Jorge Chacon, [6]; 12. (DNF) X15-Larry Pense, [2]; (DNS) 57-Paul Kaseman,
Heat 1 (8 Laps): 1. X15-Larry Pense, [3]; 2. 12-Jorge Chacon, [7]; 3. 34-Sam Champlain, [5]; 4. 52-Paul York, [6]; 5. 33-Jeff Robertson, [1]; 6. (DNF) 110-Robert Watson, [4]; 7. (DNF) 57-Paul Kaseman, [2]
Heat 2 (8 Laps): 1. 31-Logan Applegate, [4]; 2. 35-Jason Miles, [2]; 3. 17-Rob McQuary, [3]; 4. 26-Mike Howard, [5]; 5. 88-Dakota Champlain, [1]; 6. (DNF) F4-Chandler Foltz, [6]
Factory Stocks
A Feature (15 Laps): 1. 12-Austin McSperitt, [4]; 2. 1-Jimmy Owen, [2]; 3. 5W-Bobby Wolfe, [3]; 4. 44-Calvin Lewis, [1]; 5. 21W-Chris Wilhite, [5]; 6. 66-Jerry Higgins, [8]; 7. 15J-Jeff Weller, [6]; 8. 04-Bill Newton, [9]; 9. (DNF) 21-Chris Wilhite Jr., [7]
Heat 1 (8 Laps): 1. 5W-Bobby Wolfe, [4]; 2. 1-Jimmy Owen, [3]; 3. 12-Austin McSperitt, [5]; 4. 44-Calvin Lewis, [2]; 5. 21W-Chris Wilhite, [9]; 6. 15J-Jeff Weller, [6]; 7. 21-Chris Wilhite Jr., [8]; 8. 66-Jerry Higgins, [7]; 9. 04-Bill Newton, [1]
Mini Stocks
A Feature (20 Laps): 1. 0X-Michael Longacre, [4]; 2. 88-Kevin McSperitt, [7]; 3. 39-Kimberly Tyre, [10]; 4. 57-Evan Smith, [13]; 5. 15C-Austin Timmons, [9]; 6. 191-Dylan Lehew, [6]; 7. 36-Kenny Grumadas, [3]; 8. 3R-Robert Lockhart, [14]; 9. (DNF) 12-Dearl Harrison, [12]; 10. (DNF) 4BJR-Justin Melton, [5]; 11. (DNF) 39B-RJ Vanzant, [11]; 12. (DNF) 23-Cody Mcclain, [1]; (DNS) 21J-Jesse Hill, ; (DQ) 7B-Leroy Burger, [8]; (DQ) 26-Adrien Hickman, [2]
Heat 1 (8 Laps): 1. 88-Kevin McSperitt, [6]; 2. 26-Adrien Hickman, [3]; 3. 36-Kenny Grumadas, [4]; 4. 4BJR-Justin Melton, [5]; 5. 15C-Austin Timmons, [2]; 6. 39B-RJ Vanzant, [8]; 7. (DNF) 57-Evan Smith, [7]; 8. (DNF) 3R-Robert Lockhart, [1]
Heat 2 (8 Laps): 1. 7B-Leroy Burger, [6]; 2. 0X-Michael Longacre, [4]; 3. 191-Dylan Lehew, [5]; 4. 23-Cody Mcclain, [1]; 5. 39-Kimberly Tyre, [3]; 6. 12-Dearl Harrison, [7]; (DNS) 21J-Jesse Hill,