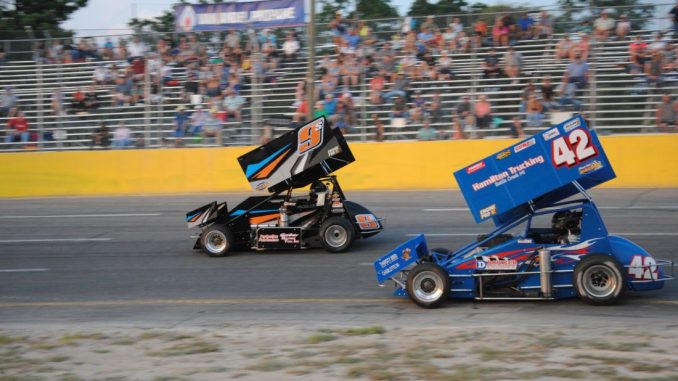 By T.J. Buffenbarger
Charlie Schultz can still hustle a sprint car. Schultz's performance at Berlin on Saturday was reminiscent of the first time I saw him race at Toledo Speedway back in 2001. It's hard to believe that Schultz had not won in a sprint car in over a decade. After years of super modified racing Schultz returned to sprint car racing with the same car he used to beat super modifieds to win on Saturday at Berlin. When discussing pavement sprint car drivers Schultz doesn't always come up in the conversation among the best drivers, making him one of the most underrated in that segment of the sprint car world.
While the box score doesn't show it the McCune family had quite the comeback story throughout the evening. During qualifying and preliminary action Anthony McCune fought a strange intermittent issue that would shut down his engine. Anthony rallied from the tail of the field to score a fifth place finish. Jimmy McCune was running in the top five early in the feature when a lapped car spun in front of him. With nowhere to go Jimmy made minor contact that thankfully only bent a wheel. Jimmy rallied to finish in third position.
For racing infrequently even by pavement standards due to shoulder surgery during the off season and only par time this season Ike Beasley gets more for less maybe than any other driver in the pit area. Beasley looked sharp all-night hustling to fourth spot and was close to landing a podium position. It would be interesting to see what Beasley could do with a higher funder operation.
It was great to see a nice field of 18 sprint cars on hand for the show at Berlin Raceway, but the high speeds magnified the different between the front and back half of the field. By lap 25 there were lap cars down five laps not holding lines while the leaders were turning blistering low 14 second laps around the 7/16-mile oval. I know everyone works hard to put a car on the track, but there were moments during Saturday's feature that were mildly terrifying with some of the slower lapped cars wondering aimlessly around the racing surface as the leaders blasted around them multiple times. <

/ul>

After a week in Iowa it was nice to have a "home game" just a little under 30 minutes from home at a beautiful facility like Berlin Raceway. It's always difficult leaving Knoxville but having such a great facility such as Berlin to visit makes the transition a lot easier. I am grateful to have such a nice facility in my backyard, even more so knowing that in September Berlin's racing surface will be covered with dirt featuring an appearance by the Engine Pro Sprints on Dirt presented by ARP on September 29th.