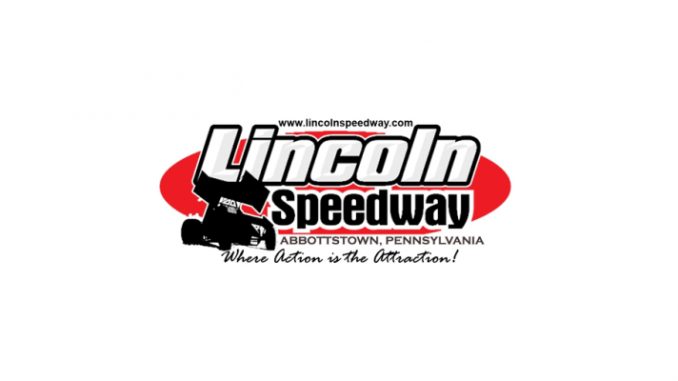 By Bill Meyer
ABBOTTSTOWN, PA 9/1/2018 – Brian Montieth was declared the winner, and 2018 track champion when the 2nd Annual Bob Leiby Memorial was shortened to 18 laps due to rain. Montieth's win was his 6th of 2018, and the 61st of his career at the Fabulous Lincoln Speedway.
The 20-lap 358 sprint feature was postponed until Oct. 6th on Manufacturers Appreciation Night and will be a point show to determine the 2018 Keizer Aluminum Wheels Track Championship.
The 358 Late Model make-up feature from June 23rd was won by Bernie Beard. The regularly scheduled 358 late model feature was canceled and will not be rescheduled.
Heats for the 23 410 sprints were won by Dan Shetler, Matt Campbell, and Tim Wagaman.
Heats for the 25 358 sprints were won by Dylan Norris, Matt Findley, and Chandler Leiby.
Heats for the 20 358 late models were won by Paul Cursey and Bernie Beard
Lincoln Speedway will be dark next Saturday night, September 8th, but will be back in action the following Saturday night, September 15th with the special 358 Sprints ("K1 RaceGear 358 Sprint Summer Series" event) will also include the remainder of the August 18th 358 sprint feature which was postponed due to rain after 7 laps were in the books. Also on the schedule will be the PASS/IMCA 305 Sprints, Penn-Mar Vintage Race Car Club, and EMMR [***Final points race for 358 Sprints***]. Competition Pit gates will open at 5 PM, Spectator Pit Admission & General Admission gates will open at 5:30 PM. Hot laps will get underway at 7 PM, with heats scheduled to get underway at 7:30 PM.
To get all the latest news, results, schedule changes and rule changes, visit Lincoln Speedway's website at http://www.lincolnspeedway.com to stay up-to-date on all the action or pending weather conditions at Central Pennsylvania's "Premier" Saturday night race track – The Fabulous Lincoln Speedway.
RACE RESULTS
Saturday, September 1, 2018
LINCOLN SPEEDWAY
Abbottstown, PA
BOB LEIBY MEMORIAL
410 Sprint Feature Finish (18 Laps) – 1. 21-Brian Montieth ($4,000); 2. 51-Freddie Rahmer; 3. 1*-Tim Wagaman; 4. 99M-Kyle Moody; 5. 7K-Dan Shelter; 6. 16-Matt Campbell; 7. 4R-Chase Dietz; 8. 88-Brandon Rahmer; 9. 39-Cory Haas; 10. 87-Alan Krimes; 11-69-Tim Glatfelter; 12. 5-Tyler Ross; 13. 73B-Brett Michalski; 14. 21T-Scott Fisher; 15. 17-Cole Young; 16. 1X-Chad Trout; 17. 74D-T.J. DeHaven; 18. 3B-Randy Baughman; 19. 59-Jim Siegel (DNF); 20. 39M-Anthony Macri (DNF); 21. 74-Dwayne Gutshall (DNF); 22. 7-Trey Hivner (DNF); 23. 2W-Glenndon Forsythe (DNF). No Time.
Lap Leaders – Tim Wagaman (1-6), Brian Montieth (7-18)
410 Sprint Heat One Finish (10 laps/6 to qualify) – 1. 7K-Dan Shetler; 2. 88-Brandon Rahmer; 3. 4R-Chase Dietz; 4. 39-Cory Haas; 5. 2W-Glenndon Forsythe; 6. 1X-Chad Trout; 7. 74D-TJ DeHaven; 8. 3B-Randy Baughman. No Time
410 Sprint Heat Two Finish (10 laps/6 to qualify) – 1. 16-Matt Campbell; 2. 21-Brian Montieth; 3. 17-Cole Young; 4. 87-Alan Krimes; 5. 39M-Anthony Macri; 6. 5-Tyler Ross; 7. 74-Dwayne Gutshall; 8. 7-Trey Hivner (DNF). Time – 2:31.416
410 Sprint Heat Three Finish (10 laps/6 to qualify) – 1. 1*-Tim Wagaman; 2. 51-Freddie Rahmer; 3. 99M-Kyle Moody; 4. 69-Tim Glatfelter; 5. 73B-Brett Michalski; 6. 59-Jim Siegel; 7. 21T-Scott Fisher. No Time
KEIZER ALUMINUM WHEELS 358 SPRINTS
358 Sprint Feature Finish (20-laps)– TO BE MADE UP OCT. 6TH
358 Sprint Heat One Finish (10 laps/6 to qualify) – 1. 44-Dylan Norris; 2. 11D-Kody Hartlaub; 3. 00-Chris Frank; 4. 19-Troy Wagaman, Jr.; 5. 14T-Tyler Walton; 6. 13S-Jon Stewart; 7. 21-CJ Tracy; 8. 5A-Zachary Allman; 9. 12-Brent Shearer (DNF). Time – 2:29.10
358 Sprint Heat Two Finish (10 laps/6 to qualify) – 1. 28-Matt Findley; 2. 66A-Cody Fletcher; 3. 19D-Wyatt Hinkle; 4. 80-Rodney Westhafer; 5. 1J-Kevin Nouse; 6. 12B-Mike Bittinger; 7. 7-Trey Hivner; 8. 38-Brett Strickler. No Time
358 Sprint Heat Three Finish (10 laps/6 to qualify) – 1. 119-Chandler Leiby; 2. 50-Alyson Dietz; 3. 59-Jim Siegel; 4. 14C-Dave Carlberg; 5. 89-Ashley Cappetta; 6. 38D-Kyle Denmyer; 7. 5-Travis Scott (DNF); 8. 97-Brie Hershey (DNF). Time – 2:31.28