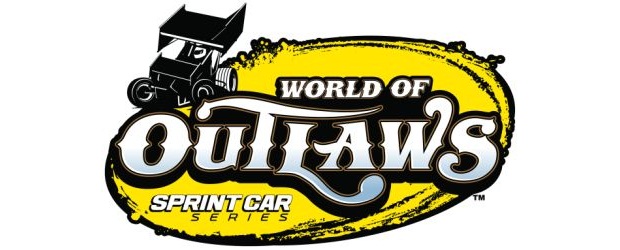 By Tony Veneziano
Lake Odessa, MI-May 21, 2010- Joey Saldana had a perfect season at I-96 Speedway in Michigan in 1995, winning all four of the starts he made at the sprawling half-mile. While all of those wins that year were special, one stood out far above the others, because on July 24 he added his name to the record books scoring his first World of Outlaws A-Feature triumph. He has gone on to win 62 more times with the series since and currently is ninth on the all-time win list.
Ironically Saldana has not visited Victory Lane at I-96 Speedway since sweeping all four of his starts at there in 1995. He will have a chance to contend for his second win with the World of Outlaws at the track as the series this weekend as they take to the half-mile for the Rumble in Michigan on Saturday, May 22 which will serve as the series only stop of the season in the Great Lake State.
"I always enjoying going there, especially since I got my first Outlaws win there," said Saldana. "It seems like I used to run really well there. We've been decent there the last few years, and it would be nice to go there this time and have a legitimate shot at winning. We're definitely running better and hopefully we can go in there and get a good finish. That's one of the closer races to my house so I always look forward to the races that are under five hours from my house."
Over the years with the World of Outlaws, nearly two-thirds of Saldana's wins have come on short tracks, those under a half-mile in length, though he always has enjoyed racing on big, fast half-miles like I-96 Speedway. He won earlier this season at Eldora on a half-mile and has seven finishes of sixth or better on tracks that size in 2010 aboard the Budweiser Maxim.
"The last few years I've run stronger on the shorter tracks than the big tracks," he noted. "With my hand, I've actually been looking forward to the bigger tracks, because with the shorter tracks you have to work more with your hands, pulling tear-offs. I probably got in the car way too soon (after injury), and with the discomfort with my hand, I look forward to the half-miles. I'd definitely rather be running them with the situation I'm in rather than a bunch of little ¼-miles right now."
Saldana broke his left hand two months ago at Volunteer Speedway and had subsequent surgery to insert a plate and 10 screws to help the healing process. Despite the setback, he has still been running up front, picking up two wins, seven Top-10 finishes, with six of those being Top-Five performances since the injury.
"I think it's as good as you can get," shared the veteran driver when asked about his hand. "There is nothing more you can really do. The fracture is healed and it's pretty much up to you and your body and how you deal with it. I'm sure it will never be the same, but I'm racing and I'd hate to see someone else driving my car. That's the situation I would have been in if I had been out six to eight weeks."
While he has been atop the World of Outlaws championship standings a couple of times this year as well as contending for wins in the majority of the races, Saldana is just focusing on picking up consistent finishes and most importantly finishing races. He has had bad luck a couple of times this season with flat tires, but was able to still salvage decent finishes on those nights and not lose too many points, though he points out its still way too early to focus on points.
"I think the biggest thing for me is that the whole mindset has been DNF's (did not finish), DNF's, DNF's and I go to Bulls Gap and cause a DNF myself," explained Saldana. "My team is doing everything right and I made the mistake. I think if I hadn't made that mistake, we'd have been leading the points this whole time. We were running well enough to maintain that. You can look at everyone else and your whole team, but you also have to look at yourself and what you're doing."
Saldana had a very strong pair of races at Williams Grove Speedway last week, finishing second and forth to move into the series points lead. He also set fast time in the opener at the half-mile to earn five bonus points in the standings and was fourth quick in the finale. He has earned qualifying points for being in the Top-Five in time trials eight times this season to lead all drivers.
"Usually when I come out of there, I hope to maintain with these guys and to come out of there actually gaining on these guys was huge for me mentally," he stated of his weekend at Williams Grove. "We worked really hard on our car and our motor and everything and went in there and were positive about the whole situation. We didn't let the whole 'Williams Grove Effect' get us down or get us thinking differently. We went in there like we should and treated it like any other race and had a legit shot to win the first one."
Saldana is in the midst of his fifth season driving for Kasey Kahne Racing, which is owned by the NASCAR star. Following a 20-win season last year that saw him finish third in points, he and his team have one goal this season and that is to claim their first World of Outlaws title. He has an average finish of fifth this season which is second only to 20-time series champion Steve Kinser, whom he leads in the championship standings. Saldana leads the series in laps led and is tied for the top spot in Top-Five finishes.
"We just have to keep learning," deadpanned Saldana. "This is definitely not a process you learn over night. I feel like I am getting better as a driver. We just have to stay positive and go to every race knowing that we have a shot at winning."
On Saturday, May 22 at I-96 Speedway, general admission tickets for adults will be $30 in advance and $34 the day of the race, with general admission tickets for those ages 6-12 $15, with kids 5-under admitted free of charge in the general admission section. Adult reserved tickets will be $32 in advance and $34 the day of the race, with reserved tickets for those 12-under $15. Pit combos will also be available for advance purchase only for $38 which includes a pit pass and a reserved ticket. For tickets call SLS Promotions at 815-344-2023 or I-96 Speedway at 616-642-0555. For more information visit http://www.slspromotions.com.
The World of Outlaws Sprint Car Series is brought to fans across the country by many important sponsors and partners, including: Armor All (Official Car Care Products), Chizmark & Larson Insurance , Goodyear Tires (Official Tire), SuperClean (Official Cleaner-Degreaser), VP Racing (Official Racing Fuel); in addition to contingency sponsors, Jake's Custom Golf Carts, KSE Race Products, Penske Shocks, Racing Electronics, S&S Volvo; Engine Builder's Challenge participants Don Ott Racing Engines, Kistler Engines, Shaver Specialties and Speedway Engines; and Chassis Builder's Challenge participants J&J Auto Racing, Maxim Racing and XXX Race Company.