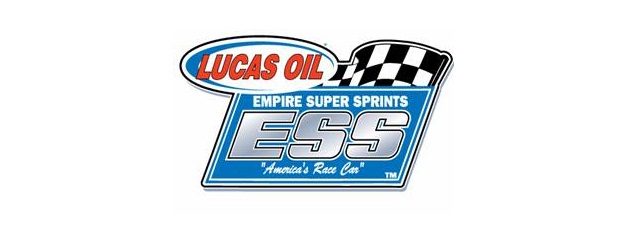 From Dean Reynolds
SYRACUSE, NY – The Lucas Oil Empire Super Sprints (ESS) is ready to celebrate America's Birthday with a big three race weekend in just a matter of 24hrs. Friday and Saturday night its at Can-Am Motorsports Park with Sunday's visit to the Utica-Rome Speedway. While the $8,000 plus that's up for grabs if a driver can sweep the three events and also valuable points for the overall Lucas Oil title isn't enough, it marks stops three, four and five on the SUNY Canton Series as well.
Fonda and Utica-Rome kicked off both the ESS point season as well as the SUNY Canton Series back on May 29 and 30. Leading the points after the two events is current overall point leader Chuck Hebing. Two-time champion Steve Poirier is second followed by defending champ Justin Barger, Dan Kaszubinski and defending SUNY Canton champ Lance Yonge.
Rounding out the top ten are Jessica Zemken, Dylan Swiernik, Jason Barney, Rick Wilson and Shawn Donath. All these stars will be on hand in hopes of climbing the SUNY Canton Points ladder.
A $2,000 winners share is set for Friday night, $4,000 on Saturday with another $2,000 on Sunday. Overall Lucas Oil points, SUNY Canton points makes the 4th of July weekend a big one indeed. America's Race Cars showcased on America's Birthday, the best sprint car drivers from the US and Canada and just like the tradition for 28 years it will be excitement guaranteed!!
For the latest up to date information please log on to www.empiresupersprints.com where fans can view our live Twitter box or join us on Twitter @ESSprints.
The Lucas Oil Empire Super Sprints are brought to you by: Lucas Oil, Northwood 2 Construction/LaSalle Motorsports, SUNY Canton, 730 Truck Stop, Hoosier Racing Tires, Les Constructions Ultra, Cooks Contracting Services, Fondations 4 Saisons, Car Mate Trailers, The National Parts Peddler Newspaper, WestFront Construction, Cobra Coaches, The Ohsweken Speedway, Mohawk Racing Parts, Engine Research, Brodix Cylinder Heads, Total Race Supply, Riverside Bar and Grill, Coffrage Daniel Lampron, Mohawk Valley Community College, FX Chevy and many, many associate sponsors.