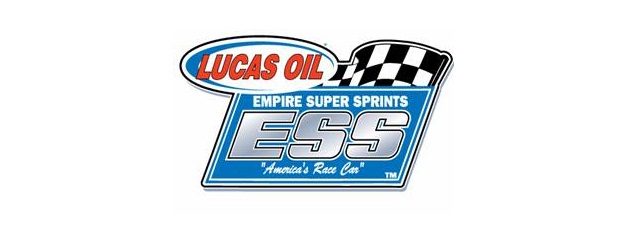 By Dean Reynolds
DRUMMONDVILLE, QUE – The second annual, $30,000 Quebec 360 Sprint Car Nationals at Autodrome Drummond was held this past Saturday night and for the fans it was a tale of two stories.
First was the biggest win ever for sprint car veteran and two-time Lucas Oil Empire Super Sprint (ESS) champion Lance Yonge. The second was performed by 16 year old ESS rookie Kevin Ward Jr. who came from sixth on lap 29 to challenge Yonge on the last turn of the last lap for the $6,000 victory.
Yonge has been racing winged sprint cars since 1992 with ESS, finished in the top five in points every year but one, 34 career victories…a hall of fame career. But, he always wanted one, just one win that puts an exclamation on the nearly 20 years of sprint racing. This finally came Saturday when he led all 35 laps to take home the Nationals victory.
Yonge isn't ready to hang up his helmet, not even close and is looking for his third ESS title this year. This however was a relief, a win that everyone in 360 sprint racing will talk about. In a unique draw system where fellow competitor Jeff Cook gave him the pole position for the start, the Johnson Farms, Castner's Performance powered #17J Maxim survived three restarts and then held off the incredible charge by Ward to earn the win.
"I do have to thank Jeff (Cook) first off. When we heard what they were doing (the draw), we made a deal that if one of us gets the pole we would give it to each other. He picked it and gave it to me." said the Penn Yan, NY star. "When I got the pole I set my car up to run the bottom, I wasn't going to move off of it unless I had too. When they worked on the track during intermission I was second guessing myself but I stayed with the plan."
Fan favorite Alain Bergeron from St. Pie, Quebec got the outside pole and Yonge was worried. "Alain is real good here and with them (track crew) working the cushion I actually figured he would get the jump on the start."
At the drop of the green it was indeed Yonge that got the jump and he did the very same on the lap six, seven and sixteen restarts. Bergeron was the outside mate twice and Cook once but it didn't matter.
If there were other cautions it was Yonge's race plain and simple. "The car was tight and I could come off the corners real well. There were times in turns one and two that I was turning left through the entire corner I was so tight."
But, with the final 19 laps going caution free the French-Canadian fans were treated to some of the very best sprint car racing by some of ESS' best and this 16 year old!
Bergeron, Cook and Jessica Zemken all swapped the runner-up slot during those 19 laps. No less than eight different drivers swapped second thru fifth positions during those laps as well. Then with the closing stages nearing all eyes were looking at the cushion slamming, black #13.
Ward Jr. did slip into fifth several times before his charge but he would get knocked back a few laps later. With just six laps left, he made a charge that will be remembered in Quebec Nationals history.
By Michael Parent on lap 29 for fifth, passed Bergeron for fourth on lap 30, around Zemken one lap later and when lap 33 was scored he went around Cook to take second. It looked like the distance between the Port Leyden, NY driver and Yonge was too much to make up.
That was until Yonge had two lap cars in front of him side by side racing for position going into turn three on the last lap. Yonge became worried fast. "I didn't know what was going on but when you notice the photographers flashes going off you know they aren't taking pictures of me and lap cars!"
Ward again went into turn three flat out and came within a few car lengths of Yonge in turn four but it was the veteran's night and the fans treat.
"Wow, I almost won the Quebec Nationals!! What a weekend! (he took third the night before at Edelweiss). I tried real hard, the outside lane was real good and I think I just needed two more laps." said the young driver of the Rider powered, WPC sponsored #13. "Lance earned it and I'm thrilled to finish this race behind him. This though would have been awesome."
"I almost got into the wall a few times in turn three as I jumped the cushion but then I got into a groove at the end and it let me go around those cars to get to second." noted Ward who took home $3,000. "I saw Lance had those lap cars ahead of him so I just tried to do the same on the last lap and hope he would slow down. It was close."
Yonge's "partner" for the draw came home with a podium finish of third and they hugged each other in victory lane. For Cook, third shakes off a string of horrible luck on the ESS trail.
"I don't think I would have gotten Lance no matter what so I was just hoping for a good second place finish." Cook said to the crowd afterwards. "Kevin though, he got me. I went low and he went to the outside and I said to myself darn it I just gave up second. But, third is good (worth $2,000). This is a great event that pays real well and I hope they continue with it."
When it was all said and done, it was a night for a sprint car great. "This is special, it's only been run two years but look at the money that pay out and some of the best drivers are here." a smiling Yonge was saying. "I have a lot of wins but this one will stay with me forever."
Zemken never challenged for the win with her Tony Stewart Motorsports #14 but came home in fourth and collected $1,500. Bergeron faded to fifth at the finish. Rounding out the top ten were fellow Quebec natives Steve Poirier and Parent, Tommy Wickham, Dan Kaszubinski and Mike Stelter.
All three cautions were minor in nature, defending champion of the event Justin Barger stopped on lap six, the same for Chuck Hebing on lap seven with Anthony Cain looping around on lap 16.
Quebec Nationals Notes: A total of 24 cars made up the pit log …Jake Langlois was the only driver not to take the green with steering woes…Steve Poirier set fast time but with the re-draw he started the Nationals in ninth…Stelter was the hard charger of the event coming up from his 16th place start…Maxim was definitely the car of choice with the top four all built from the shop out of Springfield, Il.
Quebec 360 Sprint Car Nationals A-Main – Lance Yonge ($6,000), Kevin Ward Jr. ($3,000), Jeff Cook ($2,000), Jessica Zemken ($1,500), Alain Bergeron ($1,300), Steve Poirier, Michael Parent, Tommy Wickham, Dan Kaszubinski, Mike Stelter, Anthpny Cain, Lee Ladouceur, Brian McDonald, Chris Jones, Devin Caron, Zach Weigand, Daniel Lampron, Donald Lemire, Dale Gosselin, Chuck Hebing, Justin Barger, Normand Beaudreault, Michael Forcier.
DNS – Jake Langlois.
Lap Leader – Yonge 1-35.
Fast Time – Steve Poirier
Heat 1 – Steve Poirier, Jutsin Barger, Jeff Cook, Anthony Cain, Chris Jones.
Heat 2 – Alain Bergeron, Brian McDonald, Kevin Ward Jr., Michael Parent, Chuck Hebing.
Heat 3 – Dan Kaszubinski, Lance Yonge, Jessica Zemken, Tommy Wickham, Devin Caron.
B-Main – Mike Stelter, Lee Ladouceur, Zach Weigand, Donald Lemire, Daniel Lampron, Dale Gosselin, Michael Forcier.
The Lucas Oil Empire Super Sprints are brought to you by: Lucas Oil, Northwood 2 Construction/LaSalle Motorsports, SUNY Canton, 730 Truck Stop, Hoosier Racing Tires, Les Constructions Ultra, Cooks Contracting Services, Fondations 4 Saisons, Car Mate Trailers, The National Parts Peddler Newspaper, WestFront Construction, Cobra Coaches, The Ohsweken Speedway, Mohawk Racing Parts, Engine Research, Brodix Cylinder Heads, Total Race Supply, Riverside Bar and Grill, Coffrage Daniel Lampron, Mohawk Valley Community College, FX Chevy and many, many associate sponsors.