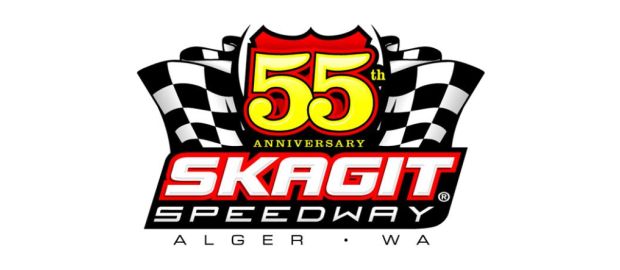 By Kaleb Hart
8/14/10
Fortune once again smiled on Justin Youngquist as he went on to win his second straight Cook Road Shell Sportsman Sprint Main Event at ASA member track Skagit Speedway. Driving his Bubba Suds Car Wash #56 XXX, Youngquist inherited the lead on lap 9 when race leader Steve Parker fell out with what they thought was an oil line issue. Justin paced the field comfortably until lap 17, when lapped traffic and a hard charging Dylan Dunham reared their collective heads. While Youngquist looked for the way to safely clear the slower cars, Dunham took his shot, showing the wheels of his Tib Automotive #7d J&J to the leader coming out of the outside of turn two. Youngquist gassed it up hard, shooting hard to the inside of the lapped car in front of him, safe for the moment. Dunham also cleared the lapper, and the race was on again coming to the white flag. Dunham tucked in behind Justin in one and two, then took a high entrance to turn three. At the apex of the corner, Dylan drove the car down sharply to the bottom of the track, shooting himself forward with enough momentum that it made the race to the finish a side by side, wheel to wheel drag race. When the dust settled, Youngquist held of Dunham for his second straight win in the Sportsman Sprints by a mere .057 seconds. Rob Schroder was third in the R&R Autoworks #1r XXX. Heat race wins went to Youngquist and Bill Rude.
Cook Road Shell Sportsman Sprints
Heat 1 – Bill Rude, Rob Schroder, Matt VanDerSys, James Bundy, Cory Swatzina, Glen Reinstra, Dave Mead, Eric Thibert, Curtis Clark
Heat 2 – Justin Youngquist, Steve Parker, Dylan Dunham, Paul Burdick, Cale Brooke, Clayton Sibley, Marc Schutte, Ron Butler, Devin Barnes
Main – Justin Youngquist, Dunham, Schroder, Bundy, Swatzina, Schutte, Rude, Butler, Reinstra, Sibley, Thibert, Mead, Parker, Brooke, Burdick, VanDerSys
Lap Leaders – Parker 1-8 Youngquist 9-20
Alan Munn was victorious for the second time on the year in the Budweiser 360 Sprints. Munn led all 25 laps for the victory in the Munn Construction #42 XXX. Munn was challenged late by second place finisher Brock Lemley piloting the Randy Price owned #21 Maxim. Kelsey Carpenter took third place late in the Dri Eaz #29 XXX after Jared Peterson spun out trying to make a move on Lemley. Heat race wins went to Rod Perkins and Evan Funk. Peterson was quick time.
Budweiser 360 Sprints
Fast Time – Jared Peterson
Heat 1 – Rod Perkins, Jared Peterson, Jonathan Jorgenson, Alan Munn, Steve James, Bud Ashe, Brett Cole
Heat 2 – Evan Funk, Devin Madonia, Brock Lemley, Kelsey Carpenter, Jeff Dunlap, Tyler Anderson
Main – Alan Munn, Lemley, Carpenter, Perkins, Madonia, Peterson, Jorgenson, Dunlap, Cole, Ashe, Funk, Anderson, James
Lap Leaders – Munn 1-25
Ben Gunderson rolled to an easy win in the Pull A Part Outlaw Hornets. Starting third, Gunderson was in the lead by the exit of turn two on the first lap after beating the lead row of cars to the inside of turn one on the initial start. The win was Gunderson's fourth of 2010. Ashley Lewellen finished a career best second, with Freddie Vela taking third. Gunderson and Lewellen won the heats.
Pull A Part Outlaw Hornets
Heat 1 – Ben Gunderson, Ken Higby, Tony Mascio, Mike Ploeg, Tyler Ketchum, Wade Swatzina, Greg Hibma, Tyler West, Jeremy Dethman, James Sims
Heat 2 – Ashley Lewellen, Rick Young, Freddie Vela, TJ Campbell, Brigham Mirabelli, Larry Kwik, Howard Vos, Jerry Birdsey Jr, Tina Thibert
Main – Ben Gunderson, Lewellen, Vela, Young, Hibma, Swatzina, Ketchum, Mirabelli, Higby, Dethman, Ploeg, Campbell, Birdsey Jr, Sims, Kwik, West, Mascio, Thibert
Travis Jacobson's trash turned into Logan Forler's treasure, as the young Orting, WA native parlayed a muffler malfunction on Jacobson's car into his first Skagit Speedway victory in the Associated Asphalt 410 division. Jacobson took off on the initial start and led the first 16 laps, streaking away from Forler who climbed to second quickly. A lap 12 caution for Eric Fisher bunched the field up, and somewhere between lap 12 and 16, Jacobson lost his muffler. Speedway officials gave the mechanical black flag to Jacobson, who retired to his pits. The lead was handed over to Logan, who raced the rest of the way to victory in the Steve Forler Trucking #2l Maxim. Forler is becoming known as a driver who can win at any track in any car, as he has 4 main event wins on the year at three different tracks in three different divisions. Jesse Whitney was second in the Rocky's Plumbing #88 Eagle. Kevin Smith took third in the Skagit Powdercoating #75 XXX. Whitney won the heat and was quick time.