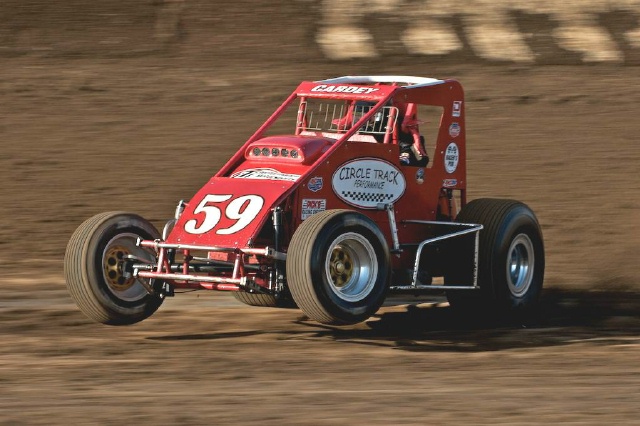 By Scott Daloisio

(AUGUST 26, 2010, RIVERSIDE, CA) Fresh off a second place finish last Saturday night in the Sprint Car main event at Victorville Auto Raceway, David Cardey will be seeking to set Perris Auto Speedway and USAC/CRA Sprint Car Series records with his fifth main event win in a row this Saturday, August 28th.
Since May 29th, the 34-year-old racing star from Riverside, California has won all four USAC/CRA main events at The PAS. Those four consecutive wins ties him for the all-time PAS record set by Tony Jones in 2008. In addition, the victories also tie him for the all-time USAC/CRA mark with Jones and Damion Gardner. Gardner. Gardner scored four successive wins (two at The PAS and one each at Ventura and Manzanita) in 2005.
Since May 29th, Cardey has truly been on an amazing run. He has started nine races between The PAS and Victorville and has captured six wins, two-second place finishes and one seventh. That seventh place finish came when he blew a radiator hose while running second at Victorville on July 24th.
Last Saturday at Victorville, Cardey started sixth in the main event and ended up a close second.
Next weekend, September 4th and 5th, Cardey will compete in the 3rd Annual Louie Vermeil Classic at Calistoga. He will be behind the wheel of Glenn Crossno's famous #38 Viper Chassis/iTi Performance powered car on the big half-mile on the Napa County Fairgrounds.
Looking down the road, Cardey is trying to get into a ride for the ASCS Non Wing portion for the 43rd Annual Western World Championships at USA Raceway in Tucson, Arizona on November 18th, 19th and 20th.
David would like to thank all of the sponsors for making his 2010 season possible. Circle Track Performance, iTi Performance Motorsports, Pick's Racing Engines, Racer's Pub, 5-Star Gas & Gear, Monster Media, Down's Oil, Empire Plumbing, Spin Tech Performance Mufflers, Don Flanders and Scott Daloisio Sports. To add your company to the sponsor list of David Cardey Racing's team for the 2010 campaign, please use the contact information at the start or end of this release.
Attached to this release is a photo of David Cardey (center) after one of his recent USAC/CRA wins at The PAS. Next to him in the photo on his left is Santa Maria's Danny Sheridan, who is currently second in points. To Cardey's left is two-time defending USAC/CRA champion and current point leader Mike Spencer of Temecula. Please feel free to publish the photo and please be sure to give photo credit to surfnsprint.com.
For more information on David Cardey Racing: contact or text Scott Daloisio at: (909) 226-7768. You can also E-mail: SDaloisioSports@aol.com.
2010 FINISHES
DATE TRACK DIVISION RESULT
February 27 Perris Auto Speedway USAC NAT. & CRA 10th A Main
March 20 Ventura Raceway VRA 11th A Main
March 27 Perris Auto Speedway USAC/CRA 16th A Main
April 10 Perris Auto Speedway USAC/CRA 11th A Main
May 29th Perris Auto Speedway USAC/CRA 1st A Main
June 5th Victorville Auto Raceway Open Comp. 1st A Main
June 12th Perris Auto Speedway USAC/CRA 1st A Main
July 3rd Perris Auto Speedway USAC/CRA 1st A Main
July 10th Victorville Auto Raceway Open Comp. 1st A Main
July 17th Perris Auto Speedway ASCS 2nd A Main
July 24th Victorville Auto Raceway Open Comp. 7th A Main
July 31st Perris Auto Speedway USAC/CRA 1st A Main
August 21st Victorville Auto Raceway Open Comp 2nd A Main