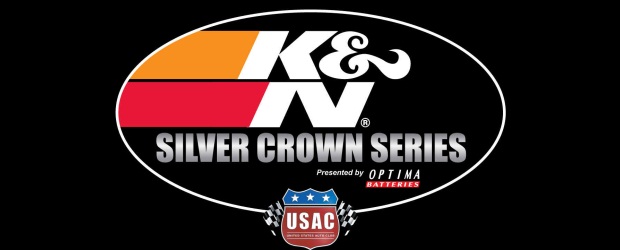 By Jay Hardin
One year after getting completely washed out by Mother Nature the Ted Horn 100 USAC K&N Silver Crown Championship Series race returns to light up the night at the 88th DuQuoin State Fair on Sunday, September 5. A large number of USAC's top stars are expected for the 100-mile grind which began in 1949 and has been held annually except when rained out in 1950, 1962 and 2009.
The USAC Silver Crown Series seems to be experiencing resurgence in interest in 2010, at least on the one-mile dirt ovals. Thirty-six cars appeared for the Hoosier Hundred in May and a similar number of entries are expected for DuQuoin, which becomes the second and final 100-mile dirt race on the schedule with the rainout at Springfield. Those entries should include five former winners of the Ted Horn 100, four USAC national champions, most of the top ten in the current point standings and a crop of USAC's "Young Guns" in search of a 100-mile triumph on the storied "Magic Mile".
Jeff Swindell (1990) of Memphis, Tennessee, Russ Gamester (1997) of Peru, Indiana, Tracy Hines (2005-06), of New Castle, Indiana, Shane Cottle (2007) of Kokomo, Indiana and Brian Tyler (2008) of Parma, Michigan are the former winners who should be in attendance at DuQuoin. Swindell is one of four drivers who actually ran at DuQuoin during the 1980's and is employed by NASCAR's Carl Edwards for selected Silver Crown dirt events. Gamester is a former USAC Midget car champion who drives for a family owned operation while Hines won the 2000 USAC Silver Crown title. Cottle gained his first 100-mile dirt track win in the 2007 Ted Horn 100 and Tyler may pull double duty again racing in the ARCA Southern Illinois 100 on Labor Day. Tyler is a former one-lap track record holder at DuQuoin in the ARCA stock cars.
Three time and defending USAC Silver Crown champion Bud Kaeding of Campbell, California currently leads the 2010 USAC K&N title chase in an attempt to become the first four time champion in series history. 2008 Silver Crown champion Jerry Coons Jr. of Tucson, Arizona won a pole at DuQuoin in 2001 and is second in the 2010 Silver Crown standings. Hines occupies the seventh slot with Tyler eighth and Gamester nineteenth. Kaeding has a 38 point lead over Coons and can gain a commanding lead toward a fourth national title with a good finish.
Second year driver Shane Hmiel of Pleasant Garden, North Carolina is sixth in the Silver Crown points on the strength of his win at the Hoosier Hundred in May. The son of NASCAR team manager Steve Hmiel has a number of NASCAR races under his belt and recently announced he would drive selected events in the Indy Lights Series. "Young Guns" Kody Swanson of Kingsburg, California, Bobby East of Brownsburg, Indiana and Bryan Clauson all occupy top ten slots in the USAC Silver Crown chase. East, a former USAC Midget champion is a second-generation driver whose father is the builder of the fames Beast chassis while Clauson and Swanson came from the USAC Midget ranks. Most of the top twenty in the USAC Silver Crown standings are expected at the "Magic Mile".
Illinois is represented well again at the Ted Horn 100 with two drivers in contention for a national title. Olney's Levi Jones is a three time USAC Sprint car champion and he won the season opening Silver Crown event in February. Jones is fourth in the Silver Crown standings behind Galesburg's A.J. Fike who picked up his first win at Iowa Speedway in May. Like Tyler Fike may pull double duty if the opportunity presents, he has an ARCA pole at the "Magic Mile" and in 2004 became the first driver in 33 years to race three different racecars at DuQuoin Labor Day weekend. Other home state drivers include Indy 500 veteran Donnie Beechler of Springfield, Powri midget shoes Zach Daum of Pocohontas and Mike Hess of Springfield, Chris Urish of Elkhart and Davey Ray of Loves Park. Benton, Illinois car owner Ricky Nix also returns to the series employing Brad Kuhn behind the wheel of his machine at Indianapolis in May.
Murphysboro's Randy Bateman joins the Illinois contingent as well. Bateman has 14 starts in the Ted Horn 100 and 9 unsuccessful attempts since 1982. Randy delighted a partisan southern Illinois crowd as he set second quick time in qualifications in 2008.
USAC veterans in search of a Ted Horn 100 win include Jon Stanbrough of Kokomo, Indiana in the car in which Hines won with at DuQuoin in 2005 and 2006. Stanbrough is currently among the hottest sprint car drivers in the country and recently notched career feature win number 150 at Tn State Speedway in Haubstadt, Indiana. Fellow Indiana driver Dave Darland won the 1997 Silver Crown championship and is a former one lap track record holder in championship machinery at DuQuoin. Darland holds the unwanted distinction of being the active driver with the most starts in the Ted Horn 100 (15) without a win. Pennsylvanians Tom Capie and John "Hot Rod" Heydenreich are always strong on the dirt. Several Ted Horn rookies should be in the field as well including Clauson, East, Tanner Swanson and Mike Martin. Other "Young Guns" include Justin Carver of Memphis, Tennessee and Derek Hagar of Marion, Arkansas.
The Ted Horn 100 enters its sixty-second year in memory of the legendary three time AAA National champion who lost his life in DuQuoin's second national championship race in October of 1948. Practice for the mighty uprights is tentatively slated for 5 p.m. on the "Magic Mile" with qualifications at 6:30 and the flying start for the 100-mile Ted Horn Memorial at around 8:30. The one lap track record is a world record still held by Tyler Walker Of 29.138 (123.550) set in 2004 and the 100-mile record is still the fastest in the world on the dirt, 56:03.00 (107.047) set in 1992 by Johnny Parsons.