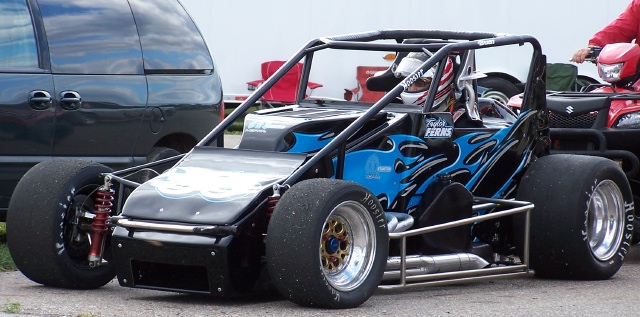 By MudclodBob Buffenbarger
Taylor Ferns and Jim Heeney started on the front row of the Spartan Speedway Wingless Sprint Car Season Championship feature Friday night and both became winners. Fourteen year old Ferns won the 25 lap feature as Heeney finished third and won his first track championship in a 26 year career. Both drivers stopped in the infield and received loud ovations in front of a chilled, wind whipped crowd just as rain began to fall.
Sprint cars were the second feature of the evening and battled some light rain that tried to dampen spirits but the cars were able to dry the track enough for the 15 cars to take the green flag. After the first circuit it was clear Ferns was going to be a force and by lap five she was widening the lead substantially over Heeney, Tom Hernley Jr., Chris Hettinger, Jimmy McCune and Tom Fedewa.
Lap 8 saw the yellow fly for some light rain once again, but after a few laps the track was dry enough to resume and Ferns powered out to another comfortable lead as things were heating up behind her with Hernley and Heeney in a battle for 2nd with Fedewa on the move up to 4th by the 15th lap. Two laps later Fedewa took the 2nd spot and was clearly on the prowl. Racing for 5th through 9th was very close now and providing good action on the track.
With five to go Fedewa had moved up to challenge for the lead several times running side by side the last two laps. As the duo raced down the back stretch after the white flag appeared the crowd came to their feet as the cars exited turn four with Ferns running low and Fedewa high the 55 car of Ferns edged Fedewa by a foot at the stripe. Rounding out the top five were Jim Heeney, Charlie Schultz and Tom Hernley.
Heat one saw Tom Hernley take his first ever checkered flag. The second heat proved to be a good one as Jim Heeney won over Fedewa.
Congratulations to Jim Heeney for the first ever Wingless Sprint Championship at Spartan Speedway. Full and official results coming soon.