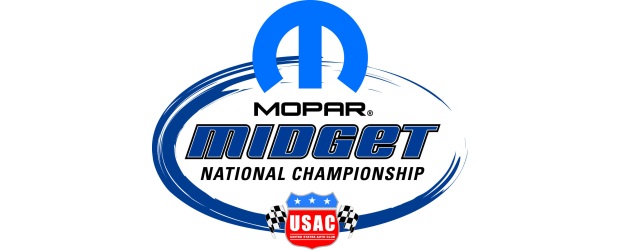 From Dick Jordan
The 2010 USAC National Drivers Championship, the 2010 USAC Mopar National Midget title and the 2010 USAC Dirt Midget crown all belong to Bryan Clauson after he won Thursday night's 70th "Turkey Night Grand Prix" Midget race at Toyota Speedway at Irwindale, Calif.
Clauson became the first back-to-back winner of the classic in 15 years. The National Drivers Championship earns him the $300,000 scholarship for a Firestone Indy Lights ride in all of the 2011 oval-track races as well as a $40,000 cash bonus from USAC.
Alex Schutte of Redding, Calif. put a lid on the 2010 USAC Mopar Western Midget title, his first.
Clauson passed Cole Whitt on lap nine and led the rest of the way in his Toyota/Nos Energy Drink Beast/Toyota and was trailed at the checkered flag by Caleb Armstrong, Dalton Armstrong, Kyle Hamilton and Bobby East. Pole starter and new track record holder Kody Swanson led the opening lap. Dakoda Armstrong led the next two and Whitt the next five before Clauson made his way to the head of the pack. Dalton Armstrong's performance earned him the Don Basile "Rookie of the Race" award.
FINAL USAC MOPAR NATIONAL MIDGET SERIES POINT STANDINGS
1-Bryan Clauson-1,571; 2-Jerry Coons Jr.-1,433; 3-Tracy Hines-1,398; 4-Brad Kuhn-1,373; 5-Darren Hagen-1,318; 6-Dave Darland-1,171; 7-Bobby East-969; 8-Brad Sweet-873; 9-Zach Daum-832; 10-Brad Loyet-808.
FINAL USAC MOPAR MIDGET SERIES PAVEMENT POINT STANDINGS
1-Darren Hagen-400; 2-Bryan Clauson-367; 3-Tracy Hines-342; 4-Levi Roberts-310; 5-Bobby East-298; 6-Caleb Armstrong-280; 7-Jerry Coons Jr.-270; 8-Dave Darland-251; 9-Brad Kuhn-248; 10-Brad Sweek-244.
FINAL USAC MOPAR WESTERN MIDGET SERIES POINT STANDINGS
1-Alex Schutte-711; 2-Cory Kruseman-674; 3-Robby Josett-661; 4-Randi Pankratz-398; 5-Jake Swanson-387; 6-Kody Swanson-373; 7-Cody Swanson-348; 8-Scott Pierovich-324; 9-Bryan Clauson-280; 10-Bobby East-268.