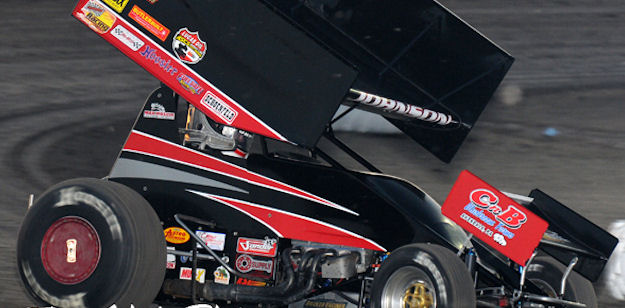 By Bill W,Tim Aylwin photo
March 30, 2011 – It was a successful debut for the new team of driver Wayne Johnson and Owner/Mechanic Bryan Sundby at the Devil's Bowl Speedway in Mesquite, Texas. An opening night sixth place run with the Lucas Oil ASCS National Series led to a run up front in the finale before an admitted driver error ended the night after running into a tractor tire.
Sundby last teamed with Glenn Crossno's non-wing #38 on the left coast and has worked in the past with drivers such as Sammy Swindell. "Bryan and I worked in the past a bit when I drove for (Scott) Benic," says Wayne. "He was working for him when we were at the Chili Bowl. He's not trying to reinvent the wheel. He knows what it takes to make a driver comfortable."
The draw didn't go nearly as good as the car did at the famous ½ mile, but Wayne managed a fourth place finish in his Friday heat after starting eighth on a tacky surface. "The track was heavy for the heat race," he says. "Bryan had the car really good. We were rushed a bit, but we're still plowing away trying to get things done."
Starting tenth in the preliminary main event, Wayne charged forward on the familiar oval and finished in the sixth spot. "We had a few throttle issues," he admits. "The throttle springs were a little too stiff for my foot. We had a few similar issues with it that we had last fall, but we got those figured out."
The Knoxville, Iowa driver became more comfortable in the car each time it took to the track. "The balance of the racecar was off just a bit on Friday night," says Wayne. "We worked on that and fixed the problem."
Things went even better in Saturday's finale. After starting eighth again in the heat, Wayne forged to a third place finish and a fourth row starting spot for the feature. "We were really good on Saturday," he says. "We had another good heat run from back in the pack. The balance of the car was on."
The 2000 ASCS champ would drive in the top five for much of the feature, and briefly found his way up to third. "At one point, we drove by (Danny) Lasoski for third, but the caution came out and we had to go back," says Wayne. "I really think we had the car to beat in that race."
While running fourth in pursuit of the leaders, he clipped an infield tractor tire. "It was just a driver mistake," he says. "What can you do? I thought we were really good for the first week out. The Parker motor ran really well."
The team will be headquartered in Wayne's Knoxville shop. They will take some time off to get things organized and prepare for both some 360 and 410 action in the coming weeks. "We're taking this week to get everything in order, and then we'll head over to I-80 on April 8 and 9 next weekend," says Wayne. "I couldn't be happier with the way things are going for us."
Big Sale on T-Shirts!
Wayne Johnson Racing has a variety of 2010 apparel and it is ALL on sale! $10 for t-shirts, hats, women and kids' shirts and more! E-mail WayneJohnsonRacing@yahoo.com to place your order!
Buy Your Outlaw Wings from Wayne
Wayne is an Outlaw Wings dealer located in the Knoxville, Iowa area. Wayne credits the new Outlaw top wing for his 2009 wins at Little Rock and Cowtown. Contact Wayne for your Outlaw Wing, as he has some special Holiday deals going! Outlaw Wings – "When Downforce Matters"!
Wayne's Website
To learn more about Wayne and the team, log on to www.WayneJohnsonRacing.com!
Wayne's World
Brayden Thompson asks: What are your plans with the 38 this year?
Wayne answers: We plan on running all the races with the ASCS National deal. That will allow us to run Knoxville about seven times before Nationals with the 410. We'll hit some other shows here and there.
Got a question for Wayne? Each week, Wayne will answer your questions about "Tech Tips", or anything that's on your mind. If you ever wondered what a part on a sprint car is all about, send an e-mail to us at sprntcar@iowatelecom.net, and we may answer it in this section! Put "? for Wayne" in your subject line. He'll try to keep it clean if you do!
Wayne's Fast Facts
When Wayne traveled with the Gumout Series in 2002, he finished second to Shane Stewart, and ahead of Tyler Walker, Craig Keel and Jason Sides at Fonda Speedway near Fonda, New York. His trip to Pennsylvania that season saw him finish 5th and 9th at Port Royal Speedway and Lernerville Speedway, respectively.
"Wednesday's with Wayne"
"Wednesday's With Wayne" is an up close look at the past, present and future of colorful and talented sprint car driver Wayne Johnson. You'll never know what to expect next with Wayne, so don't miss us on Wednesdays!
To receive "Wednesday's with Wayne", send an e-mail to sprntcar@iowatelecom.net with "Wayne" in the subject line.
Wayne would like to thank the following for making this possible: E-Rate Complete, Brett Smith Motorsports, The Oil Medics, Outlaw Wings, Stone Mountain, Butlerbuilt, Hoosier, Schoenfeld Headers and Cooper Racing Enterprises.