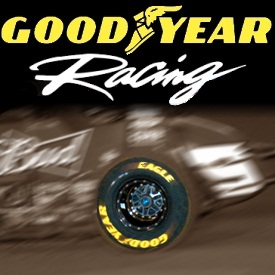 By Lee Elder
MECHANICSBURG, Pa. (May 18, 2011) – Daryn Pittman was born in Oklahoma and before the weekend's World of Outlaws Sprint Car Series race at Williams Grove Speedway, he had 29 WoO victories in his career.
But when he won the race at Williams Grove, his car owner loudly claimed the victory for the so-called Pennsylvania Posse. Car owner Mike Heffner is a Pennsylvanian and Heffner claimed bragging rights in what has become one of the most enjoyable rivalries in motorsports.
Goodyear is the exclusive rear tire provider for the World of Outlaws Sprint Car Series and also supplies tracks like Williams Grove that have a weekly sprint car program.
Pittman led only the final two laps but that was enough to make him the 15th race winner in WoO competition this season. Brian Leppo, who led seven laps before Pittman took the lead, finished second, followed by Jason Sides, Stevie Smith and Steve Kinser.
The rivalry between the WoO regulars and the loose conglomerate of winged sprint car racers in Pennsylvania has become the stuff legends are made of. The racing is so good in Pennsylvania that the Posse makes things tough for the Outlaws when the professional touring series invades its home state. A special race between Posse members and a select group from the WoO had to be reset for later in the summer after rained washed out the racing scheduled at Williams Grove the night after Pittman's win.
Joey Saldana leads the WoO standings with 2,113 points. Kinser is second with 2,076 and Donny Schatz is third with 2,047.
More information about Goodyear Racing is available at www.racegoodyear.com. More information about the WoO is available at www.worldofoutlaws.com.