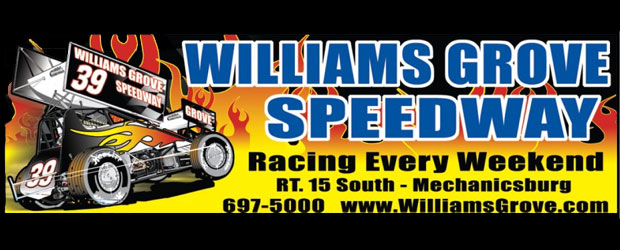 From Williams Grove Speedway
Mechanicsburg, PA — (June 17, 2011) — Gerard McIntyre, Jr., outlasted Brian Montieth for his first career Williams Grove Speedway 410 sprint victory Friday night. In the 358 sprints, Davie Franek wired the field for his second career Grove win in the division.
New Oxford's McIntyre started second in the 25-lap sprint feature and withstood the tests of a laborious main event to pick up the victory, worth $3,850 including lap monies.
Early on, McIntyre was trailed by polesitter Nicole Bower before she rolled over softly in the second corner while trying to avoid a spinning John Brennfleck.
Third starter Mark Smith made a stab at the lead after the red flag for Bower but to no avail.
It was following a lap 17 red flag that found 10th starter Montieth up to sixth for the restart that the Phoenixville driver started mowing down his adversaries, motoring by Tyler Walker, Rick Lafferty, Aaron Ott and Smith to be sitting second with five laps to go.
Montieth was failing in trying to run down leader McIntyre with a pair of laps left when Ott rolled to a stop on the frontstretch, bringing out a final caution flag.
While many may have thought that McIntryre would be forced to watch as Montieth went by on the restart, the leader proved up to the challenge, staying just far enough away from Montieth to prevent a flyer for the victory as the pair headed out of the fourth turn for the checkers.
"I looked up on the scoreboard and saw Brian was back there. I knew I could get two good laps and I said to myself I was either going to win or wear it tonight," McIntyre said.
Montieth finished a rousing second followed by Walker, Smith and Lafferty.
Sixth through 10th went to Justin Henderson, Chad Layton, Fred Rahmer, Doug Esh and Lance Dewease.
Heats went to Nicole Bower, Walker and Ott.
Franek took the lead on the first lap from his fourth starting spot to claim the 358 win.
His pace was slowed only once in the 20-lapper, with five down.
Adrian Shaffer took over second with nine away but couldn't close on Franek and instead had to contend with a challenging Pat Cannon over the last eight laps.
Shaffer was second followed by Cannon, Logan Schuchart and Rodney Westhafer.
Heats for 358s went to Tim Berkheimer, Westhafer and Franek.
Feature Finishes: June 17, 2011 –
410 sprints, 25 laps: 1. Gerard McIntyre, Jr., 2. Brian Montieth, 3. Tyler Walker, 4. Mark Smith, 5. Rick Lafferty, 6. Justin Henderson, 7. Chad Layton, 8. Fred Rahmer, 9. Doug Esh, 10. Lance Dewease, 11. Alan Krimes, 12. Derek Sell, 13. Frank Cozze, 14. Jessica Anderson, 15. Troy Fraker, 16. Brent Marks, 17. Aaron Ott, 18. Bryn Gohn, 19. John Brennfleck, 20. Cory Haas, 21. Nicole Bower, 22. Jim Siegel, 23. Greg Hodnett, 24. Steve Buckwalter. 358 sprints, 20 laps: 1. Davey Franek, 2. Adrian Shaffer, 3. Pat Cannon, 4. Logan Schuchart, 5. Rodney Westhafer, 6. Amy Ott, 7. Nate Hammaker, 8. Jay Galloway, 9. Chad Trout, 10. Brian Garland, 11. Kyle Purks, 12. Rich Eichelberger, 13. Glenndon Forsythe, 14. Billy Schoffstall, 15. Matt Boland, 16. Ted Thomas, 17. Michael Ruttkamp, 18. Rick Stonebraker, 19. Aaron Eichlberger, 20. Brie Hershey, 21. Scott Geesey, 22. Tim Berkheimer.