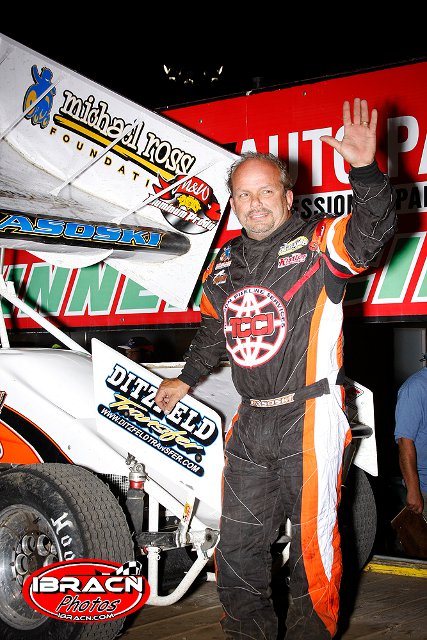 Inside Line Promotions
– KNOXVILLE, Iowa (July 17) – Only four more.
The race to 100 is quickly closing as Danny Lasoski picked up his 96th career feature victory at Knoxville Raceway in Knoxville, Iowa, on Saturday night. It was his eighth overall win and his third at the famed ½-mile dirt oval this season.
"It's a heck of a goal to shoot for 100 wins and I couldn't do it at a better place," said Lasoski, who has 36 more victories than any other driver at Knoxville Raceway. "I enjoy racing at Knoxville. I love the fans and I love the facility.
"It's bad how drivers think though. Woulda, coulda, shoulda. I thought of those other three that we gave up this season. That would have been 99 wins. It seems like drivers are never happy."
Lasoski has been the runner-up four times this season. In fact, his worst finish in a point's race at Knoxville Raceway this season has been fifth. That consistency has driven the Dover, Mo., veteran to a whopping 270-point advantage approximately two-thirds of the way through the season.
On Saturday, Lasoski qualified fourth quickest and finished fourth in his heat race to advance to the 20-lap feature. Since the invert was 10, Lasoski started seventh.
He was in third place within eight laps and took over second before a caution came out on lap 13. When the leader dove to the bottom on the restart, Lasoski went to the top and took the lead exiting turn two.
Lasoski never saw or heard from another competitor as he cruised to the victory.
"You can never take a victory for granted because you never know when the next one is coming," he said. "I've got to thank Todd Creason, Tony Ross, Paul Kistler and my crew for working so hard to keep this thing going."
Lasoski is scheduled to race with the World of Outlaws on Tuesday at Lernerville Speedway in Sarver, Penn., for the Don Martin Memorial Silver Cup. He will then continue to defend his point's lead at Knoxville Raceway on Saturday.
QUICK RESULTS –
July 16 – Knoxville Raceway in Knoxville, Iowa – Qualifying: 4; Heat race: 4 (5); Feature: 1 (7).
SEASON STATS –
34 races, 33 features, 8 wins, 23 top fives, 27 top 10s, 30 top 15s, 32 top 20s
UP NEXT –
Tuesday at Lernerville Speedway in Sarver, Penn., for the Don Martin Memorial Silver Cup with the World of Outlaws and Saturday at Knoxville Raceway in Knoxville, Iowa
FAVORITE NUMBER –
96: Career victories at Knoxville Raceway in Knoxville, Iowa, which is 36 more than any other driver in the famed ½-mile track's history.
SOCIAL MEDIA LINKS –
Website: www.dannylasoski.com
ON THE AIR –
Lasoski was a featured guest on the ASCS Show by Racinboys on April 12. Click on the link below to listen to Lasoski's interview, which begins around the 22-minute mark.
http://www.meridix.com/mbp/general/index.php?liveid=Racinboys&recordid=18548
SPONSOR SPOTLIGHT – Wertz Designs
Wertz Designs is a full-service design company with a focus on hero cards, websites, apparel and vehicle wraps. It also offers creative designs and graphic wall art. For more information, visit www.wertzdesigns.com.
"I met (owner) Chad Wertz when I was a little kid," Lasoski said. "He handles my website and does all of the graphic and marketing part of Lasoski Racing. Chad does a great job and he's just a great guy."
Lasoski would also like to thank the Creason Pipeline Services, The Michael Ross Foundation, Eagle Motorsports, Hoosier, Kistler Engines and Ditzfeld Transfer, Inc. for their continued support.