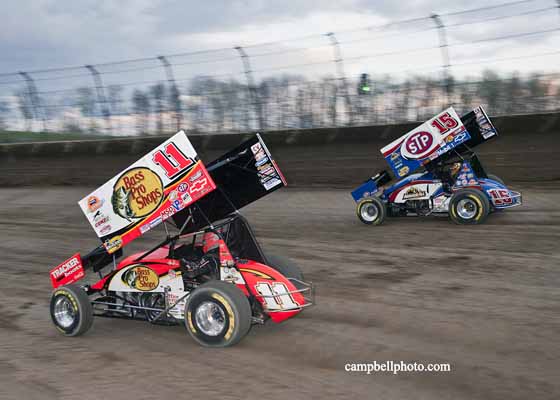 From the World of Outlaws
GRAND FORKS, N.D. — Aug. 19, 2011 —Tony Stewart Racing teammates Steve Kinser and Donny Schatz waged an epic back and forth battle for the checkers at River Cities Speedway in Grand Forks, N.D. Neither driver was able to gain a clear advantage on the other and the 40 lap main event came down to the final turn. With Schatz riding high, Kinser dove to the bottom in turn four and powered past to claim victory by little over a tenth of a second.
"That was a race," said Kinser as he gained his breath back in Victory Lane. "Donny Schatz is one the greatest sprint car driver out here right now and to battle him tonight was awesome. I leaned on him a few times there and I shouldn't have but I wanted this one really bad. We didn't run nearly as well at (Knoxville) Nationals as we wanted to so we all went back to the shop and put our heads together. We came out tonight and got our second quick time of the season and the win so I think we found something."
(Click here to watch a video with Kinser after his victory at River Cities Speedway.)
The third trip of the season to the three-tenths mile oval produced the type of excitement that fans have come to expect from the speedway in Grand Forks, N.D. Hometown hero Mark Dobmeier led from the get go and was up front for four circuits until Kinser muscled his Bass Pro Shops/J.D. Byrider/Chevrolet by on lap five. Kinser seemed to be on cruise control until Schatz and his STP/Armor All/Chevrolet J&J caught the 20 time champion and proceeded to take control. From lap 18 on, it was a battle between two of the most accomplished drivers in sprint car racing.
"I just had Sprint Car 101 from Steve Kinser tonight," Schatz said with a chuckle in Victory Lane. "I don't think I've ever had that much fun in a sprint car. It's cool to race your teammate like that and go for the win."
Perhaps the person with the best view in the house was third place finisher Jason Meyers.
"You know, I never wish anyone would wreck but I was kind of hoping that they would cancel each other out," Meyers said with a laugh in Victory Lane. "All jokes aside, that was a great race between those guys. The All-Star Performance team is just happy to come out of here with three finishes in 2011. Seemed like we were always wrecking here the two or three years before that. Great show tonight for the fans. They always pack the place up here and we can't wait to come back next year."
Hard charging Sammy Swindell finished fourth with Dobmeier holding onto the fifth position.
With River Cities Speedway in the rearview mirror, the 'Great Northern Tour' continues on as the Saturday, Aug. 20 at Huset's Speedway; Tuesday, Aug. 23, at Black Hills Speedway; and Aug. 26-27 at Castrol Raceway in Edmonton, Alberta.
RIVER CITIES SPEEDWAY NOTEBOOK
WINNERS – There have been 43 World of Outlaws Sprint Car Series A-Feature events in 2011. The winners include: Craig Dollansky – 7 (Silver Dollar Speedway on March 12, Salina Highbanks Speedway on May 3, River Cities Speedway on June 17 and 18, Dodge City Raceway Park on July 1, Lebanon Valley Speedway on July 24, I-55 Raceway on August 6); Steve Kinser – 6 (Volusia Speedway Park on Feb. 11 and 12, Pike County Raceway on Feb. 25, the Dirt Track at Las Vegas on March 4, Lakeside Speedway on June 4, River Cities Speedway on August 19); Donny Schatz – 5 (Attica Raceway Park on May 20, Princeton Speedway on June 25, Limaland Motorsports Park on July 13, Bloomington Speedway on August 5, Knoxville Raceway on August 13);Sammy Swindell – 4 (Royal Purple Raceway on Feb. 26, Merced Speedway on April 1, Tri-State Speedway on April 30, Knoxville Raceway on June 11); Joey Saldana – 4 (Las Vegas Motor Speedway on March 3, Thunderbowl Raceway on March 19, Eldora Speedway on May 6, Beaver Dam Raceway on July 9); Jason Sides – 4 (Volusia Speedway Park on Feb. 13, Calistoga Speedway on April 2, I-96 Speedway on May 30, Dodge City Raceway Park on July 2); Paul McMahan – 3 (the Dirt Track at Charlotte on May 28, Belleville Highbanks on June 3, Brockville-Ontario Speedway on July 29); Jason Meyers – 3 (Cedar Lake Speedway on July 8, Williams Grove Speedway on July 23, Autodrome Drummond on July 30); Tim Shaffer – 2 (Eldora Speedway on July 15, Lernerville Speedway on July 19); Dale Blaney – 1 (Lernerville Speedway on July 19); Greg Hodnett – 1 (Williams Grove Speedway on July 22); Daryn Pittman – 1 (Williams Grove Speedway on May 13); Tony Stewart – 1 (Oshweken Speedway on July 27); Tyler Walker – 1 (Eldora Speedway on July 16.)
TIME TRIALS– Steve Kinser was the fastest qualifier around the 3/10th's mile oval with a time of 10.077 seconds and earned five championship points. Also earning points were Donny Schatz, Brad Sweet, Paul McMahan and Chad Kemenah. It marked Kinser's second Quick Time of the season.
TYLER WALKER UPDATE – 2011 Kings Royal winner, Tyler Walker, is being treated for an inner ear infection that brings on benign paroxysmal positional vertigo (commonly referred to as BPPV). Walker was competing in the 51st Goodyear Knoxville Nationals and had completed his qualifying night before he realized something was wrong. "I knew after Wednesday's races, that for my own good, I HAD to step away and see a specialist back home in California," said Walker. "I am determined to get back behind the wheel and win more races. I want to thank all my family, friends and fans for their continued support. I'll be back as soon as possible."
WE'RE ONLINE – Make sure to check out the all-new WorldofOutlaws.com for the latest news and results, plus exclusive driver interviews, video and pictures. Also listen to every event live at DIRTVision.com .
World of Outlaws Sprint Car Series Statistical Report; River Cities Speedway; Grand Forks, North Dakota; Aug. 19, 2011
A-Main – (40 Laps)
1. 11-Steve Kinser[3][$10,000]; 2. 15-Donny Schatz[6][$5,500]; 3. 14-Jason Meyers[7][$3,200]; 4. 1-Sammy Swindell[10][$2,800]; 5. 13-Mark Dobmeier[1][$2,500]; 6. 7-Craig Dollansky[14][$2,300]; 7. 83-Paul McMahan[12][$2,200]; 8. 5W-Lucas Wolfe[18][$2,100]; 9. 55-Terry McCarl[4][$2,050]; 10. 15H-Sam Hafertepe Jr.[2][$2,000]; 11. 7S-Jason Sides[9][$1,500]; 12. 6-Kraig Kinser[5][$1,200]; 13. 35-Justin Henderson[22][$1,100]; 14. 1K-Chris Shirek[15][$1,050]; 15. 9-Brad Sweet[11][$1,000]; 16. 6R-Bill Rose[16][$900]; 17. 6N-Greg Nikitenko[24][$800]; 18. 83JR-Tim Kaeding[17][$800]; 19. 16-Rayce Martin[23][$800]; 20. 44W-Austen Wheatley[21][$800]; 21. 2-Austin Pierce[19][$800]; 22. 92-Kerry Madsen[20][$800]; 23. 9N-Wade Nygaard[8][$800]; 24. 91-Cody Darrah[13][$800]
Lap Leaders: Mark Dobmeier 1-4, Steve Kinser 5-18, 30-32, 34-35, 37, 40; Donny Schatz 19-29, 33, 36, 38-39
KSE Hard Charger Award : 5W-Lucas Wolfe[+10]
Qualifying –
1. 11-Steve Kinser, 2.000; 2. 15-Donny Schatz, 2.000; 3. 9-Brad Sweet, 2.000; 4. 83-Paul McMahan, 2.000; 5. 63-Chad Kemenah, 2.000; 6. 8-Casey Mack, 2.000; 7. 7-Craig Dollansky, 2.000; 8. 91-Cody Darrah, 2.000; 9. 1-Sammy Swindell, 2.000; 10. 15H-Sam Hafertepe Jr., 2.000; 11. 6-Kraig Kinser, 2.000; 12. 9N-Wade Nygaard, 2.000; 13. 55-Terry McCarl, 2.000; 14. 13-Mark Dobmeier, 2.000; 15. 7S-Jason Sides, 2.000; 16. 14-Jason Meyers, 2.000; 17. 6R-Bill Rose, 2.000; 18. 1K-Chris Shirek, 2.000; 19. 5W-Lucas Wolfe, 2.000; 20. 83JR-Tim Kaeding, 2.000; 21. 92-Kerry Madsen, 2.000; 22. 2-Austin Pierce, 2.000; 23. 35-Justin Henderson, 2.000; 24. 44W-Austen Wheatley, 2.000; 25. 16-Rayce Martin, 2.000; 26. 11K-Nick Shirek, 2.000; 27. 25-Cory Mack, 2.000; 28. 6N-Greg Nikitenko, 2.000; 29. 92M-Mitch Mack, 2.000; 30. 91K-Kyle Fedyk, 2.000; 31. 99-Jordan Graham, 2.000; 32. 19K-Kohlan Fedyk, 2.000; 33. 14X-Tom Egeland, 2.000; 34. 31-Shane Roemeling, 2.000; 35. 10TR-Bob Martin, 2.000
Heat 1 – (10 Laps – Top 5 finishers transfer to the A-feature)
1. 55-Terry McCarl[1] ; 2. 1-Sammy Swindell[2] ; 3. 11-Steve Kinser[4] ; 4. 6R-Bill Rose[5] ; 5. 92-Kerry Madsen[6] ; 6. 16-Rayce Martin[7] ; 7. 14X-Tom Egeland[9] ; 8. 92M-Mitch Mack[8] ; 9. 63-Chad Kemenah[3]
Heat 2 – (10 Laps – Top 5 finishers transfer to the A-feature)
1. 15H-Sam Hafertepe Jr.[2] ; 2. 13-Mark Dobmeier[1] ; 3. 15-Donny Schatz[4] ; 4. 8-Casey Mack[3] ; 5. 1K-Chris Shirek[5] ; 6. 2-Austin Pierce[6] ; 7. 11K-Nick Shirek[7] ; 8. 91K-Kyle Fedyk[8] ; 9. 31-Shane Roemeling[9]
Heat 3 – (10 Laps – Top 5 finishers transfer to the A-feature)
1. 7S-Jason Sides[1] ; 2. 6-Kraig Kinser[2] ; 3. 7-Craig Dollansky[3] ; 4. 9-Brad Sweet[4] ; 5. 5W-Lucas Wolfe[5] ; 6. 35-Justin Henderson[6] ; 7. 99-Jordan Graham[8] ; 8. 10TR-Bob Martin[9] ; 9. 25-Cory Mack[7]
Heat 4 – (10 Laps – Top 5 finishers transfer to the A-feature)
1. 9N-Wade Nygaard[2] ; 2. 14-Jason Meyers[1] ; 3. 83-Paul McMahan[4] ; 4. 91-Cody Darrah[3] ; 5. 83JR-Tim Kaeding[5] ; 6. 44W-Austen Wheatley[6] ; 7. 6N-Greg Nikitenko[7] ; 8. 19K-Kohlan Fedyk[8]
Dash – (8 Laps, finishing order determined first 10 starting positions of A-feature)
1. 13-Mark Dobmeier[1] ; 2. 15H-Sam Hafertepe Jr.[5] ; 3. 11-Steve Kinser[8] ; 4. 55-Terry McCarl[2] ; 5. 6-Kraig Kinser[4] ; 6. 15-Donny Schatz[7] ; 7. 14-Jason Meyers[10] ; 8. 9N-Wade Nygaard[3] ; 9. 7S-Jason Sides[9] ; 10. 1-Sammy Swindell[6]
B-Main – (12 Laps – Top 4 finishers transfer to the A-feature)
1. 35-Justin Henderson[3] [-]; 2. 44W-Austen Wheatley[4] [-]; 3. 6N-Greg Nikitenko[8] [-]; 4. 2-Austin Pierce[2] [-]; 5. 8-Casey Mack[5] [$200]; 6. 11K-Nick Shirek[6] [$180]; 7. 91K-Kyle Fedyk[10] [$175]; 8. 92M-Mitch Mack[9] [$160]; 9. 10TR-Bob Martin[15] [$150]; 10. 99-Jordan Graham[11] [$150]; 11. 31-Shane Roemeling[14] [$150]; 12. 19K-Kohlan Fedyk[12] [$150]; 13. 14X-Tom Egeland[13] [$150]; 14. 63-Chad Kemenah[1] [$150]; 15. 25-Cory Mack[7] [$150]
World of Outlaws Sprint Car Series Points Standings through Aug. 19, 2011:
| | | | | | | | |
| --- | --- | --- | --- | --- | --- | --- | --- |
| Pos. | Driver | Total | Diff | Wins | Top 5 | Top 10 | QT |
| 1 | Jason Meyers | 5744 | | 3 | 27 | 36 | 6 |
| 2 | Donny Schatz | 5698 | -46 | 5 | 21 | 36 | 2 |
| 3 | Steve Kinser | 5650 | -94 | 6 | 20 | 34 | 2 |
| 4 | Craig Dollansky | 5531 | -213 | 7 | 18 | 31 | 1 |
| 5 | Paul McMahan | 5498 | -246 | 3 | 14 | 30 | 9 |
| 6 | Jason Sides | 5453 | -291 | 4 | 14 | 27 | 3 |
| 7 | Lucas Wolfe | 5118 | -626 | 0 | 5 | 16 | 0 |
| 8 | Cody Darrah | 5092 | -652 | 0 | 5 | 15 | 0 |
| 9 | Chad Kemenah | 5012 | -732 | 0 | 3 | 10 | 4 |
| 10 | Kraig Kinser | 4998 | -746 | 0 | 2 | 13 | 0 |
| 11 | Joey Saldana | 4953 | -791 | 4 | 16 | 23 | 5 |
| 12 | Sammy Swindell | 4942 | -802 | 4 | 18 | 25 | 4 |
| 13 | Bill Rose | 4644 | -1100 | 0 | 1 | 3 | 0 |
| 14 | Kerry Madsen | 3423 | -2321 | 0 | 4 | 12 | 0 |
| 15 | Brad Sweet | 3146 | -2598 | 0 | 6 | 16 | 2 |
| 16 | Ben Gregg | 2723 | -3021 | 0 | 1 | 2 | 0 |
| 17 | Sam Hafertepe Jr. | 2081 | -3663 | 0 | 3 | 9 | 0 |
| 18 | Daryn Pittman | 1672 | -4072 | 1 | 5 | 7 | 0 |
| 19 | Lance Dewease | 1442 | -4302 | 0 | 0 | 5 | 0 |
| 20 | Jessica Zemken | 1400 | -4344 | 0 | 0 | 0 | 0 |