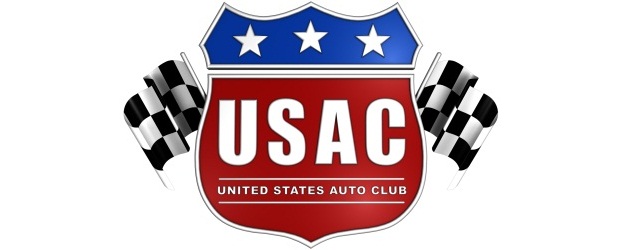 By Dick Jordan
USAC's AMSOIL Pavement Sprint cars are headed for "Thursday Night Thunder" at Lucas Oil Raceway in Indianapolis, Ind., then the AMSOIL National Series returns to Tony Stewart's Eldora Speedway in Rossburg, Ohio Saturday for the 31st "4-Crown Nationals."
Bobby Santos III leads the pavement standings entering Thursday's race, while defending AMSOIL National Champ Levi Jones continues his leadership of that series going into Saturday's race at Eldora.
It took fast qualifier Tracy Hines of New Castle, Ind. just 12 laps to come from sixth starting position to pass pole starter Bobby East for the lead in Sunday's "Rich Vogler Classic" at the Winchester (Ind.) Speedway. Hines and his Fatheadz/BS Motorsports Beast/Mopar led the final 19 laps of the 30-lapper to beat East, Chris Windom, Kody Swanson and Kyle Larson. Santos finished sixth to retain the pavement point lead.
Casey Riggs of Shelbyville, Ind. walked off with the winner's trophy Saturday night in the 50-lap "Haubstadt Hustler Sprint 50" at Tri-State Speedway co-sanctioned by USAC and MSCS. Riggs trailed Bryan Clauson for the first 15 laps, then led the last 35 in his Indiana Underground Construction Maxim/Chevy. Clauson finished second ahead of Damion Gardner, Jones and Brady Bacon.
Hines' Winchester victory was his 77th in USAC National competition, but was also his 41st in Sprint cars, passing Gary Bettenhausen for fifth on the all-time list. Ranked ahead of him are Pancho Carter at 42, Larry Dickson at 45, Jack Hewitt at 46 and all-time leader Tom Bigelow at 52.
Santos won the last race at Indianapolis and had a fourth at the .686-mile paved oval earlier this year. He's 14 points ahead of Tanner Swanson in the pavement standings. Swanson's Indianapolis finishes this season have been second and third.
Windom now trails Jones by just 16 points in the AMSOIL National rankings, with 74 available at Eldora Saturday. Despite seven podium finishes so far this year, Jones' only victory came at New Oxford, Pa. during the "Eastern Storm" swing in June. Windom's spectacular 2011 season has included a pair of wins at Terre Haute, Ind. and one during "Indiana Sprint Week" at Bloomington.
AMSOIL USAC NATIONAL SPRINT CAR POINT STANDINGS
1-Levi Jones-1,209; 2-Chris Windom-1,193; 3-Jon Stanbrough-1,141; 4-Hunter Schuerenberg-1,053; 5-Robert Ballou-1,042; 6-Dave Darland-994; 7-Tracy Hines-943; 8-Damion Gardner-912; 9-Bryan Clauson-890; 10-Bobby East-727.
USAC PAVEMENT SPRINT CAR POINT STANDINGS
1-Bobby Santos-304; 2-Tanner Swanson-290; 3-Bobby East-286; 4-Chris Windom-280; 5-Kody Swanson-265; 6-Jacob Wilson-256; 7-Tracy Hines-246; 8-Brian Gerster-227; 9-Brian Olson-177; 10-Aaron Pierce-161.