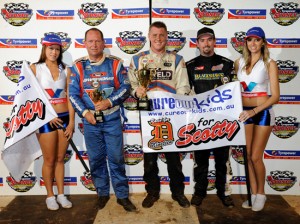 From Sydney Speedway
Sydney, AU — (March 16, 2012) — Garry Brazier has scored a come from behind win in the Preliminary A-Main on night one of the Scott Darley $50,000 Challenge at Tyrepower Sydney Speedway. Second to the line was Ian Loudoun who led the majority of the race and third was Max Dumesny.
The 30 lap Preliminary A-Main started off in brutal fashion when Ben Atkinson flipped wildly end-for-end down the back straight after contact with Ian Madsen and Robbie Farr. Madsen and Atkinson let their feelings be known to each other as they traded heated words after the crash. Roddy Bellbowen also flipped in a separate incident. All drivers walked away okay.
Ian Loudoun set about setting up a huge lead ahead of Dumesny and Brazier but the pressure mounted as Brazier began to close in, with the six-time Aussie Champ initially passing Dumesny and then with just four laps remaining, passed Loudoun for the win.
A special mention must be made of the track, wide and smooth, producing some awesome slide-job action.
Fourth to the finish line was Grant Tunks who drove a great, consistent race. James Thompson, Shane Stewart, Robbie Farr, Trevor Green, Darryl Campbell and Matt Young rounded out the top ten.
In earlier heat race action, it was Roddy Bellbowen, Loudoun, Jeremy Cross, Farr and Alex Orr who all scored wins. The Preliminary B-Main was won by Matt Young from Sam Walsh and Shane Stewart. Jon McCorkindale won the C-Main.
Matt Young topped the time sheets in qualifying with a 12.504 second lap.
In the Wingless Sprint division, Joel Rhind took the win from Jason Bates and Jeff Thomas.
The scene is now set for the final night, tomorrow night for the Scott Darley $50,000 Challenge. The night will finish off with a metal crunching Demolition Derby.
Photos – Gary Reid
Unofficial Points – After Night One
Pos Car Driver Total
1 21N Garry Brazier 319
2 18N Ian Loudoun 312
3 5V Max Dumesny 312
4 7Q Robbie Farr 305
5 22N James Thompson 295
6 7U Shane Stewart293
7 54N Grant Tunks 290
8 6M Matt Young 285
9 4S Trevor Green 280
10 28N Darryl Campbell 273
11 60N Sam Walsh 272
12 47N Mark Blyton 271
13 39N Jeremy Cross 269
14 32N Warren Ferguson 266
15 15N Matthew Thomas 255
16 83N Brett Loadsman253
17 11C Ian Madsen 244
18 79N Peter Bourke 241
19 76N Brad Stacey 240
20 75N Glen Saville 237
21 2N Ben Atkinson 235
22 50N Martin Lawes 234
23 6N Jamie Veal 233
24 7N Roddy Bellbowen 232
25 43N Alex Orr 228
26 48N Jackson Delamont 222
27 14N Peter Gordon 210
28 70N Toby BellBowen 204
29 69N Jon Mc Corkindale 201
30 20N Troy Little 196
31 7D Daniel Goldini 196
32 12N Paul Jeffrey 186
33 55N Kelly Linigen 174
34 38N Max Johnston 173
35 98N Steve Lynch 168
36 77N Mitchell Dumesny 167
37 9C Steve Caunt 165
38 73N Jeff Lawler 159
39 86N David Craft 159
40 26N Tim Evans 153
41 11N Blake Skipper 149
42 95N Daniel Needham 147
43 51N Kim Becker 145
44 88N Jimmy Matchett 139
45 52N Mark Attard 131
46 33N Matt Reed 111
47 63N Kevin Hopwood 76
48 29N Jamie Matherson 55
49 23N Scott Alexander 52