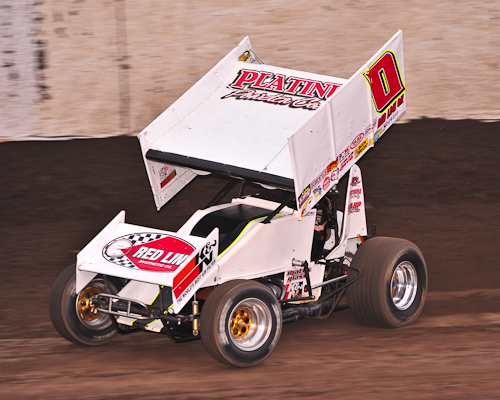 PETERSEN MEDIA
Over the weekend, Chico, CA driver, Jonathan Allard, defended his home turf well as he scored a second place finish against the World of Outlaw series at the Silver Dollar Speedway.
By way of his qualifying effort, and his heat race win, Allard was able to put his Williams Motorsports entry in the dash, were a second place finish, put him on the front row of the 35-lap feature event.
A deteriorating track, saw a single file, follow the leader race, with tire ware being a huge factor.
As drivers fought for the bottom of the track, and refused to get out of line to fight for position, Allard maintained his second spot and waited for eventual race winner, Donny Schatz to make a mistake.
Unfortunately for JA, Schatz stayed flawless and went on to pick up the win, with Allard settling for second place.
"On a track like that, all you can really do is get in line and hope the guy in front of you makes a mistake," said Allard. "Tonight I told myself to learn something, and watch how these guys save tires, and we ended up second, and I'm very happy with that."
ON TAP: Allard and the Williams Motorpsorts team will return to action this Friday night, where they again take on the World of Outlaws, this time at the Merced Speedway in Merced, CA.
STAY CONNECTED: For more information on Jonathan, including upcoming events, pictures, and news please check out www.allardmotorsports.com, or follow JA on twitter @Allard0.
PETERSEN MEDIA: Petersen Media is a promotional agency that can handle your public relations, marketing, and any other promotional needs. Petersen Media utilizes multiple tactics to help you reach your intended audience, to boost awareness.