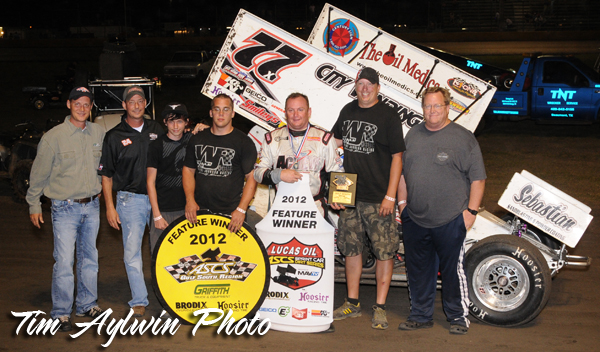 By Bill W
April 18, 2012 – Wayne Johnson has been on a roll, and he posted yet another win last Friday night at the Golden Triangle Raceway Park near Beaumont, Texas. The win was his fourth overall, and second of the season in Beaumont. This tally came against the Lucas Oil ASCS National Series. He added a third place finish on Saturday night at the Battlegrounds Speedway near Highlands, Texas as well.
Wayne finished second in his Beaumont heat after starting on the pole. "We got the jump on Tony Bruce there," he says. "We got to running the bottom and I screwed up, and he beat me. It wasn't the place to be running. I didn't know. I just screwed up."
Passing points yielded the twelfth starting spot in the feature. Wayne proceeded to tear to the front. "The car was just that good," he says of the Wayne Johnson Racing #77x. "We were picking them off, one by one, taking our time. We were making it happen. We got to Tony in traffic. He was running up high, and I thought we had him. The caution came out, and it was for him. He broke a rear-end. We were passing him when the caution came out, so I didn't see him at first."
Though he thought he passed Bruce, the breakdown helped Wayne in the win. "Any way you can get it, you take it," he says. "We started with the same setup we had a few weeks prior, but the racetrack was different. I just had to work on the thing a little, and tighten it up. We tried a few things, and it worked!"
On Saturday night in Highlands, Wayne drove from seventh to fourth in his heat. "We started in the back, and got lucky on the start," he says. "We got by a couple cars. It was a heavy track in the heat with no passing. We got by (Seth) Bergman and into fourth. That put us starting tenth in the feature."
Things started in hairy fashion. "We were so tight!" says Wayne. "There was a picture on the internet that showed us with all four wheels off the ground. I am headed for a crash. That was on the start of the feature. I bicycled up and was all the way in the back. Matt Covington and a bunch of guys crashed, so that bailed me out and I got my spot back."
Wayne battled towards the front. "I had to change my line and do some things different being so tight," he says. "We worked our way up and we were battling (Brad) Loyet for second. We had lapped a guy, and got into the back of us and turned us around. It smashed in the top wing, the rear bumper and the tail tank. It really didn't hurt any components."
Wayne's string of top five finishes were in jeopardy. But he would make a charge from 17th to 3rd at the checkers! "We went to the work area and worked on the setup a bit," he says. "We restarted in 17th with thirteen laps to go. And man, were we rolling! Another lap and we would have passed (Brady) Bacon (for second)!"
This Saturday, Wayne will make his first 410 start of the year at Knoxville Raceway. "We're going to test some things with our shocks on Friday night," he says. "I'm looking forward to running Knoxville's opener on Saturday night."
Follow Updates on Facebook!
Wayne will update as his race night goes on at his Facebook page. Find it by searching for Wayne Johnson Racing or clicking the following link…
http://www.facebook.com/#!/WayneJohnsonRacing
Outlaw Wings – "The Wing with an Attitude"!
Check out the new "recessed rivet" design put out by Outlaw Wings. Talk to Wayne about purchasing Outlaw Wings for your car! Outlaw Wings – "The Wing with an Attitude"!
Wayne's World
Jamie Gustin asks: What excites you about your 410 program this year?
Wayne answers: I guess what excites me the most about the 410, is that at the end of August there is a race that pays $150,000 to win. I sure would like to win that. Basically, that's our program for the year. We want to get everything tuned up for the Nationals. Every time, we run the 410 at Knoxville, it's to prepare for the big show.
Got a question for Wayne? Each week, Wayne will answer your questions about "Tech Tips", or anything that's on your mind. If you ever wondered what a part on a sprint car is all about, send an e-mail to us at sprntcar@iowatelecom.net, and we may answer it in this section! Put "? for Wayne" in your subject line. He'll try to keep it clean if you do!
Wayne's Fast Facts
Incredibly, Wayne is twelve for twelve in top five finishes so far in 2012. Included are four wins, two seconds, two thirds, two fourths and two fifths.
Partner of the Week – Maxim Chassis
After years of success as a car owner, Chuck Merrill started his chassis business in a rented three-bay garage in November of 1988. The first car was driven by Johnny Herrera at the Florida All Stars Sprint Week in February of 1989. By June of that year, Maxim moved into a 7,000 square foot facility. By 2001, Maxim had grown substantially producing 304 chassis that year. In 2002, Maxim moved to its present 12,500 square foot location in Springfield, Illinois. Maxim continues to offer their customers unmatched service and support, and currently has 17 quality employees, and builds over 400 chassis on an annual basis. Their world-famous "K-car" was designed for Steve Kinser, and has won ten Knoxville Nationals titles and fourteen World of Outlaws championships! To top it all, Maxim offers a warranty if you are not completely satisfied with your car. For more information on Maxim, visit www.racemaxims.com! Generation and Housby Motorsports. Visit www.Housby.com for more information!
"Wednesday's with Wayne"
"Wednesday's With Wayne" is an up close look at the past, present and future of colorful and talented sprint car driver Wayne Johnson. You'll never know what to expect next with Wayne, so don't miss us on Wednesdays!
To receive "Wednesday's with Wayne", send an e-mail to sprntcar@iowatelecom.net with "Wayne" in the subject line.
Wayne Johnson Racing would like to thank Vern Rengen and Missile Motorsports, Sebastian Sandblasting & Powdercoating, City Vending, Outlaw Wings, Team Achieve, The Oil Medics, Century Signs, Smiley's Racing Products, Hoosier Tire Southwest, Simpson, Butlerbuilt, Super Shox, Maxim, Speedway Motors, Rod End Supply, Schoenfeld Headers and RCM Design.