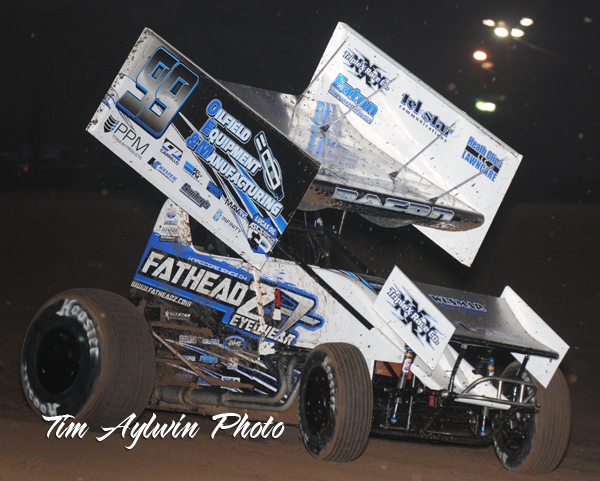 By Bill W
April 24, 2012 – Brady Bacon is serving notice that he can run with the best in the business. After a solid showing in Sedalia, Missouri with the World of Outlaws on Friday night, he seemingly had a win locked in Haubstadt, Indiana before a simple mechanical gremlin foiled him. He will try it again with the WoO on Wednesday night in Farmer City, Illinois, before returning to the Lucas Oil ASCS National Series this weekend.
Things started well at The Missouri State Fair Speedway half-mile in Sedalia for the Brady Bacon Racing #99 team on Friday. The Broken Arrow, Oklahoma driver registered eleventh quick before finishing second in his heat. "We're still learning with the 410's," says Brady. "And getting on a big track like that, it's just so much faster. We were happy with the qualifying, and that put us on the front row of a heat race. (Danny) Lasoski got the jump on us, but we were able to tuck in behind him."
Starting at the back of the dash, Brady advanced to seventh. "We were able to miss the wreck there and finish seventh in the dash," he says. "In the feature, we really started going good. We struggled on the starts and restarts. We really weren't taking off that great, but once we got a lap or two in, we had some good momentum."
Brady advanced forward to challenge the leaders, but ran low on fuel late in the going. "We were going well on the top," he says. "We were pulling up on some guys. We were definitely happy with our speed. We were actually running fourth, but we started running out of fuel without the big tank on. The car itself was actually good enough to win the race, but my lack of experience on the big track with a 410 hurt me a little bit. The little choices you make make a big difference."
A more familiar bullring awaited on Saturday. Brady has plenty of experience at the Tri-State Speedway near Haubstadt. "We have some laps there with non-wing cars and midgets and stuff," he says. "I think a winged sprint car is my favorite thing to drive there though. We were really good. We were second quick, but Sammy (Swindell) cut a perfect lap."
After running third in the heat and fourth in the dash, Brady was ready to start outside row two in the main event. "We were staying with the leaders," he says. "We fell back to fifth for a little bit. As the track was slicking back up, we were getting better and better. We were able to get by Sammy, and after Joey (Saldana) crashed, we were restarting third."
That's when the opportunity came to take the lead and pull away. "We were able to get by (Craig) Dollansky and Stevie (Smith) on the front straightaway," says Brady. "They told us we were out to about a straightaway lead on them before we had a caution. Unfortunately, after that caution, we took the lead again, but we had a fuel valve malfunction."
It was a disappointing ending to what looked like a sure win with the Outlaws. "I pulled in not knowing what the problem was," says Brady. "Unfortunately, a simple issue had big financial consequences for us. It's not often that a guy gets a chance to win a feature with the Outlaws. I think we had a car good enough to win on Friday, and Saturday, I was comfortable and I think without the mechanical issue, we had it won easily."
The 2011 Knoxville Nationals Rookie of the Year is gathering attention in the 410 world. "We're learning and getting better every time we race with those guys," says Brady. "I'm looking forward to running with them more. I think we may have turned some heads. We didn't buy a new tire all weekend. We were on everyone else's used tires…so that's another thing we were happy about."
Sunday, the wing came off for the MSCS/KISS event at the Terre Haute Action Track in Terre Haute, Indiana. Brady won his heat from row two. "It was almost like a day show," he says. "We hot lapped at 5:00 and the feature started in daylight. We were really good in the heat race."
The track conditions did not yield much of a bottom groove, and Brady's draw put him in row four. "Unfortunately, we were the first to draw, and we drew eight out of eight," he says. "That wasn't the place to start. It definitely would have been beneficial to start in the first couple rows. It was just hard to pass. Everyone was way up on the cushion. You had to use bonsai moves to pass. We had a car that could have contended for a win, but I was in a position where I didn't want to tear a good car up for the payoff. If we were going for the win, it may have been a different story."
Wednesday night, the team heads to Farmer City, Illinois to compete with the WoO. On Friday, the Lucas Oil ASCS National Series picks back up in Brady's home state at the Salina High Banks Speedway seven miles east of Pryor, Oklahoma. It's on to the Riverside International Speedway in West Memphis, Arkansas for the "Rock 'n Roll 50" on Saturday.
Follow Brady on his Website, Twitter and Facebook!
Follow Brady at his website located at www.BradyBaconRacing.com! Also keep up with him on Facebook and Twitter (which also can be accessed at the website) at the following links…
Twitter Link – http://twitter.com/BradyBacon
Facebook Link – www.facebook.com/pages/Brady-Bacon-Racing/278125555137
Partner of the Week – Fatheadz Eyewear
Made especially for larger heads, extra wide to fit even the biggest heads, Fatheadz Eyewear is a leader in the industry. Whether you need sunglasses or prescription eyewear, Fatheadz has a variety of frames to choose from. Buy oversize Fatheadz sunglasses online at www.Fatheadz.com and save!
Associate Marketing Partner of the Week – Brown & Miller Racing Solutions
Brown & Miller's lightweight range of hose satisfies virtually every racing application and their fittings are designed for safety, reliability and optimum weight saving. With an industry standard ProGold convoluted hose system, Smoothbore hose and Adaptor ranges, they have the complete system. To further complement these products, they can also provide custom engineered fittings designed to optimize hose installations where standard fittings may not be suitable. With outlets worldwide, there is no excuse to settle for second best! At Brown and Miller Racing Solutions, they maintain the simple philosophy that when our parts are on your racecar, they are a part of your team. Visit them on the web at www.BMRS.net!
If you would like to receive Brady's weekly releases, send an e-mail to sprntcar@hotmail.com with the subject "Brady".
Brady Bacon Racing would like the following sponsors for all their help: Fatheadz Eyewear, Oilfield Equipment and Manufacturing, Tel-Star Communications, PPM Titanium Products, Triple X Race Co., Infinity Shocks, Smiley's Racing Products, Heath Clips Lawn Care, Keizer Aluminum Wheels, Eaton Industrial Coatings, Pattison Precision Products, Wesmar Racing Engines, Butlerbuilt Seats, Hoosier Tire Southwest, Diversified Machine Inc., Brown and Miller Racing Solutions, Lightning Wings, Simpson, Pro Pan, CP Pistons, Schoenfeld Headers, Carrillo Rods, KSE Steering, All Star Performance, King Racing, Schroth Racing, FSR Radiators, Three-wide Clothing and Fuel Safe.