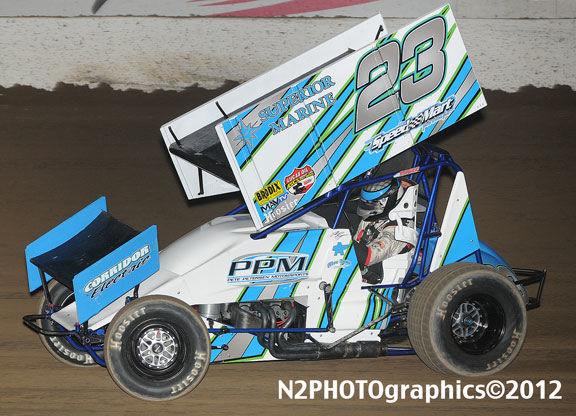 PETERSEN MEDIA
Seth Bergman continued his extended stop in Texas by competing Saturday night at the Devils Bowl Speedway with the ASCS Lone Star Region where he captured a 10th place finish.
"Normally I'd be happy with a 10th place finish, but not when you start 5th," explained Bergman.
The night got off to a solid start for Bergman and his Pete Petersen Motorsports team as the Washington driver dominated his heat race and earned a place in the top-eight redraw.
"We got rolling really good in the heat, and I was really excited to see what we had for everyone in the feature," Bergman continued.
Drawing the five on the legendary ½ mile, Bergman and his team simply missed it, and struggled during the duration of the feature.
As Bergman battled a loose racecar, he slowly dropped position by position.
When it was all over he came across the line in the 10th spot, normally a decent finish, but below standards on this night."
"We just missed it tonight," said Bergman. "We run good as a team and we run bad as a team, and this one is on us for sure. It's a definitely disappointing to start up front and run bad, but it's going to happen, and we will get back with the National guys and move forward."
Bergman and his Pete Petersen Motorsports team would like to thank Superior Marine, Corridor Electric, Speedmart Inc, Eagle Chassis, ButlerBuilt, and 7 Industries for their support in 2012.
ON TAP: Bergman and the PPM team will meet back up with the Lucas Oil ASCS National Tour on Friday April 27th at the Salina Highbanks in Salina, OK.