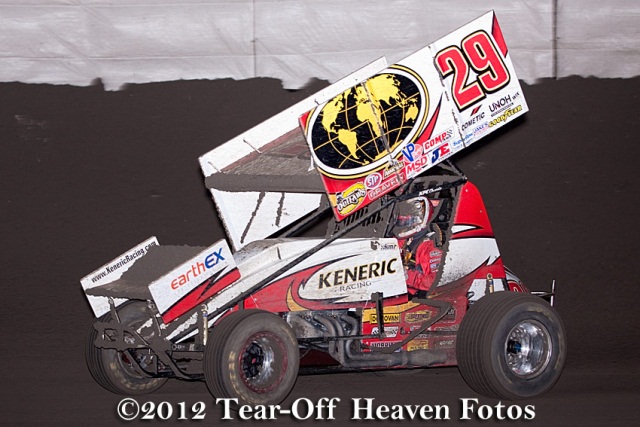 By Bill W
April 25, 2012 – Kerry Madsen and the Keneric Racing #29 team had a fast car again last weekend in World of Outlaws competition in Sedalia, Missouri on Friday and Haubstadt, Indiana on Saturday. This week, the WoO has three events planned. Tonight, they will travel to Farmer City, Illinois, on Friday they tackle the high-banked Eagle (NE) Raceway, and Saturday, Knoxville (IA) Raceway will play host.
On Friday, Kerry qualified 13th on the Missouri State Fair Speedway half-mile. "Unfortunately, we missed the invert for the heat, which put us starting fifth in the heat race," he says. "We were able to run third. We were o.k. at that point."
The St. Mary's, New South Wales driver would post twelfth in the main event. "(Crew Chief) Rob (Hart) changed some stuff on the car, and we had an awesome car in the feature," says Kerry. "We had a couple of unlucky starts, but we were able to get up through there to sixth. The communication between Rob and I was great."
Kerry simply ran out of laps in his sixth place finish, as the car felt better as the race went on. "The track was pretty good for what we usually see at Sedalia," he says. "It was getting really racy towards the end, and I was disappointed when the race was over. It was quite enjoyable."
It was on to Indiana's Tri-State Speedway and its quarter-mile on Saturday. "We made the six-hour drive from Sedalia to Haubstadt," says Kerry. "We weren't great in hot laps, and we didn't qualify great (17th)."
Hart went to work and the car took off in the heat (from a sixth place starting spot). "We were good in the heat," says Kerry. "I thought we might have a chance to make the dash (top two). We had a restart there and we ended up running fourth. We knew we'd be starting towards the back, so at that point, you just want a good finish."
Things were looking good for the feature, but a racing deal emerged early. "It looked like we'd be alright," says Kerry. "We made some changes, and things were looking good. There was a bit of traffic early, and about lap four, a yellow came out. The guy behind me didn't see it and never lifted. He took my front axle out. We went to the work area, but we just didn't make it back out. That was unfortunate, but it is part of motorsports."
The team continues to improve. "The main thing for us is continuing to work on the car and our communication," says Kerry. "That will help us get to the point where we are ready!"
There will be plenty of opportunities this week…weather pending. "I have not been to Farmer City," says Kerry. "The only experience I have will be the four turns left. It's a short track, and I'm looking forward to it. Right now, the more we race, the better we're going to get. We're still experimenting with some stuff. I think Farmer City will be similar to Haubstadt…maybe not as heavy, but similar."
The 2005 Knoxville Raceway track champion is excited about his return to his summer hometown as well. "I'm super-pumped about getting back to Knoxville on Saturday night too, and I always like going to Eagle too," he says. "It's good the Outlaws are back there. Lincoln is a great town, and it's not too far away."
Follow Kerry Madsen on his Website and on MySpace, Facebook and Twitter!
Follow Kerry Madsen at his website located at www.KenericRacing.com! Also keep up with him on Facebook and Twitter (which also can be accessed at the website) at the following links…
Facebook link = http://www.facebook.com/#!/pages/Official-Fan-Page-for-Kerry-Madsen/101145169933686
Twitter link = http://twitter.com/#!/kmr29
Kerry's Releases
To receive Kerry's Releases, send an e-mail to sprntcar@hotmail.com with "Madsen" in the subject line!
The Team
Kerry Madsen (KMR / Keneric Racing), Bob & Peter Gavranich (Keneric Racing), Earthex, Morrison Motors, KPC Chassis.