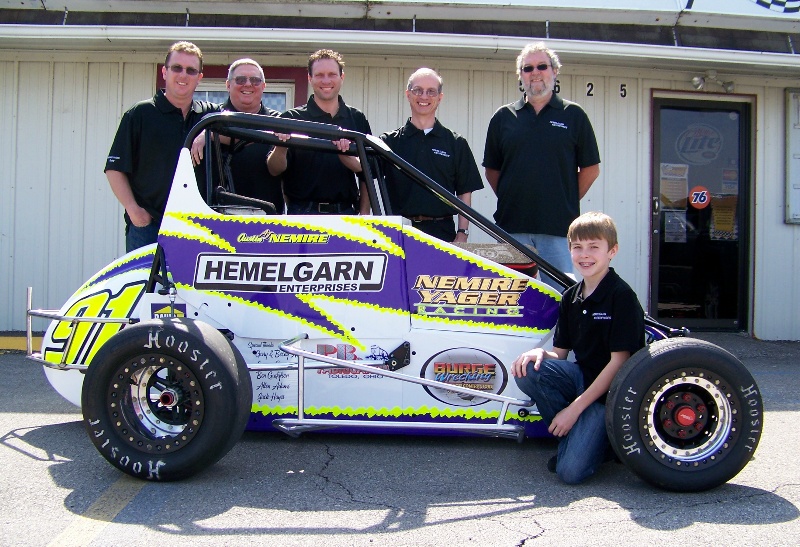 By Charles Krall
Toledo, Oh – Most twelve-year old children are focused on junior high school, the latest video game platform, or updating their Facebook status. While those activities may play a role in Austin Nemire's daily routine, he's also ready to leap into the deep end of the motorsports pool – driving a USAC Ford Focus Midget as part of 1996 Indianapolis 500 winner Ron Hemelgarn's driver development program.
Young Nemire, the grandson of former USAC campaigner Jerry Nemire, started his racing career at the tender age of six in 2005. He quickly moved through the quarter-midget ranks, both locally at the Lucas County Recreation Center in Maumee, Ohio and regionally. Over the past six years he's collected an impressive 130 feature wins and eight championships in the USAC .25 Midget division throughout a variety of classes.
That success has him ready to vault into full-sized midgets, the first step in what he and his racing family hope is a successful climb up the motorsports ladder.
"I have a lot of people whose footsteps I'd like to follow," Nemire said. "My first inspiration was my grandpa. I've seen him race, seen a lot of pictures and some videos and of course heard a lot of his old racing stories. But there are a lot of other drivers that have come out of our area that have gone on to the top of the motorsports world, guys like Sam Hornish and Terry Cook, that I've also been motivated by. And anyone who's come up in open wheel racing wants to follow in Tony Stewart's and Ryan Newman's footsteps. Ron has also worked with Carl Edwards over the years and we all know the success he's had. They definitely set the bar that all of us are trying to reach. Hopefully we can have some success and take the next step into an ARCA ride a few years down the line."
While twelve may seem young to many, to Austin's father Kenny Nemire the time was right for Austin to take the next step in his development.
"Austin raced against kids with more experience than him from a very early age and was able to race with them and beat them almost immediately," he said. "Moving him up to the USAC Ford Focus Midget division is the next logical step in his development. It's a totally new experience for him. He has to learn the full-sized cars, the drivers, the tracks and do it all in a short period of time. A lot of people might think he's being rushed but he's really accomplished all he can in the quarter midgets and we're ready to take on the next challenge."
Austin is ready to take on that challenge, and ready to impress a sponsor and benefactor that has seen the pinnacle of the sport.
"There's a lot of great racetracks on the schedule like Columbus, Kil-Kare, Kalamazoo, Grundy County, and Lorain County," Nemire said. "We have a lot to learn and there's a lot we want to accomplish. The biggest thing is we want to make Ron proud of us. He's worked with some of the greatest drivers in the sport and to have the chance to work with us puts on a lot of pressure. But the best thing is he told me to just go out, learn, and have fun. All he wants us to do is get better from week to week, which is exactly what we're looking to do too."
Being a part of the Hemelgarn Racing development program is sure to open some eyes, from competitors, owners, and possibly potential sponsors.
"Working with Ron definitely gives us some credibility," Nemire said. "We're proud to carry his traditional colors, but Grandpa was really happy to see that 91 turned upside down is 16. So even though we're in the purple and yellow 91 we have that link to his old Sweet 16. Hopefully we run as well as we expect we're going to and we can find some additional sponsors who want to race their way to the top with us."
The USAC Ford Focus Midget Midwestern Series kicked off March 30 and 31 at Ace Speedway in Altamahaw, North Carolina. Nemire will concentrate on the series' remaining 14 pavement races but will also attempt a select number of dirt events. His first USAC Ford Focus Midwest Division race will be May 12 at Columbus Motor Speedway.