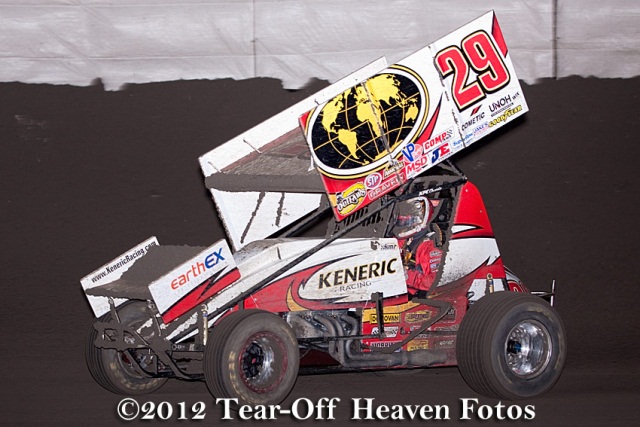 By Bill W
May 2, 2012 – Kerry Madsen and the Keneric Racing #29 team can claim they were one of the fastest cars on the World of Outlaws tour last week. After leading at Farmer City before contact with another car, and getting caught up in a lapped traffic tangle in the top five at Knoxville Raceway, they are looking forward to this weekend's event at Eldora Speedway in Ohio.
Things started last Wednesday in Farmer City, Illinois. Kerry timed in ninth, before winning his heat and the Dash, which gave him the feature pole. "We had the lead," he says. "We had a restart, about twelve laps in. We got going well and took the lead. In the middle of one and two, another car got into the back of me, and turned me around."
Kerry was credited with an 18th place finish. "Unfortunately, from that point on, it was over," he says. "We definitely had a great racecar. We were in position to win that race. Who knows what would have happened in lapped traffic, but we were definitely in position to win."
Coming home to Knoxville Raceway, where he was the 2005 season champ, Kerry registered the second quick time of the night in the field of 42. He qualified for the Dash with a run from fourth to second in his heat race. He started the main event eighth. "We were good qualifying, and good in the heat race," he says. "We had a strong run going in fifth in the feature, and I misread which way a lapped car was going, and I ran him over. I was disappointed for the team more than anything. It would have been amazing to come away with a top five at Knoxville."
After going to the back, the St. Mary's, New South Wales native drove back up to a 13th place finish at the checkers. "We've got the car, the equipment and the team," he says. "We are excited. I needed some more laps. We were moving back through there. I was surprised how much more speed we had than some of those cars."
The speed is there, and the team needs to keep working. "It was disappointing not to a get a result, but to have the racecar we did all night was excellent," says Kerry. "The track was similar to Florida where we struggled, and Rob (Hart) just gave me that good a racecar. I couldn't be more excited than where we're headed. It's a matter of putting it together now and getting some wins."
The new combination seems to be clicking as the racing schedule gets busier in the next month. "We've come a long way in a short time," says Kerry. "Rob has changed a lot of things within our program. Everything is on a good track, and Brian Morrison has the engines running great with a second quick at Knoxville. We have great backing with our ownership, and we have the makings of a great team. I'm just looking forward to getting out there and winning some races."
This weekend, the WoO hits Eldora Speedway near Rossburg, Ohio. "We've always ran reasonably well there," says Kerry, who first competed in Ohio when he came to the States. "I'm looking forward to going back with the combination we have now. We'll be looking forward to going to The Grove the weekend after that."
Follow Kerry Madsen on his Website and on MySpace, Facebook and Twitter!
Follow Kerry Madsen at his website located at www.KenericRacing.com! Also keep up with him on Facebook and Twitter (which also can be accessed at the website) at the following links…
Facebook link = http://www.facebook.com/#!/pages/Official-Fan-Page-for-Kerry-Madsen/101145169933686
Twitter link = http://twitter.com/#!/kmr29
Kerry's Releases
To receive Kerry's Releases, send an e-mail to sprntcar@hotmail.com with "Madsen" in the subject line!
The Team
Kerry Madsen (KMR / Keneric Racing), Bob & Peter Gavranich (Keneric Racing), Earthex, Morrison Motors, KPC Chassis.