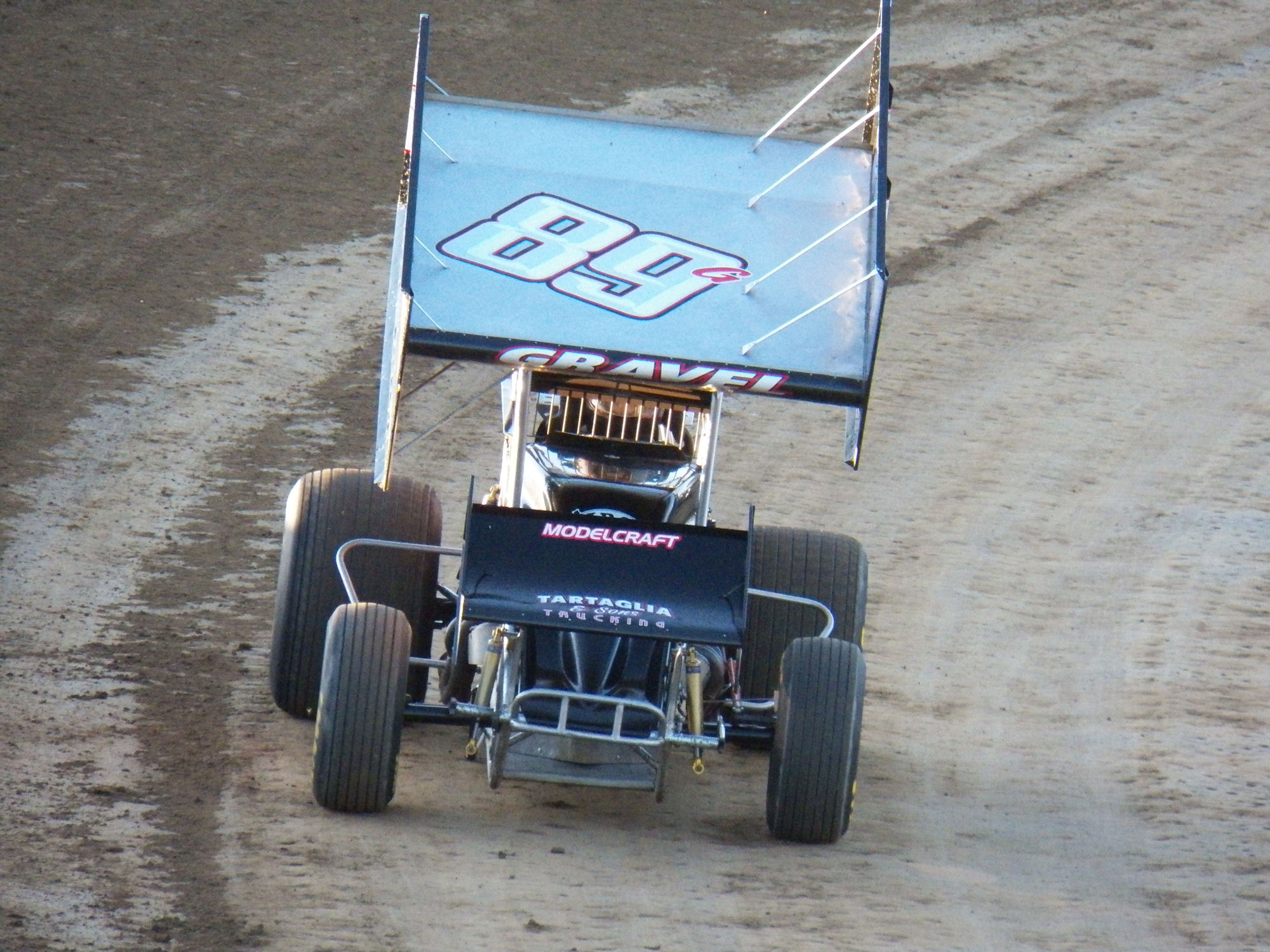 By DDR Motorsports PR
Watertown, Conn.—May 2, 2012 — Even for racers first impressions are important. Eldora Speedway in Ohio is a track that David Gravel made a lasting impression at, as he will never forget his debut at the legendary venue with World of Outlaws in 2009. He qualified fourth in a stout field of 44 entries at the historic half-mile, ending the night with a very strong seventh-place showing.
Gravel will make his first visit of 2012 to Eldora on Friday, April 4 and Saturday, April 5, with the World of Outlaws for the two-night Outlaw Thunder by Goodyear Weekend.
Coming off a third-place run with the UNOH All Star Circuit of Champions at Port Royal Speedway in Pennsylvania last weekend, Gravel has momentum entering the pair of races this weekend in his No. 89G Kistler-powered J&J. While it is easy to get caught up in the history and legend of "The Big E," Gravel is going to put all of that to the back of his mind and approach it like any other race weekend.
"At Eldora you usually have lap times that are very close," explained Gravel. "Everyone brings out their best motors, so you have to put down the perfect lap in qualifying. As long as you put in a good lap in qualifying, the heat races usually go fairly well for you."
After qualifying among the Top-Five in his debut at Eldora, Gravel finished third in the fourth heat race to earn a spot in the 30-lap A-Feature. The Eldora rookie started 11th in the main event and worked his way to a seventh-place finish. This also marked Gravel's first career Top-10 finish with the World of Outlaws.
Since then the 20-year-old has competed in the Kings Royal in both 2010 and 2011, each year narrowly missing qualifying for the feature events. Last year Gravel's best finish at Eldora came in the fall during the Four Crown Nationals with the World of Outlaws, when he started in the ninth position and finished just outside the Top-10 in the 12th spot. Over the past three years, the native of Watertown, Conn. has noticed one thing about the famous half-mile — it is hard to predict what track conditions will be like.
"The track there can be difficult to figure out," Gravel stated. "Each time you go there it can have a different feel. One time you go there it can be very heavy and then the next it takes rubber and then the next time you go the track surface can be great, so you never know what to expect."
Gravel earned his best World of Outlaws finish of 2012 in the finale of the season-opening event at Volusia Speedway Park in Florida, coming home third, after a thrilling duel with four-time series champion Donny Schatz and eventual winner Craig Dollansky. He also picked up Top-10 finishes with the series at Paducah International Raceway in Kentucky, and Missouri State Fair Speedway in back-to-back races last month.
The East Coast racer currently is third in points with the UNOH All Star Circuit of Champions, following his podium finish at Port Royal Speedway last weekend. He had racked up six Top-10 finishes with the All Stars, along with setting fast time twice in qualifying.
David Gravel and DDR Motorsports would like to thank: J&J Chassis, JRC Transportation, Kistler Engines, Musco Fuels and P&M Transportation for their continued support.
Keep up with all the action:
Follow David Gravel on Twitter at www.twitter.com/DavidGravel89g and receive live updates from the track each and every race night. Results are also posted to the David Gravel Racing site on Facebook at https://www.facebook.com/pages/David-Gravel-Racing/143538695709198.
Tune in:
Listen live to each and every World of Outlaws event on DIRTVision.com with "The Voice of the Outlaws" Johnny Gibson on the call. Visit www.DIRTVision.com for live audio of each and every World of Outlaws Sprint Car Series event.