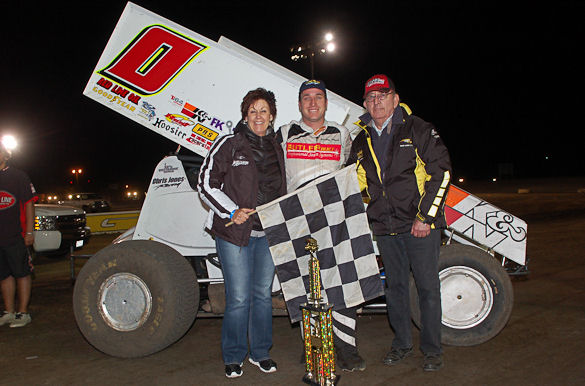 By Gary Thomas
Chico, CA – May 5, 2012…Going into the 22nd annual "Dave Bradway Jr. Memorial" on Saturday there were two drivers that held the honor of having the most wins in the history of the prestigious event at Silver Dollar Speedway.
Following Saturday's event however, there is now one man alone at the top of the all-time win list, after Chico's own Jonathan Allard led all but one-lap in the feature to pick up his fifth "Dave Bradway Jr. Memorial" victory.
It was also his second Cancen Oil King of the West Sprint Car Series presented by Goodyear triumph of the season aboard Morrie & Katie Williams' familiar No. 0 mount. With lap money & contingency prizes added in Allard took home just over $6,000 for his efforts.
In total there was rougly $35,000 in cash and contingencies handed out on Saturday night.
"Man it feels awesome to get that fifth Bradway win and I can't thank my whole team enough," said an extremely pumped Allard, who breaks the tie with Brent Kaeding to become the winningest driver in Bradway Memorial history. "This event has always been special to my heart and this track is as well, so it's great to come back home and end up in victory lane."
Saturday's 40-lap "Dave Bradway Jr. Memorial" main event came to the line with Grass Valley's Jason Statler and Allard on the front row. Statler was the winner of the KSE Racing Products Dash earlier in the evening, but when the green lights came on it was Allard jumping into the lead and Clovis, CA's Peter Murphy slicing into second.
The first few laps proved exciting as drivers diced it up on the very racy quarter-mile, but things came to a halt on lap-five when fifth running Kyle Hirst got upside down in the first set of corners to bring out a red flag. The ensuing restart then saw Statler and Medford, OR's Roger Crockett get a little too close for comfort, which resulted in Statler spinning off the track for a caution.
After going back green the action intensified with the top-five cars battling it out for position and saw San Jose's Tim Kaeding charge up to second on lap-eight.
Bixby, Oklahoma's Shane Stewart also made his way into third just after that and looked to set up a three-car battle for the lead as Allard continued to have his way out front. Lapped traffic would change the complexion of the race though and with 15-laps complete Kaeding closed in quickly.
The current KWS point leader and defending series champion then made a gorgeous move to get underneath Allard off turn four and take the lead on lap 16. With the crowd on their feet though Allard charged right back by Kaeding to reclaim the lead.
Rounding turn four on that same lap however, Stewart attempted to take second from Kaeding, but contact ensued and resulted in Stewart coming to a stop. Kaeding also went to the work area with a flat tire and along with Stewart had to restart at the rear of the field.
The upcoming restart saw Allard, Crockett, Campbell's Brent Kaeding, Oroville's Sean Becker and 18th starter Mitch Olson of Puyallup, Washington make up the top-five. When the green flag waved again Allard escaped with the lead, but the action behind him continued to be heated as a number of drivers charged through the field.
Just past the halfway point Fremont's Shane Golobic appeared to be one of the faster cars on the track, as he moved his way into third after starting 16th on the grid. His strong run would come to an end however, following contact between he and Elk Grove's Bobby McMahan on lap 24.
The remaining distance saw Allard continue to run out front and have no worries as he cruised to victory by nearly four seconds over the nearest competitor. The victory also marked his 30th career win in combined KWS and Golden State races. Ironically Allard's very first win came at the "Dave Bradway Jr. Memorial" in 2001.
Former Golden State 410 champion Sean Becker crossed the stripe in second to complete a strong run from the 11th starting spot in Dan Menne's No. 75 sprint car. The 2006 "Dave Bradway Jr. Memorial" winner showed once again why he is one of the very best drivers in the state of California and was a pleasure to have on hand for the first time this season with KWS.
After the early incident Tim Kaeding charged all the way back for a third place finish to round out the podium in Dennis & Teresa Roth's No. 83 machine. "TK" closed in on Becker for second over the final circuits, but couldn't quite find a way by. Shane Stewart also rebounded and put on an exciting charge as well to carve his way back to fourth in Paul Silva's No. 57, with Roger Crockett completing the top-five aboard the Finley Farms No. 77 sprinter.
Rounding out the top-10 was 14th starter Bobby McMahan, Scotts Valley's Evan Suggs, Campbell's Brent Kaeding, Placerville's Andy Gregg and Mitch Olson. Earning the hard charger award in the main event was Suggs, who drove from 17th to seventh. For his work he earned an extra $1000 cash and a $200 certificate from Pit Stop USA.
Shane Stewart led all 12-laps in the Last Chance Qualifier and took home an additional $600 in lap money for the LCQ alone. As previously noted Jason Statler brought home the win in the KSE Racing Products Dash.
HoservilleCA & Kaeding Performance heat race wins went to Tim Kaeding, Jonathan Allard, Peter Murphy and Sacramento's Willie Croft. For their efforts each driver was rewarded with a Goodyear right rear tire and five sleeves of tear offs. It was the 10th year that Hoserville has supported the heats at the Bradway and we can't thank them enough for their continued support.
The "Carwash Mike Fast Time Award" on Saturday went to Tim Kaeding, as he beat out the 33-car field with a time of 12.165 seconds. For the award "TK" captured $1500 cash, as well as a custom Jagermeister trophy from Paul Brandon, an aluminum KWS license plate from Grant's Fine Art and a $100 certificate from BR Motorsports.
The Cancen Oil KWS Series presented by Goodyear will now get ready for a big double header weekend this coming Friday & Saturday at the Tulare Thunderbowl Raceway. The tour will hit the one-third mile clay oval for the "Chris & Brian Faria Memorial Spring Shootout" and we encourage everyone to come down, camp out and enjoy the weekend.