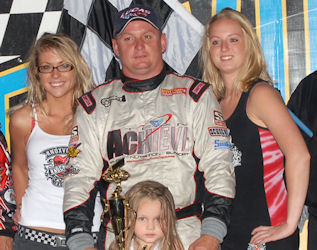 By Bill W
May 9, 2012 – Surgery scheduled for last Thursday was put off for Wayne Johnson. Having broken his nose in seven places, he decided to wait until the conclusion of the racing season, and that decision paid off with a big win at Knoxville Raceway in the 410 class. The Wayne Johnson Racing #77x team hits the road again with the Lucas Oil ASCS National Series this weekend on Friday and Saturday nights at the I-30 Speedway near Little Rock, Arkansas.
With a 30-car field on hand in the 410 class at Knoxville on Saturday night, Wayne would time in thirteenth. "We were just off on the fuel a bit in qualifying," he says. "(Curt) Brooks will tell you he did it on purpose, because it worked out for us. He usually does the fueling with our 410 at Knoxville. The air was so bad, that we leaned it out and thought that was the way to go."
The time put the Knoxville, Iowa driver on the front row of his heat and he took off, riding the rim to victory. "We were good all night long really," says Wayne. "We were a little curb dependent, because we were losing the right rear a little bit. We were using some new shocks from Super Shox, and really just trying to learn you know. We actually stumbled on to a win there and got lucky."
An inversion of twelve was drawn for the feature, and Wayne got lucky when a competitor failed to transfer through his heat race. That put him on the pole for the feature, and he led every lap. A restart at the halfway point, bunched the field behind him, but it didn't matter. "I just wasn't very good on the bottom," he says. "I knew (Danny) Lasoski had gotten to third, but I couldn't get off the top, because I just wasn't good down there. I wasn't going to do anything until I saw somebody. After watching the video, it looked like everyone was up there, so that made sense in the end."
Wayne is very appreciate of his team's partners. He has an incredible record of 16 top five finishes in 16 races this season. "Everyone involved with this team plays a part, especially Todd Carlisle and Vern Rengen," he says. "And the boys who are working on this thing…they do a great job. Paul and Conner, they are working hard and making my job easy."
The two-night show at the ¼-mile bullring in Little Rock awaits this weekend. "We're pulling out tomorrow and heading down there," says Wayne. "That track has been good to us. We just need to keep riding this big old wave!"
Follow Updates on Facebook!
Wayne will update as his race night goes on at his Facebook page. Find it by searching for Wayne Johnson Racing or clicking the following link…
http://www.facebook.com/#!/WayneJohnsonRacing
Outlaw Wings – "The Wing with an Attitude"!
Check out the new "recessed rivet" design put out by Outlaw Wings. Talk to Wayne about purchasing Outlaw Wings for your car! Outlaw Wings – "The Wing with an Attitude"!
Wayne's World
Kevin Pederson asks: How much pain are you feeling in your nose right now?
Wayne answers: It's not painful at all really. If you touch it, it definitely has a little pain, but there isn't much at all. It's pretty minimal. It's not even an ache. When they rebreak it after the season, it will hurt like a S.O.B.!
Got a question for Wayne? Each week, Wayne will answer your questions about "Tech Tips", or anything that's on your mind. If you ever wondered what a part on a sprint car is all about, send an e-mail to us at sprntcar@iowatelecom.net, and we may answer it in this section! Put "? for Wayne" in your subject line. He'll try to keep it clean if you do!
Wayne's Fast Facts
Wayne raced to victory in ASCS action on September 4, 1993 at the Tulsa Speedway. Driving the Grabel #24, Wayne beat Lance Blevins, Shane Stewart, Donnie Crawford and Rick Barksdale. Dion Hindi was sixth in an interesting field of cars. Two other wins at Tulsa came over Jim Bailey, Dean Bayouth, Larry Ring and Joe Wood in 1990, and a 2004 410 Sprint Bandits win over Gary Wright, Stewart, Jason Johnson and Troy Little.
Partner of the Week – Rod End Supply
Whether you're running a go-cart, micro, mini-sprint, midget, modified, late model, sprint or a tractor, Rod End Supply has the assortment of rod ends, radius rods, and specialty products that will help you lead the field in performing at your maximum potential. At Rod End Supply, "They don't just sell 'em, they race 'em! Visit them on the web at www.RodEndSupply.com or call 1-800-284-2902 today!
"Wednesday's with Wayne"
"Wednesday's With Wayne" is an up close look at the past, present and future of colorful and talented sprint car driver Wayne Johnson. You'll never know what to expect next with Wayne, so don't miss us on Wednesdays!
To receive "Wednesday's with Wayne", send an e-mail to sprntcar@iowatelecom.net with "Wayne" in the subject line.
Wayne Johnson Racing would like to thank Vern Rengen and Missile Motorsports, Sebastian Sandblasting & Powdercoating, City Vending, Outlaw Wings, Team Achieve, The Oil Medics, Century Signs, Smiley's Racing Products, Hoosier Tire Southwest, Simpson, Butlerbuilt, Super Shox, Maxim, Speedway Motors, Rod End Supply, Schoenfeld Headers and RCM Design.