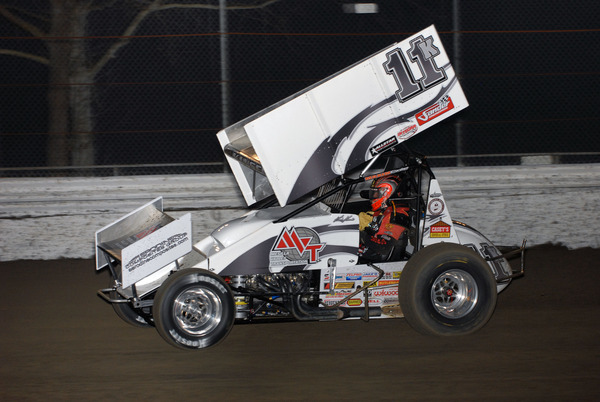 By Kraig Kinser Racing PR

Bloomington, Ind.—May 21, 2012— Kraig Kinser had plenty of speed during the second week of the World of Outlaws East Coast swing, and while the results did not quite show this every night, he did pick up a pair of Top-10 finishes, including a fifth-place showing at Hagerstown Speedway, which have helped the third-generation driver get headed back in the right direction, after a tough first week of the East Coast swing.
Kinser earned his fifth Top-Five finish of the season in his Hendrickcars.com Maxim on Sunday, May 20, as the World of Outlaws returned to Hagerstown Speedway in Maryland for the first time since 2005, for the second round of the Kasey Kahne Challenge. The native of Bloomington, Ind., lined up fifth and slipped back to eighth on the second lap of the 25-lap main event. He gained a couple of positions in the late going, including getting by Cody Darrah with two laps remaining to secure the fifth position, which marked the best finish of his career in three starts at the semi-banked half-mile.
Kinser qualified ninth at Hagerstown, which put him on the outside of the front row in the first eight-lap heat race, where he finished second to earn a spot in the dash for the 11th time this season. He fell back to fifth on the opening circuit of that six-lap contest and finished in that same position, which put him on the inside of the third row for the A-Feature.
"To rebound from the flat tire on Saturday night, with a Top-Five on Sunday was pretty good," said Kinser. "You never want to slip back in the dash from first to fifth like we did, but we learned a few things and hopefully that won't happen again. The car got better as the feature went on and we were able to gain a few spots late in the going."
Kinser finished 15th at Orange County Fair Speedway on Saturday, May 19, after suffering a flat right rear tire on the final lap of the 25-lap contest, while running second. He started on the front row of the 25-lap main event next to his father Steve, who would go on to win the race. Kraig nearly took the lead a couple of times, including on the 11th go-around as the father/son duo worked lapped traffic. The final five laps saw the caution flag wave eight times.
The trio of races that wrapped up the first East Coast swing of the season began for Kinser on Wednesday, May 16 at Rolling Wheels Raceway Park in New York with a 10th-place finish. He opened the night by turning the 15th-fastest lap in time trials. The 2005 Knoxville Nationals winner lined up fifth in the third eight-lap heat race and finished sixth in that contest to earn a spot in the 25-lap main event. The 2004 Kevin Gobrecht Rookie of the Year Award winner started15th in the A-Feature and worked his way into the Top-10 by the 17th circuit.
"We had a pretty good car come feature-time at Rolling Wheels," noted Kinser. "We just started too far back and that's a track where starting position is always very important. I think we picked up on a few things that will help us when we go back there in the fall."
Kinser, who is currently sixth in the World of Outlaws championship standings on the strength of 13- Top-10 and five Top-Five finishes, returns to action aboard the Hendrickcars.com Maxim on Friday, May 25 at The Dirt Track at Charlotte in the Circle K NOS Energy Outlaw Showdown, which airs live on SPEED, before spending Memorial Day at Lawrenceburg Speedway in Indiana, where he is a former winner with the series, as well as with the UNOH All Star Circuit of Champions.
"I'm really looking forward to racing in Charlotte and then Lawrenceburg," he stated. "I've had a couple of pretty good runs at Charlotte and I think we have a good package there. I've won at Lawrenceburg a couple of times and it's a home state race, so I can't wait to get over there. It's been a few years since we've raced there. I think we are getting back on track now."
Rolling Wheels, Orange County & Hagerstown Results
Date Time
Trials Heat
Start Heat Finish Dash Start Dash Finish Feature Start Feature Finish Points
May 16 15th 5th 6th – – 15th 10th 6th
May 19 8th 2nd 1st 1st 2nd 2nd 15th 6th
May 20 9th 2nd 2nd 1st 5th 5th 5th 6th
Kraig Kinser By the Numbers: Rolling Wheels, Orange County and Hagerstown
0.5- Miles around Hagerstown Speedway
0.675- Miles around Rolling Wheels Raceway Park and Orange County Fair Speedway
1- Race this season in the state of Maryland for the World of Outlaws
3- Career starts at Orange County Fair Speedway and Hagerstown Speedway
4- Career Top-10 finishes at Rolling Wheels
5- Top-Five finishes this season
6- Average finishing position in three career feature starts at Hagerstown Speedway
7- Career feature events starts at Rolling Wheels Raceway Park
9.7- Average finish at Rolling Wheels in seven main event starts
10.7- Average finishing position in 21 A-Feature events this season
11- Appearances in the dash this season
13- Top-10 finishes through May 20
15.573- Lap in time trials at Hagerstown Speedway
16.804- Lap in time trials at Rolling Wheels Raceway Park
17.935- Lap in time trials at Orange County Fair Speedway
2724- Points earned through May 20
33,810- Dollars earned through May 20
Up Next
May 25: The Dirt Track at Charlotte, Concord, N.C.
May 28: Lawrenceburg Speedway, Lawrenceburg, Ind.
Keep up with all the action
Follow Kraig Kinser on Twitter at http://twitter.com/kraigkinser11k and receive live updates from the track each and every race night.
Tune in
Listen live to each and every World of Outlaws event on DIRTVision.com with "The Voice of the Outlaws" Johnny Gibson on the call. Visit www.DIRTVision.com for live audio of each and every World of Outlaws Sprint Car Series event.