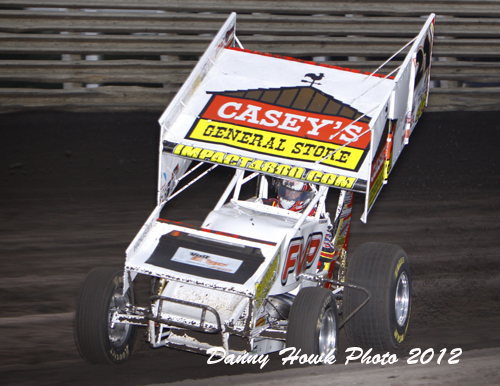 By Bill W,Danny Howk photo
May 28, 2012 – Five nights of racing for the race fan can be exhilarating. For a race team, it can be a tough stretch. The Brian Brown Racing Casey's General Stores/FVP #21 team came through the Memorial Day weekend with flying colors; registering three second place finishes in five nights. This weekend, they will travel to Jackson, Minnesota for the make-up of the $5,000 to win 360 Spring Nationals, and will be back at the Knoxville Raceway on Saturday.
Valley Speedway
The week started with the Lucas Oil ASCS National Series in Brian's hometown of Grain Valley, Missouri with a heat race win. "It's a short trip, obviously, and it's a place we've always done well at," he says. "I felt the car was as good as it's been there in the heat race."
After drawing a starting spot outside of row one for the main event, Brian led early. "I felt like we were making some good time down on the bottom," he says. "The middle and top got blown off, and Tony (Bruce Jr.) was able to get a run on us and sneak by. A few laps after that, it laid rubber. I kind of thought we may have another shot at him in traffic, but he got through two or three lapped cars better than I did and pulled away."
The second place finish amongst the best 360 drivers in the country was a good way to get things going. "It was a good start to the week," says Brian. "It was our second second place in a row with the ASCS National tour. We've been consistent with them, and that's where you need to be."
Brian donated 100% of his earnings at Valley Speedway to the family of Jeff Osborn, who lost his life on May 11 at the track.
I-80 Speedway
Thursday, it was on to Greenwood, Nebraska, where Brian has flourished. He would run second in his heat with the ASCS National sanction again taking affect. "Quite honestly, unless something happens there, we hope and expect to win," he says. "We had a different car there. We're trying some different stuff. We were off early in the night, but we still got in the redraw."
Brian would start the feature inside of row three. "The track was a lot better than it usually is," he says. "We took a bit of a gamble on setup. We weren't quite as tight as we normally go. It was about halfway that we were freed up and able to race."
From there, he charged forward, but couldn't quite catch the leader, Danny Lasoski, at the checkers. "The car was great," says Brian. "We were able to get by Jason (Johnson) there with two to go. I really felt like if we could have cleared him a lap or two earlier, we could have gotten Danny (Lasoski) too. Another second with the National tour is good, but you feel like the bridesmaid after awhile."
Junction Motor Speedway
Friday, after another heat win near McCool Junction, Nebraska, Brian drew eighth for a feature that saw a one-lane track for an ASCS-Midwest sanction. "We got a good start. We were up to fourth within a few laps, but then it laid rubber," he says. "At that point, as hard as it laid rubber, I was in cruise mode. I thought the guys ahead of me may run their tires off, and Robby (Wolfgang) ended up doing it."
Brian got to second hoping the leader would suffer the same fate, but he would not. "I felt as hard as Ryan (Roberts) was going, he may blow his," he says. "He did a good job of maintaining what he had, and he did a good job in winning the race. It was unfortunate that it laid rubber, but sometimes you have that."
Knoxville Raceway
A switch to the 410 class on Saturday night at Knoxville Raceway saw second quick and a run from sixth to second in the heat race. "We were able to qualify well, and the heat went well," says Brian. "We felt we were as good as we've been there this year up to that point."
A feature invert of six saw Brian starting inside row three for the feature. "We just missed it a little bit," he says of his setup. "We tightened the car up thinking the track was going to free up. It ended up actually getting better. With the caliber of drivers there, if you are not on, you are going to maintain."
Brian feels there were a couple of situations where he could have improved what would be an eighth place finish. "We got caught behind a couple of cars," he says. "Even as bad as we were, if I could have made better decisions, we could have been third or fourth."
34 Raceway
The MOWA 410 group was in West Burlington, Iowa Sunday night. "It's always good to run with MOWA," says Brian. "It is a really good series. I'm really proud of what they've become. Last year, there was great racing, but it seems the organization of the group is hitting its stride. That's the cool thing about it."
After registering the second quick time of the night, Brian drove from sixth to second in the heat and from sixth to third in the Dash. "It was probably the best my car has been all year long," he says. "We were able to make a really good move on the start of the A and split Danny (Lasoski) and Jerrod (Hull) to take the lead."
Brian pulled away from Lasoski until hitting lapped traffic. "I was really just cruising," he says. "I could have gone harder. I got to traffic and got by a car or two. I was able to get by (Ben) Wagoner coming off turn four, and I was trying to get by (Jeremy) Standridge there going into one. Unfortunately, we touched wheels left rear to right front. It was a deal where we were going for the same piece of real estate. I feel as bad that he tore his car up as I did losing the race."
Overall, the week was another success for the team. "It was a tough stretch," says Brian. "The weather has been warm, and we were short on sleep. I'm just really proud of every single guy on our team: Chad Morgan, Mark Clemons, Scott Ritchhart was with us a lot; Grandpa was there with us some. Those are the guys who work hard with the different tires and motors. It makes for a long week, but they did a really good job. I just wish we could have gotten a couple wins, but we were right there with the seconds."
Web site info
For up to date information on Brian Brown Racing visit www.BrianBrownRacing.com
Casey's: www.caseys.com
FVP: www.fvpparts.com
Brian's Q&A
Al Stafford asks: Will you be doing double duty (360 and IRA) at Jackson on Friday night?
Brian answers: I think at this point, we're just going to run the 360 and not the 410, but that is kind of up in the air. I'm hoping to go there, and build on the success we've had the last week.
Got a question for Brian? Send it to us at sprntcar@iowatelecom.net, and we may answer it in this section! Put "? for Brian" in your subject line.
Brown's Bits
Brian hit the ground running in his first visit to Knoxville in 2000, but came crashing down to start the 2001 season. In his first appearance at the "Sprint Car Capital of the World", Brian finished an impressive 6th in the 360 Nationals opener and fourth in the finale behind winner Wayne Johnson, Matt Moro and Larry Neighbors. 410 Knoxville plans for 2001 were dashed in the season opener in Danny Lasoski's #3 when the motor blew up in hot laps. Brian would return in June and at the Nationals that season. In 2002, things clicked with six wins and a championship in the 360 class before making the jump to 410s for good in 2003.
About Casey's General Stores
Casey's General Stores is a Fortune-500 company (NASDAQ CASY) operating nearly 1700 convenience stores in 11 states through the Midwest. Known for its "Homemade-To-Go" pizza, sandwiches, donuts and bakery items, Casey's strives to consistently deliver quality gas, fresh kitchen-prepared food, clean environments and friendly service at every retail location. Casey's is currently the 12th largest c-store chain and sixth largest pizza chain in the United States.
About FVP
We are very excited to introduce our new line of automotive chemicals, oils and fluids to our product offering. These new products will be available at many retailers across the country. We continue to offer a full line of high quality oil, air, cabin air and fuel filters, plus a complete line of high quality batteries for multiple applications including cars, trucks, SUV's, commercial and other specialty vehicles. All products are made to OE manufacturer fitment specifications. FVP products are engineered to provide our customers with quality products that are equal or superior in performance to the major national brands at a competitive price. To learn more about our FVP products or to find out where you can have FVP products installed in your vehicle, visit us at www.FVPparts.com! FVP…The Confident Solution
SPLASH
In addition to our line of seasonal safety products, we are very excited to introduce a full line of SPLASH Wiper Blades. Our SafeView Performance Blades fit 95% of the vehicles on the road with quick and easy installation for everyone. The AccuVision Beam Blade offers memory curve steel, which provides uniform pressure for a clear wipe, without the streaks. Look for these great new SPLASH products! Whether it's keeping your windshield clean or free of ice, protecting your RV, boat or pool from freezing in the winter, or your sidewalk safe to walk on, SPLASH Products are what you need! Check out our new SPLASH website at www.SPLASHWash.com! SPLASH…SEE SAFELY!
Marketing Partner of the Week – Impact Signs Awnings Wraps / impact4800.com
Brian says – "David and Julie Goodson have a great family there. They also make sure our trailer looks great with the graphics they provide. We're proud to represent them."
The goal at Impact Sign and Lighting is to make selecting the right sign and lighting for your business a simple process for you. Impact can design, create, and install virtually any type of sign on awnings, poles, buildings and much more including racecars, of course! They will work with you from conception to completion and make sure you are completely satisfied. We'll give you personalized service, expert consultation, quick turnarounds, and reasonable pricing. Impact Sign and Lighting are responsible for the graphics on the Brian Brown Racing #21. Visit them on the web at www.Impact4800.com!
Associate Marketing Partner of the Week – ButlerBuilt Professional Seat Systems
Brian says – "From day one in racing, all I have ever used has been ButlerBuilt seat systems. Brian and Jeannie Butler do a great job, and make sure their drivers are in the safest seat possible. I'd never run anything else."
No matter the form of motorsports, ButlerBuilt's leadership makes it the most successful seat in the industry! Winners utilizing ButlerBuilt in the last two weeks span a wide range of motorsports: Kyle Busch, Bubba Pollard, Tyler Walker, Jonathan Allard, Brady Short, Jason Sides, Josh Fisher, Shannon McQueen, Wayne Johnson, Bud Kaeding, Jessica Zemken, Lynton Jeffrey, Jason Johnson, Brooke Tatnell, Levi Jones and many more! To learn more about the Butler Advantage, visit www.ButlerBuilt.net today!
Brian Brown Racing would like to thank Casey's General Stores, FVP, Searsboro Telephone Company, Impact Signs Awnings Wraps / impact4800.com, Champion Brands, SPLASH, Ditzfeld Transfer, Maxim Racing, Smiley's Racing Products, Weld Wheels, Housby Trucks, www.RateWin.com, Arctic Cat, K&N Filters, Hostiowa.net, FSR Race Products, TI64, Fuel-Safe Tanks, Awesome Racewear, Wolfe Eye Clinic, Bell Helmets, CP Pistons, Carrillo Rods, Engler Machine, Vortex Wings, Penray, All Pro Cylinder Heads, Butler Built Seats, AkzoNobel Sikkens, Jack Links, Rockstar, Deli Express, Snap-On Tools, Rod End Supply, KSE Racing Products, Winters Performance Products, Santomauro Racing Products, Cometic Gaskets, Kaeding Performance, Donovan, Magtech, ISC Racers Tape, Kinsler, Racing Optics, Don's Truck Wash, Gardner Farms, Hoosier Tires, GoPro, XYZ Machining, Brown and Miller Racing Solutions, Peterson Fluid System, Red Devil Brakes, Schoenfeld Headers, and WSIB Insurance for all their support!