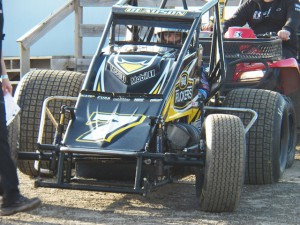 From USAC
New Egypt, NJ…….Bryan Clauson made it back-to-back wins on the "Rotondo Weirich Eastern Storm" by capturing Thursday night's 30-lap Main Event at New Egypt Speedway. Clauson made it his 13th-career AMSOIL National Sprint Car win aboard the Corey Tucker/BCI/Curb-Agajanian Curb Records – R&B Trucker's #7 Maxim/Fisher in a race that went flag-to-flag.
It was again Jerry Coons, Jr. jumping to the early lead on a heavy race track, affected by late afternoon rain showers. Coons stayed against the thick cushion, but Dave Darland quickly whittled away at his advantage. He looked inside Coons before firing a slide into turn-one on lap eleven for the lead. Darland quickly opened up an advantage as Clauson came calling on Coons for second.
With slower cars immediately becoming a factor, the race took a huge turn on lap 15 when Darland nearly collided with another car he was attempting to lap, just as Clauson dove for the bottom and took the point. Coons was able to follow Clauson by, with Darland in tow.
Over the final few laps, the lead trio bunched up giving Coons a shot at the white-flag, but Clauson used a lapped car to protect the bottom on the final circuit to hold onto the win.
"We were slowly getting to the leaders there as they hit traffic, and I knew we were gonna need to make something happen pretty quickly with the top being so good. The bottom was kinda going away a little, but I told myself I would just go where the leaders didn't.The lapped car moved up a lane, and I didn't see how he held those guys up, but I just knew I had to get position down there. It got really tricky at the end up on the cushion, especially in turn two, and we were getting too free, but I just tried to click off laps to the end," said the Noblesville, Indiana driver.
Darland moved under Coons exiting the final corner but came up .048 short at the line. Coons scored his best finish of the season in the Phillips Motorsports – Greene's Truck & Auto #71P DRC/Foxco.
"They were a little better than us, but with traffic there, Bryan and I were able to get by Dave. I could tell Bryan was getting loose towards the end, and we ran him down. I wanted to give him a shot on the last lap, doubtful that I could get him, but the lapped car was there, so I just had to follow him. It was good racing with those guys, and we're getting closer," Coons said.
Darland rounded out the podium in the Jeff's Jam-It-In Storage – AMSOIL #11 Maxim/Claxton as the top-three finished over eight seconds ahead of fourth.
"Early, I knew we were gaining on Jerry, and I was just chipping away at it. It was tricky to get off the corner with any momentum. I didn't want to try the bottom or show a nose, so I just slid him into one when I had a run. I think we could have held them off if not for the problem with the lapped car. I should have taken command of the situation, but just didn't get it done. I think we were better than them at the end, and I made a couple adjustments, but there just wasn't much we could do by then," Darland said.
Damion Gardner finished fourth after starting 13th in the DG Racing – Pace Lighting #71 Eagle/Shaver. Three-time "Eastern Storm" champion and 2010 New Egypt winner Levi Jones rounded out the top-five in the Tony Stewart/Curb-Agajanian Racing – Chevrolet Performance #20 Maxim/Kistler Chevy.
Jon Stanbrough picked up another Schroeder Torsion Bars "Hard Charger Award" after driving from 20th to finish ninth.
AMSOIL USAC NATIONAL SPRINT CAR RACE RESULTS: June 7, 2012 – New Egypt, NJ – New Egypt Speedway
QUALIFYING: 1. Bryan Clauson, 7, Tucker/BCI/Curb-Agajanian-16.344; 2. Chase Stockon, 32, Stockon-16.445; 3. Dave Darland, 11, Walker-16.569; 4. Hunter Schuerenberg, 35, Byram-16.599; 5. Mark Bitner, 15, Bitner-16.693; 6. Jerry Coons, Jr., 71P, Phillips-16.759; 7. Coleman Gulick, 14, Gulick-16.762; 8. Darren Hagen, 69, Dynamics-16.859; 9. Chris Windom, 5, Baldwin-16.900; 10. Kevin Thomas, Jr., 9K, Black Jack-16.903; 11. Levi Jones, 20, Stewart/Curb-Agajanian-16.915; 12. Robert Ballou, 81, MPHG-16.934; 13. Damion Gardner, 71, DG-16.937; 14. Mark Smith, 1M, J&B-16.960; 15. Bobby East, 2B, Benic-16.988; 16. C.J. Leary, 30, Leary-17.022; 17. Jonathan Hendrick, 68, Hendrick-17.068; 18. Tracy Hines, 4, Hines-17.331; 19. Kyle Moody, 175, Pietrofitta-17.413; 20. Jon Stanbrough, 21x, Roberts/Tate-17.414; 21. Joey Biasi, B1, Biasi-17.493; 22. Robbie Stillwaggon, 89, Kennedy; 23. Jimmy Carpenter, 87, Carpenter-18.899.
FIRST HEAT: (8 laps) 1. Gardner, 2. Leary, 3. Clauson, 4. Schuerenberg, 5. Gulick, 6. Thomas, 7. Moody, 8. Stillwaggon. 2:13.32
SECOND HEAT: (8 laps) 1. Jones, 2. Hendrick, 3. Stockon, 4. Smith, 5. Bitner, 6. Stanbrough, 7. Hagen, 8. Carpenter. 2:13.13
THIRD HEAT: (8 laps) 1. East, 2. Darland, 3. Hines, 4. Coons, 5. Ballou, 6. Biasi, 7. Windom. 2:13.41
FEATURE: (30 laps) 1. Bryan Clauson, 2. Jerry Coons, Jr., 3. Dave Darland, 4. Damion Gardner, 5. Levi Jones, 6. Darren Hagen, 7. Robert Ballou, 8. Hunter Schuerenberg, 9. Jon Stanbrough, 10. Chris Windom, 11. Tracy Hines, 12. Chase Stockon, 13. Coleman Gulick, 14. C.J. Leary, 15. Mark Bitner, 16. Joey Biasi, 17. Mark Smith, 18. Kyle Moody, 19. Robbie Stilwaggon, 20. Kevin Thomas, Jr., 21. Jimmy Carpenter, 22. Bobby East, 23. Jonathan Hendrick.
——————————–
FEATURE LAP LEADERS: Laps 1-10 Coons, Laps 11-14 Darland, Laps 15-30 Clauson.
NEW AMSOIL NATIONAL SPRINT POINTS: 1-Stanbrough-526; 2-Jones-517; 3-Darland-512; 4-Gardner-472; 5-Hines-467; 6-Ballou-416; 7-Clauson-414; 8-Hagen-413; 9-Schuerenberg-404; 10-Thomas-401.
ROTONDO WEIRICH EASTERN STORM POINTS: 1-Clauson-141; 2-Jones-120; 3-Coons-117; 4-Darland-114; 5-Schuerenberg-96; 6-Hagen-94; 7-Windom-91; 8-Ballou-89; 9-Gardner-82; 10-Thomas-81.
NEXT AMSOIL NATIONAL SPRINT RACE: June 8 – Minersville, PA – Big Diamond Speedway