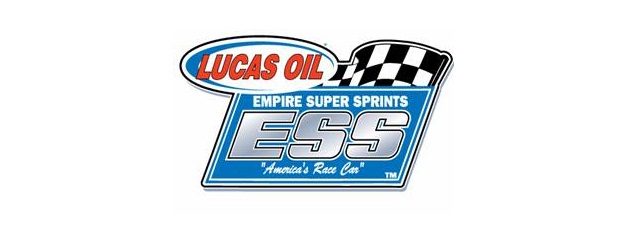 By Dean Reynolds
SYRACUSE, NY – This Friday night is a very important stop for the Lucas Oil Empire Super Sprints (ESS) which comes at the Mohawk International Raceway. Not only will it carry points for the overall ESS championship but for the Le Groupe Ultra Tour of Canada, Universal American Stars and Stripes Tour and also the SUNY Canton Series.
The revitalized 4/10ths mile oval located in Akwesasne, NY has become a favorite stop for ESS teams from both side of the border and for 2012 they will get to visit the facility twice. This Friday night will mark the first stop and it will be a special night.
You may call it the World Finals of the north. Joining the winged warriors from ESS will be late models in a special appearance. They will join Mohawk's regular small block modifieds on the card but it doesn't stop there, sportsman, mod lites and bandits make for a full show.
Autodrome Granby winner Justin Barger comes in as the point leader but it will be a pit full of challengers looking for the checkered flag at the end of the night. Joining Barger will be the rest of the top ten in points which consist of Shawn Donath, Paul Kinney, Cory Sparks, Lance Yonge, Alain Bergeron, Matt Tanner, Jeff Cook, Sammy Reakes IV and Michael Parent.
But, the list doesn't stop there, defending champion Chuck Hebing looks to rebound, Kevin Ward Jr., Steve Poirier, Patrick Vigneault, Etienne Girard, Charlie Donk, Mike Stelter, James Hanson, Joe Trenca, Paul Pekkonen, Paul Habeck, Devin Caron, Kory Gurney, Kyle Dutcher, Lee Ladouceur, Billy Dunn, Tommy Wickham, Steve Collins, Brandon Warner, Steve Hutchinson Jr., Greg Belyea and more are expected in the field.
Car Mate Custom Built Trailers will sponsor the heats, WestFront Constriction is sponsoring the Cobra Coaches Dash followed by the B-Main all leading up to the A-Main finale.
The 30th season for the Lucas Oil Tour and the Mohawk International Raceway…its tradition of excitement guaranteed!!
For more information:
www.empiresupersprints.com
www.mohawkinternationalraceway.com
Facebook:
www.facebook.com/EmpireSuperSprints
www.facebook.com/mirtrack2012
Twitter:
@ESSprints
Former Empire Super Sprint winners at Mohawk International Raceway
July 8, 1989
Rick Crane
July 26, 1997
Craig Keel
July 25, 1998
Ray Preston
July 21, 2001
Rob Dietrick
July 20, 2002
Eric Crocker
July 17, 2004
Billy Krull
July 16, 2005
Kyle Moffitt
July 16, 2006
Jeff Cook
Sept. 22, 2007
Jeff Cook
June 7, 2008
Steve Poirier
Sept. 20, 2008
Brian McDonald
Aug. 14, 2009
Steve Poirier
Aug. 6, 2010
Steve Poirier
June 10, 2011
Steve Poirier
The Lucas Oil Empire Super Sprints are brought to you by: Lucas Oil, Le Groupe Ultra, SUNY Canton, Universal American, Hoosier Racing Tires, Fondations 4 Saisons, Cobra Coaches, Westward Painting Company, Mach 1 Chassis, Lee's Repair Auto and Truck, Fondations 55, Eric Varin Roofing, North Eastern Pool and Spa, Car Mate Trailers, Brodix Cylinder Heads, Ohsweken Speedway, Northwood 2 Construction/Lasalle Motorsports, AKS Firearms, Jasmin Peloquin Sport, 730 Truck Stop, Riverside Bar and Grill, FX Chevy and many, many associate sponsors!!