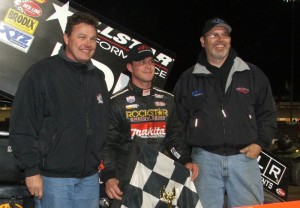 By T.J. Buffenbarger
Warsaw, IN — (June 12, 2012) — Three time Engine Pro ASCS Sprints on Dirt champion Tim Norman has been announced as one of the 2012 inductees into the Michigan Motorsports Hall of Fame.
Even though Norman is a long time resident of Warsaw, Indiana much of his racing success took place in the State of Michigan. Norman won three ASCS SOD championships including two of them 20 years apart in 1985 and 2005. Norman won another ASCS SOD championship in 2007. Norman also won ASCS SOD features at Crystal Motor Speedway during three different decades.
Currently Norman owns and operates XYZ Machining constructing sprint car components and is a partner in 3G Racing with close friend Joe Gaerte.
Other new inductees include asphalt late model drivers Dennis Berry and Jim Terrill along with dirt late model driver Bob Flinn. The drag racing world is represented by Steve Ambrose, Reynald Argenta, Bob Huettman, and the Vakula family. Other inductees include aviator innovator Dick DeGraw, snowmobile racer Karl Schwartz, along with a pavement late model car owner Bill McGowan, and track owner Russ Densmore.
The induction banquet will be held Sunday November 4th in Mount Pleasant, Michigan at the Comfort Inn Conference Center. Tickets will be $30.00 a person. Details for purchasing ticket will be available September 1st. More information is available at http://www.mmshof.org