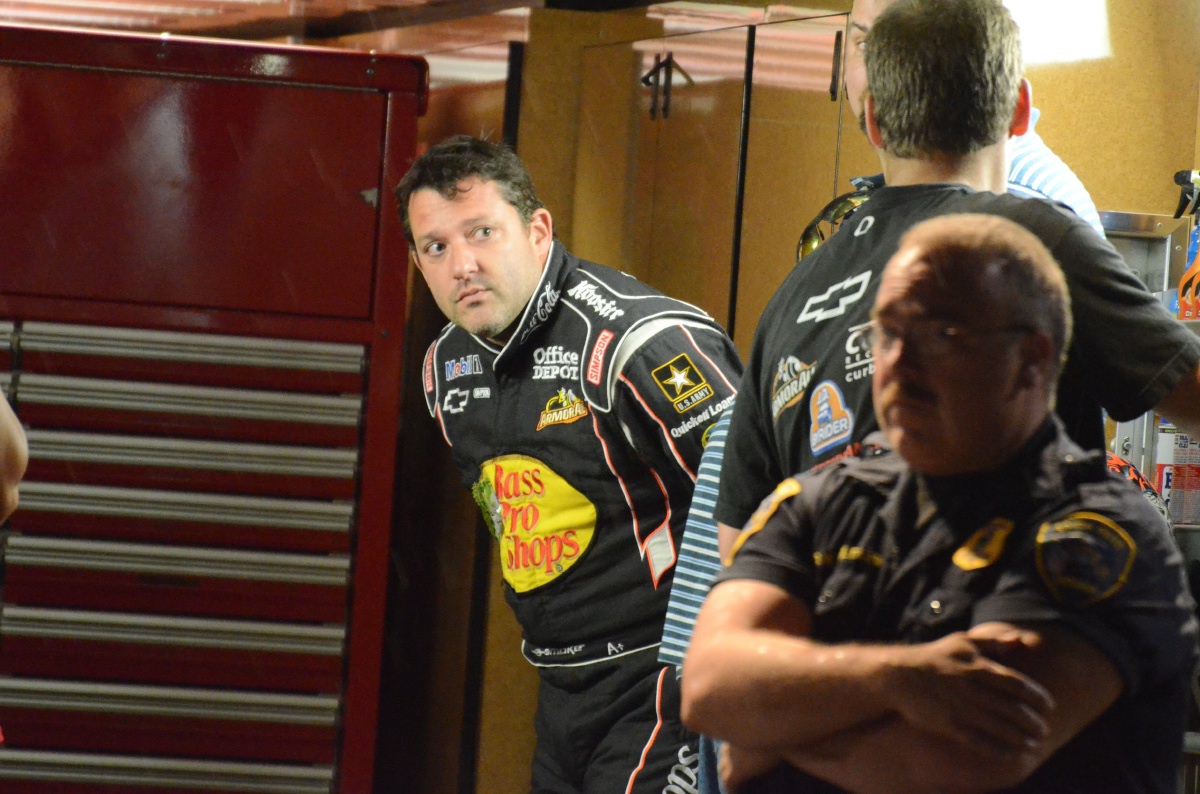 From Maggie Nixon
PLYMOUTH, Ind. – Sunday, June 17, 2012 — NASCAR champ Tony Stewart arrived for a much-anticipated Sprints On Dirt race Saturday at Plymouth Speedway… just in time to watch showers move in and postpone the event.
Stewart, who flew in to the Plymouth Airport after a mandatory practice at Michigan International Speedway was called for 6 p.m. in Brooklyn, Mich., was as disappointed as his fans in the nearly sold-out crowd that Mother Nature was not cooperating with the track's planned events.
"We were really looking forward to racing here tonight," Stewart announced to the waiting crowd. "Unfortunately, Mother Nature isn't cooperating. This is a really neat track and they've worked hard to turn this into something special. We'll be back in August to try it again."
August 18 is the Saturday of the fall MIS race, and Plymouth Speedway owner Ed Kennedy said that will be the night of the rescheduled event, bringing the SODs and 600-Winged Mini Sprints back to the Bullring.
Anyone who purchased tickets online is asked to reprint and bring their tickets again in August. If attendees were issued a pit pass bracelet, this will be needed for pit entry at the rescheduled race as well. Those with special circumstances regarding their tickets need to contact plymouthspeedway@yahoo.com or mnxionspeedwaypr@gmail.com.
Top Speed Fabrication's 75-lap feature highlighted Friday night's racing with Jason Timmerman taking the checkers. The New Bremen, Ohio native lead Jeff Vrsek of Brownstown, Mich. and Scott Reeser of West Chester, Ohio to the finish line.
Familiar faces were back at the winner's podium for the Outlaw Late Models, with Brian Ross beating Shawn Amor and Steve Stacy. Ross has now won back-to-back weeks in the series.
D.J. Frost was also back taking the checkers in the Street Stock division. He bested PeeWee Warren and Joseph Coffin to the line. Warren finished less than .6 seconds behind Frost in a close battle.
Daren Miller was a repeat victor, winning the Hornets race. Sal Bustamante finished second and Garrett Saunders was third.
This weekend brings back the popular Fan Appreciation Night with driver autographs and a free hot dog to every fan. Gates open at 5; qualifying starts at 7 and opening ceremonies begin at 8 p.m.
For more photos, visit the Speedway's Facebook page.