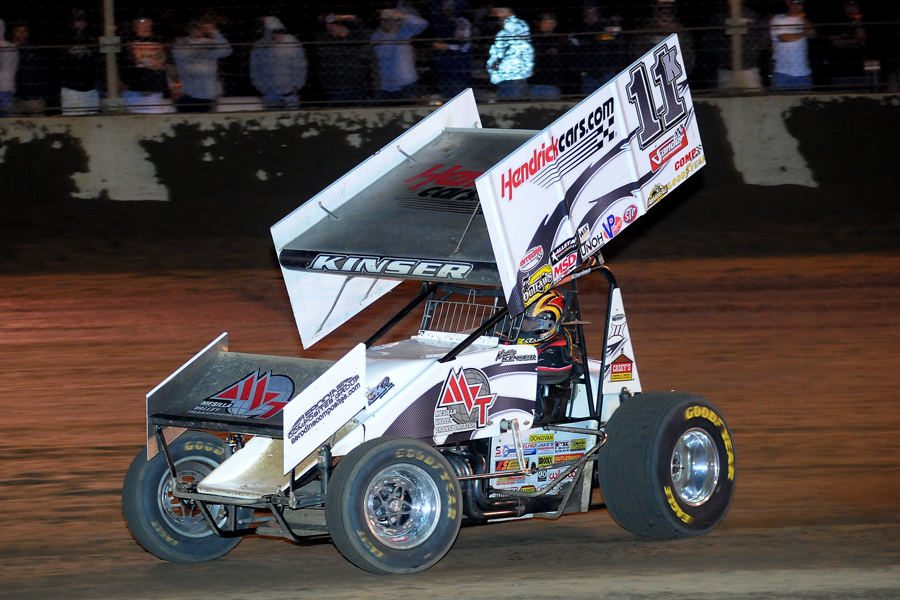 By Kraig Kinser Racing PR
Bloomington, Ind.—June 20, 2012— A new breed of Outlaws rolled into Dodge City in 2004, wheeling 900-horsepower winged sprint cars, and have been coming back to the town in southwestern Kansas, which celebrates the Old West, each and every year since, for the Boot Hill Showdown. Kraig Kinser was at Dodge City for the series inaugural event and has competed in a majority of the World of Outlaws events at the state-of-the-art three-eighths-mile dating back to that contest.
Kinser will take to the track twice this weekend aboard the Hendrickcars.com Maxim for full racing programs, beginning on Friday, June 22, and wrapping up Saturday, June 23, which will mark his 11th and 12th career starts at Dodge City Raceway Park.
"I've run pretty good there over the years," said Kinser. "It's a wide track and very quick. It's usually pretty racy. There is a lot of room to pass cars. If you hit it right, you can definitely get around people. It's a fun track to race on and always a great atmosphere out there."
Kinser has made a total of 10 starts at Dodge City over a span of six seasons. The native of Bloomington, Ind., has recorded five Top-10 finishes over that time. In two appearances at the track last year, he finished 10th and 16th. This season the winner of the 2005 Knoxville Nationals has made six starts on three-eighths-mile tracks, earning four Top-10 finishes, including a runner-up performance in his home state of Indiana at Lawrenceburg Speedway.
"We've had some good runs on the smaller tracks this year," noted Kinser. "We haven't run a lot of races yet on three-eighths-miles, but in the few we have, we've done all right. We found a few things last weekend at Fargo that should translate to our set-up for Dodge City this weekend."
The World of Outlaws made their debut at Dodge City in June of 2004, and followed that up with a fall trip in October of 2005. For each of the last six seasons, the series has visited the track in June or early July, with the summer heat often reaching triple digits.
"It's always hot out there," Kinser noted. "The heat affects everything, so you have to kind of prepare for that. Oftentimes, you can kind of predict what the track will do, and they get a lot of wind out there as well which can affect the racing surface. As a driver you just have to make sure you stay hydrated and out of the sun all day and are ready to concentrate and focus when you climb behind the wheel."
The World of Outlaws will compete two consecutive weekends in the state of Kansas, which will mark the only four 410-sprint car races in the Sunflower State this season. Following the weekend at Dodge City, the series heads northeast to the Belleville High Banks, followed by a stop at Lakeside Speedway, just outside of Kansas City.
"The fans at Dodge City and in all of Kansas are great," shared Kinser. "They don't get to see 410-sprint car racing very often, and they treat us so well when we go out there. Hopefully we can put on another good show for them this year. It's such a nice facility and it's great that we get to race there."
Kinser enters the weekend sixth in the World of Outlaws championship standings on the strength of two wins, to go along with 20 Top-10 and 10 Top-Five finishes. The third-generation driver has won two of the last five World of Outlaws events in the Hendrickcars.com Maxim, and has finished among the Top-10 in eight of the last nine races the series has contested.
Kraig Kinser By the Numbers: Dodge City Raceway Park
0.375- Miles around Dodge City Raceway Park
2- Pole positions earned this season
4- Nights of racing in the state of Kansas this season for the World of Outlaws
5- Career Top-10 finishes at Dodge City
6- Position in the World of Outlaws championship standings
8.8- Average finish in 29 main event starts this season with the World of Outlaws
9.4- Average starting spot in 29 main events in 2012
10- Career feature event starts at Dodge City Raceway Park
12.2- Average finish in 10 career main event starts at Dodge City
12.277- Track record at Dodge City Raceway Park
17- Appearances in the dash this season
20- Top-10 finishes this season
48- Laps led in A-Feature events this season
820- Miles from Red River Valley Speedway in West Fargo, N.D., where the World of Outlaws competed on June 16 to Dodge City Raceway Park in Kansas
3831- Points earned through June 16
On the air
Kinser recently was a guest on Winged Nation on MotorRacingNetwork.com with hosts Steve Post and Erin Crocker. To listen to an archived version of the show, visit http://www.motorracingnetwork.com/Media-Center/MRN-Show-Archives/Winged-Nation.aspx.
He also joined Doug Elkins, on DougsDirtDiary.com. To access that interview, visit http://www.dougsdirtdiary.com/audioplayer.php?id=15254.
Keep up with all the action
Follow Kraig Kinser on Twitter at http://twitter.com/kraigkinser11k and receive live updates from the track each and every race night.
Tune in
Listen live to each and every World of Outlaws event on DIRTVision.com with "The Voice of the Outlaws" Johnny Gibson on the call. Visit www.DIRTVision.com for live audio of each and every World of Outlaws Sprint Car Series event.